Is your dream to find a liveaboard boat and spend your days on the water? Whether you're looking for a trawler or sailboat, there's a boat for everyone. Check out our top posts about living and traveling on a boat.
Choosing a Boat to Live On
---
---
My 5 Favorite Boat Books!
5 essential sailing books I love
From diesel mechanics, to predicting the weather, to heaving-to a boat in a storm, sign up to see which five essential books will never leave our sailboat's shelf. Enter your info to download the PDF!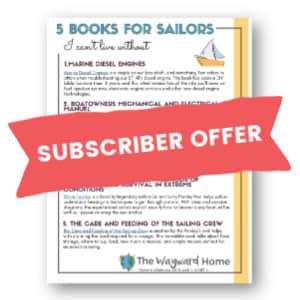 Boat Life: What it's Like Living on a Boat
---
---
Boating Gear for Liveaboard Life
Our latest boat life posts!