Planning on living on a sailboat in the summer, or in the tropics? It's easy to imagine yourself sipping milk from a young coconut under a palm tree without a worry in the world.
While summer is an amazing time to go sailing, there is one big downside to it: it's brutally, sweaty hot.
The cooling effect of a swim or a shower fades away soon and the heat onboard a liveaboard boat in a marina is often overwhelming – I speak from experience.
If you don't fare well in higher temperatures, like me, you may want to consider investing in a sailboat air conditioner.
There's an abundance of sailboat air conditioners on the market, so it can be tough to choose.
Don't worry, we've done the homework for you. We've researched the best, tried and tested boat air conditioners, so we can help you make an informed choice.
Want to see what we have on our sailboat? Here are my 13 favorite sailboat accessories I can't live without
Our top picks for the best sailboat air conditioner
Choosing a sailboat air conditioner can be difficult. Don't worry, we've selected the best three sailboat air conditioners for you.
Check them out.
MSBA 16,000 BTU by MarinAire
BTUs: 16,000
Weight: 66 pounds
Type: Self-contained, water-cooled
The MSBA AC unit by MarinAire is a self-contained and water-cooled boat air conditioning unit. It's fairly easy to install and hook up, so it's ideal for anyone thinking of installing their boat air conditioner DIY.
This model is quiet and light, allowing you to mount more than one unit to suit your boat's interior configuration – you could install one per cabin.
The blower outlet can easily be rotated 360 degrees, so the cool air can be directed anywhere you like.
Pros:
The built-in gauges make it easy to keep on top of maintenance
Fairly quiet operation
Good BTU to price ratio
Cons:
Some reviews report the heater function doesn't work
Complaints about the remote control not working
Some people reported the unit broke after 16 months
WeBasto FCF Series Air Conditioner – $1,800-$2,000
BTUs: 12,000
Weight: 68 pounds
Type: Self-contained, water-cooled
WeBasto is a guarantee when it comes to marine equipment. Their FCF Series sailboat air conditioner reflects the quality of their gear. The digital programmable thermostat and the remote control make it easy to adjust the temperature in your cabin. 
Thanks to the removable filters, you will be able to achieve clean air for years to come. Consuming an average of 8.5 amps at 115volts, this unit is energy-efficient. Like the Integra, the FCF Series features a 360 degrees rotatable blower.
If it's your first time installing a WeBasto unit, you will have to purchase the FCF Series Seawater Kits and Air Duct Kits separately. This will bring the final price of the full set-up to around $3,800. This unit is also available at 16,000 BUTs.
Pros:
Light
Very quiet
Energy-efficient
Easy installation
Accurate temperature controls
Cons:
Large price tag when purchasing for the first time
BTUs: 16,000
Weight: 63.5 pounds
Type: Self-contained, water-cooled
Dometic know what they're doing – they've been producing high-quality fridges and AC systems for decades.
Their EnviroComfort sailboat air conditioner is a powerful unit that is easy to use and eco-friendly.
It features a compact digital control display that you can mount remotely anywhere you like – whether you prefer to place it by your berth or next to the instruments' panel.
The return-air filter can be removed for cleaning and the blower rotates to either a horizontal or vertical position. The unit draws anything between 10.5 and 13.7 amps, which feels efficient given the large BTU output.
If you're installing this unit for the first time, you'll need to buy the Dometic Installation Kit too. This will bring the price of the full set-up to about $3,370.
If you'd like to cool down two cabins through the same unit, you can buy a Dometic Dual Duct Kit ($169.99).
The small add-on is worth the price, as 16,000 BTUs can cool down a decent amount of space.
Pros:
Ultra-light
Easy to install
Quiet
Energy-efficient
Cons:
Some reviews complain the unit failed after 2 years of purchase
The blower rotates only to a vertical or horizontal position
Can't afford a boat AC unit? Consider a hatch fan
If you're cruising on a budget, like me, you may not be able to invest in a boat AC system, no matter how much you'd like one.
Don't despair, there are cheaper options to keep your boat cool in the summer.
You could install a hatch fan, such as the Taku model by Caframo. This fan attaches to your hatch via suction cups in order to increase the airflow passing through your boat.
It has three speeds and a turbo function with a 5-minute auto-switch that blasts up to 500 cubic feet of fresh air per minute. You can also turn it to dangle inside the boat and swivel 360 degrees to direct the air to wherever you are working or relaxing.
You could combine the Taku with a couple of Caframo Compact 757 fans placed around the boat to provide additional ventilation.
They are available with wire, or with a 12v plug, so you can decide whether to install them permanently or to keep them mobile and move them around the cabins with you.
The best bit about fans? No need to install anything extra on the boat – just plug them into your 12v sockets or wire them into your existing system and you're ready to go. Easy maintenance involves cleaning the blades and fixing any faulty connections.
Why consider a sailboat air conditioner?
Cruising in the summer often means 95F+ temperatures and close to 90% humidity, whether you're in Grenada, Florida, or the Chesapeake Bay.
Even if you like hot weather, living in these conditions can be challenging.
I love summer and will always choose warm climates over cold ones, but living full-time in a non-airconditioned boat with little wind is driving me slightly insane.
There's no respite from the heat until late at night, boat work feels harder than usual and you find yourself in a constant state of dripping-sweaty.
Having air conditioning on your sailboat will not just keep you cool; it will allow air to circulate in your boat, preventing mold.
Some say good air circulation even reduces the formation of osmotic blisters, as these are caused by moist air saturation of the hull.
So you wouldn't be doing it just for yourself – you'd be doing it for your boat too.
How does a sailboat air conditioner work?
A sailboat AC unit typically draws cabin air into a unit or air handler through a return air grill to cool it. A compressor then cools the air down, either via cooling water or a refrigerant.
The cool air is then blown back out into the boat through distribution ducts.
The chilly air should be released high up in the cabin, far from the return air grill for good circulation.
Just like a home air conditioning system, you can select the desired temperature via a digital programmable thermostat.
Sailboat AC works with a 110-volt power supply, so if you want to run it at anchor, an inverter, sizeable batteries and ample power are mandatory in order to operate it.
5 essential sailing books I love
From diesel mechanics, to predicting the weather, to heaving-to a boat in a storm, sign up to see which five essential books will never leave our sailboat's shelf. Enter your info to download the PDF!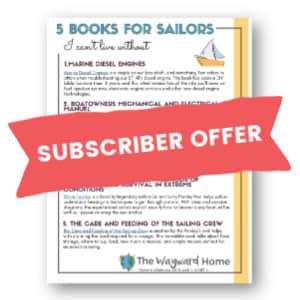 The different types of boat air conditioners
Let's look at the different sailboat air conditioning systems available and what sort of boats they are suitable for. It's important you choose your sailboat air conditioner based on the size of your boat and your needs, or you will end up with a system that isn't powerful enough or one that drains your batteries.
Hatch-mounted
These units are portable and perfect for boats with smaller cabins, like daysailers or small motorboats.
Although they are portable, hatch-mounted units are rather heavy and will need two people to move them.
Beware: portable boat air conditioners aren't very powerful, and people complain they can't cool down a full-size v-berth cabin.
Self-contained
Self-contained units are mounted on a single chassis, making for a small device. These are great for keeping boats between 25 and 40ft cool and can be mounted in the living area, close to the waterline – under a settee, in a locker or even under a berth.
Self-contained AC units need thru-hull connections in order to suck cooling water in from the sea.
Split air-conditioning
Split, or central boat AC systems feature the key components split between two units and are ideal for boats up to 80ft. There is a condensing unit, which holds a compressor, a seawater condenser and various electrical components.
It's typically installed in the engine room or near the engine.
The evaporating unit, which contains an evaporator coil and a blower, needs to be mounted in the living area. The two units are joined by insulated copper tubing through which passes the refrigerant.
Chilled water air conditioning
Chilled water sailboat air conditioning units are suited for big boats and superyachts, where you need to cool down many cabins. These units are made up of a chiller, mounted in the engine room, that cools freshwater.
The water is then pumped through a piping loop to the air handlers, which are installed in the living spaces. These AC systems need a lot of power to work, but they're amongst the most effective.
Factors to consider when choosing a sailboat air conditioner
Choosing the right boat air conditioner requires careful consideration – you want to get it right if you're getting into the trouble of buying an expensive system and installing it. It's no easy or quick feat.
Before picking an AC unit and how many to buy, you'll need to think about the following factors.
The size and layout of your boat
Choosing the right system means installing an air conditioner that can effectively cool down your whole boat.
The larger your boat, the more powerful AC unit you'll need.
If your boat is large and has multiple cabins, you'll likely need to install more than one unit or buy a unit that supports a dual duct system. There is a handy guide on the West Marine website on how to calculate your AC requirements based on your boat's dimensions.
Don't forget that if you want to opt for a split air conditioning unit, you'll need an engine room or space near your engine to mount the condensing unit.
The size and set-up of the boat AC unit
Depending on the type of unit you go for, you'll need to consider how much space it will take up and where to mount it.
Do you have enough free storage to dedicate to the unit's installation?
Weight is also a factor – will your boat's performance be affected by the extra weight of the unit?
The AC system's power requirements
Can you run the AC system as much as you'd like?
Most systems will require a powerful inverter, generous battery banks, and a good source of power, such as a generator or big solar panels.
Read reviews, ask users, and speak with the manufacturer about power requirements before committing to a brand.
Typically, AC units draw between 4 and 13 amps at 110 volts.
Your cruising ground's climate
Weather conditions heavily affect the operation of a sailboat air conditioner. The hotter it is, the harder the AC unit will need to work.
The temperatures you'll be in, together with the size of your boat, will determine the output you will need from the unit. This is measured in BTU (British Thermal Units).
Noise
A sailboat air conditioner makes noise when they operate. Some units make more noise than others.
This can be annoying, especially if you plan to mount a unit under your berth. If you're a light sleeper, make sure to read reviews of the systems you're interested in and make noise a big decision factor.
Budget and maintenance
And of course, your budget will play a key point in your choice of the right boat air conditioner, together with the maintenance necessary to keep the system running smoothly. The more complicated the system, the more maintenance it will need.
5 essential sailing books I love
From diesel mechanics, to predicting the weather, to heaving-to a boat in a storm, sign up to see which five essential books will never leave our sailboat's shelf. Enter your info to download the PDF!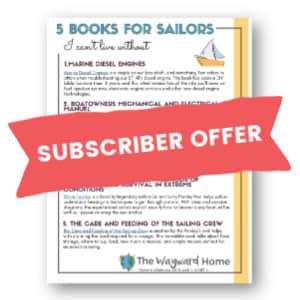 The positives of having a sailboat air conditioner
While having a cool, dry boat while it's humid and hot outside sounds like a dream, there are both benefits and disadvantages to investing in a sailboat air conditioner. Below are the key benefits of installing an AC unit on your sailboat.
Keeping cool in the summer
This is the obvious one – you won't have sweat dripping down your face all day long anymore. You won't faint at the idea of getting that tool from under the v-berth. Your boat will be a cool haven from the tropical sun and heat.
Keeping the mold at bay
Another advantage of having good air circulation is the fact that it helps keep your boat mold-free. Humidity and heat can cause mold infestations, as well as bad odor. These are hard to eliminate once they kick in.
Doubles up as a heater in the winter
Some sailboat AC units also work as heaters for the colder winter months. This means you won't have to invest in an extra heating system, such as a diesel stove.
Cool even when it rains
Finally, the best advantage of them all. In tropical, rainy regions, you will be able to be cool and dry even when it rains. No need to open the windows to let air (and rain) in – your AC unit will take care of climate control.
The negatives of having a sailboat air conditioner
Of course, there are a few disadvantages to installing an AC unit on your boat. Let's see what they are.
Takes up space
AC systems take up some space, there's no way around it. You will need to dedicate a fair amount of room to the unit. While most units can fit under settees and bunks, this means giving up some precious storage space. And don't forget the weight – boat air conditioner systems can be heavy.
Power thirsty
Boat air conditioners will draw anywhere between 4 and 13 amps (at 110 volts), which is a lot if you need them on for a while every day. You will probably need a generator or huge solar system, powerful batteries, and an inverter, as they run at 110-volt.
Added maintenance
Of course, an extra gadget on the boat means added maintenance. You will need to perform regular checks of the system, as well as occasionally replacing parts, so that the units can run smoothly. Leaks are the most common problem found in air conditioners. The thru-hulls required by the most popular systems will need regular attention too.
Cost
Sailboat air conditioners don't come for cheap – most decent size ones cost over $2,000. You will also need to invest in the equipment to generate the extra power they require, as well as spare parts, such as pumps and hoses.
Installing a sailboat air conditioner
Installing air conditioning on your sailboat isn't rocket science. However, you'll need to follow the manufacturer's instructions carefully so the unit can work efficiently.
Before you put in your order, make sure you have the dedicated thru-hulls required by your chosen system, measure the space for each of the system's components, check there's room to run the hoses, and buy the tools for mounting the unit plus extra bits you may need, such as a raw water pump or hoses.
There are some handy how-to videos on YouTube about air conditioner installation, so you may be able to find a video on your model or a similar one.
However, if you're going for a complicated system with multiple components and the installation feels a little scary, you can opt for hiring a professional.
If you do, make sure to carefully observe and follow along with the process in case you need to replace a component later on and ask them how to troubleshoot common problems.
You will need to be familiar with the unit in order to keep it working well.
Q&A about sailboat air conditioning units
Still have questions on sailboat air conditioners? We've compiled a list of the most common questions on boat air conditioners.
Do I need a generator to run AC?
Not necessarily. If you plan to use your boat AC a few hours a day, you can get away with a powerful solar system or wind generator, combined with powerful batteries and an inverter. However this means you may not be able to turn the AC on a rainy, cloudy or windless day.
Does AC lower humidity?
Yes, it's like a dehumidifier – it takes moisture out of the air – while also making the air cool. It's a great piece of gear to have onboard a boat in a humid environment.
How do I keep my unit running efficiently?
With regular cleaning, gear checks, energy consumption monitoring and filter replacements. The best way to keep your AC unit in working order is to keep a close eye on it.
Can I make my own DIY AC unit?
Yes, there are a number of videos on how to make your own AC unit online, however these aren't tried and tested like the models we have recommended.
Is it easy to find replacement parts?
Yes, if you cruise in developed countries. However, if you plan to do some bluewater sailing to some more remote destinations, you will want to stock up on replacements parts, so you can fix your AC unit anywhere in the world.
The last thing you want is having the boat AC break while cruising a remote tropical island.
Conclusion on the best sailboat air conditioners
If you can afford the price tag and maintenance an AC unit involves, go ahead and grab one now. It's a no brainer, really. Air conditioning will allow you to stay cool in the summer and warm in the winter, and it will help keep your boat mold-free.
You will wonder how you lived without one for so long.
However, if the price of these units puts you off, set up your boat with plenty of good, reliable fans placed in strategic points, such as next to hatches and portholes.
You won't feel as cool or dry as if you had sailboat AC, but you'll be able to survive the hottest months of the year for a fraction of the price.
Want more sailboat stories? Check these out:
5 essential sailing books I love
From diesel mechanics, to predicting the weather, to heaving-to a boat in a storm, sign up to see which five essential books will never leave our sailboat's shelf. Enter your info to download the PDF!