Gift-giving can be incredibly fulfilling when done from the heart. But no one wants to give something that feels like a burden. The fact is when you have limited space, there isn't room for random stuff.
Speaking as a tiny house dweller, I genuinely appreciate the value of crafting my home around what I most love and need
With that, I cherish what I do have. It is so refreshing to live in a space tailored around those things. Each item has a specific place and purpose. Though, that doesn't mean us tiny dwellers don't love gifts. We just want something that naturally fits with our minimalist lifestyle.
So what can you give that is guaranteed to be rewarding giving, and receiving, experience?
Here are gift ideas for the tiny house dweller in your life.
1) Digital Subscription Service ($9-$150)
A digital subscription packs a big entertainment punch without taking up any physical space. Making this is an ideal gift for a tiny house dweller. Treat your pal to free month or even a year subscription. Services like Audible, Netflix, and the new CuriosityStream offer easy digital gift card options. These can be redeemed for existing accounts, too.
2) Experiences! ($12-$80)
One thing tiny house dwellers cherish is experiences—more valuable than things. The best thing about this kind of gift? It can be enjoyed together, like a snowmobile excursion. Get creative! A few fun ideas: movie tickets, music festival pass, museum membership, and annual national park pass.
3) Headlamp ($8-$45)
A trusty headlamp is a tiny house staple. Trust me. In our tiny home, we have two hanging by our front door. These come handy for all kinds of tiny living situations, like when the power unexpectedly goes out because the solar batteries drained, or when switching propane tanks at night. This handy gift is sure to be well-appreciated. Choose from a wide variety of headlamps, all under $50 and many under $25.
4) Consumables ($10-$20)
Consumables are always appreciated by people who live in tiny homes, as it's something they don't have to store for very long. Try gifting some premium coffee, local honey or jam, or beer and wine. And a little gourmet chocolate goes a long way in creating joyful moments too. The tiny house dweller in your life will love a yummy, space-saving gift!
5) Beeswax Food Wraps ($12-$25)
The choice to live tiny is often motivated by a desire to reduce one's environmental footprint by consciously simplifying both home size and consumption habits. So it's no surprise that a large number of tiny house dwellers try to live a zero-waste lifestyle. That's why beeswax food wraps are such a wonderful gift. In place of plastic wrap or plastic sandwich bags, use this reusable natural alternative to cover a bowl or wrap-up a snack to-go.
When the beeswax gives out after numerous uses, no need to throw away. It's compostable or can be used as a fire starter for a tiny wood stove.
6) Donation to a Good Cause
Is there a cause important to your tiny house dweller friend? Donate on their behalf, in their name. This is a gift-giving experience sure to warm both your hearts while making a positive impact. As a side note, one of my new favorite causes is the Tiny Homes for Camp Fire Survivors. It's a nonprofit donating tiny houses to those displaced by the devastating fire in Paradise, California, in 2018.
7) Hammock ($15-$50)
An easily storable hammock is an ideal R&R companion piece for the tiny lifestyle. As cliché as is sounds, tiny house dwellers love the great outdoors. When you live in under 400 square feet, you are more intimately connected with your surroundings. I love this! For instance, I spend a lot of time relaxing on my tiny home porch, soaking in the sunshine.
Additionally, with more available free time, there's more time for my favorite past times, like hiking. Add a hammock to either situation, and I'm one happy camper.
8) Gym membership
If there's one thing tiny house dwellers appreciate it, it's multifunction. A gym membership gift is not just about keeping healthy; it's a reliable hot shower. Recently in an early freeze, before we properly winterized our tiny house, our hoses froze. As a result, we had no running water until they thawed. Fortunately, we were able to enjoy a shower at Planet Fitness. Their black card membership allows the use of all their 1700 locations. It's a must-have resource for the travel lover, as well as the nomadic tiny dweller.
9) Portable Solar Charger ($20-50)
Off-grid tiny house dwellers constantly monitor their power consumption. It's a necessity when dependent on solar power. So any opportunity to reduce usage, and consequently the draw on the battery bank, is always welcome. Portable solar chargers can quickly charge smart devices of all kinds, from phones to tablets. Even better, there tiny and inexpensive!
10) Kindle ($100-$250)
Living in a tiny home means you don't have a lot of space, and no space to lug around a bunch of books. I'm addicted to my Kindle Paperwhite for ease of use and portability, plus, I'll never be without a book! A Kindle can be connected to a hotspot signal to download a new book on the go. Plus, the Kindle Paperwhite, which I own, is backlit and can be read anywhere without disturbing a sleeping partner. I go everywhere with my Kindle, and hope I never have to go without!
11) Digital Picture Frame ($75-$200)

A digital picture frame is a perfect way for a tiny house dweller to display their most prized photos. This is especially great at a time when photo albums seem to be going by the wayside, as everything is taken in digital. This digital picture frame doesn't take up much space, but is a wonderful way to cherish memories.
12) Gift cards! ($$ up to you!)
A gift card is the ideal, clutter-free gift. Not only do they not contribute to "stuff," they allow the tiny house dweller to shop for the just-right something that he or she really needs or wants. Here are ideas for the best gift cards to buy for tiny house dwellers:
Trader Joe's gift card (have to buy in-store)
Home Depot or Lowe's Gift Card
Other tiny house stories you'll love:
Grab my FREE Downsizing Checklist!
Need help downsizing? Grab my FREE Downsizing Checklist to start going through your house room by room.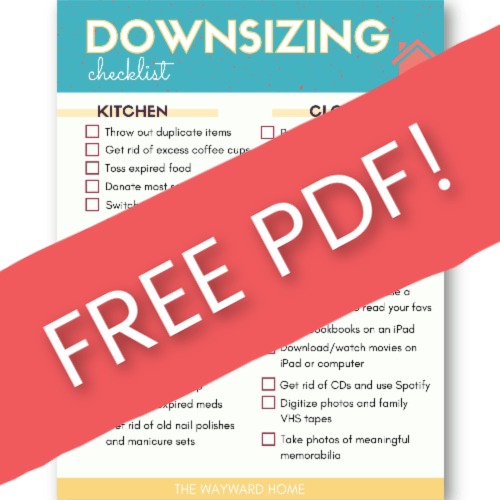 Alexis and her partner, Christian are nomadic tiny house dwellers. Together they've been traveling for four years for their documentary and community education project, Tiny House Expedition—over 54,000 miles, across 38 states and 30+ tiny house communities. Their documentary work includes the educational series, Living Tiny Legally. Alexis serves on the board of the Tiny Home Industry Association and the American Tiny House Association.