When you're living in a campervan and spending long hours on the road, you'll have to find a place to take a van life shower.
Many van lifers choose not to install a shower inside their van, and instead, they shower outdoors, take a dip in a lake, or find a public shower.
Finding a place to take a public shower on the road isn't very hard if you know where to look.
We've used many of these techniques ourselves when traveling and sleeping in our Toyota Prius and now, Chevy Astro van.
And guess what? I just discovered this really cool website called The Public Showers Directory, where you can find free and paid public showers based on your zip code or state. Pretty cool!
Check out these 9 ways to find public showers when living in a campervan.
1) Join a gym with multiple locations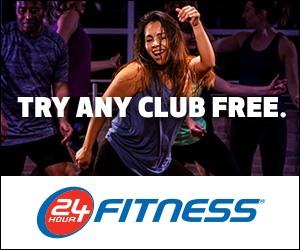 When we lived in a Toyota Prius and commuted to work in San Francisco, we joined a gym.
Every morning, we'd head to that gym to take a public shower, iron our clothes, and drink coffee.
Many van lifers choose to join gyms for the showers, and there are plenty of cheap gyms out there.
Try to pick a gym that has low monthly dues, and locations all over the United States. That way, you won't be without a nice, hot shower, no matter where you are.
Here are the most popular gyms for van lifers:
You can also look up rec centers and YMCA's in the city you're passing through to see if they have day pass deals.
2) Use a truck stop public shower
Truck stops cater to people living life on the road, so they're a great place to take a cheap public shower when you're living the van life.
Truck stop shower facilities are usually clean and well-maintained. For example, Pilot just invested $100 million in upgrading its truck stop shower facilities.
Some truck stops even give out towels when you purchase a shower!
Along with taking a nice, hot public shower, a truck stop is also a good place to stock up on snacks, coffee and food, and use the WiFi to check your email. Truck stops are some of my favorite places to take a break during a road trip.
Here are some well-known truck stop companies with public showers. You can search the websites to figure out which exact locations have public showers, so you aren't disappointed.
You can also use this amazing resource, Truck Stop Guide, to see all the truck stops near you, by zip code or by state.
You can filter by amenities, such as showers.
3) Find a campground with public shower facilities
Another way to find a hot public shower is to search for a campground that has a shower facility on site.
For example, when we were road-tripping across Oregon, we intentionally parked in an RV campground because we knew there would be nice public showers.
We've also used the public shower bathhouse in Yosemite National Park several times, even though we weren't staying at one of the campgrounds.
Oftentimes, campgrounds that cater to RVers have showers, like KOA campgrounds.
Here are a couple ways to find public showers in campgrounds:
4) Search for a hot springs resort for a public shower
There's nothing better than a day pass at a hot springs resort while you're on a long haul road trip.
Oftentimes, you can pay $20 or so for a soak and to use the public showers.
Most hot springs require you to take a shower before you enter the hot mineral water, so this is the perfect place to clean up.
When we're on a road trip, I'm always googling what types of hot springs facilities are on our route. Besides showering, hot springs are also good spots to camp for the night.
5) Find a hotel swimming pool that offers a day pass
After we visited Joshua Tree National Park, we were dying for a hot public shower somewhere.
I googled hotel resorts and found two hotels in the nearby town of Desert Hot Springs that offered day passes.
For about $9, we were able to use the pools, hot tubs and the private shower facilities. This was a great way to clean up and get a little relaxation in after our camping trip.
It never hurts to call a hotel and ask if they have day passes, especially if that hotel is known for its pool.
6) Find a local gym or yoga studio promotion
If you plan on camping in or near a particular city for a month or two, it might be a good idea to see if a local gym or work-out studio is offering a special promotion.
For example, when we were in Minnesota recently I found one yoga studio offering a free week of classes.
You'll often find "new member" promotions at gyms, so it doesn't hurt to ask around or click through the website looking for new member deals.
You can get that added bonus of working out AND getting a nice, free hot shower.
You can also use Groupon to find deals on local gyms. I've done this several times!
7) Take a solar shower
I'm totally obsessed with our Sea to Summit solar shower, and would never go on a van camping trip without it. Solar showers are affordable and environmentally-friendly.
Just hang it up in the sun and your shower will be hot and ready by the end of the day.
Solar showers are great because they don't take up very much room inside your van. Ours can be stowed away when not in use, and its package is the size of a deck of playing cards!
Besides working well for showers, you can also hang the shower up in your campsite and use it for washing hands or dishes.
See the Sea to Summit Solar Shower on REI.
8) Jump in a river or a lake
If the day is warm enough, you can wash off your sweat and grime by jumping in a lake or a creek. But please don't use soap if you do this, not even biodegradable soap! Any type of soap can harm sensitive creatures like frogs and salamanders.
A dip in a natural water source will clean you off well enough without using any type of products.
If you do need to use soap, buy a collapsible bucket, fill it with water, and bathe with Dr. Bonner's biodegradable soap at least 100 feet from the creek or lake.
When we hiked the John Muir Trail for 22 days, we bathed every day in a crisp, cold stream, never using soap. And we felt as good as new.
9) Keep some full body baby wipes and dry shampoo on hand
If you can't seem to find a water source for a shower, full body baby wipes and dry shampoo will do the trick.
These Wilderness Wipes from REI are designed to cut through dirt and sweat, and leave your skin feeling soft and clean rather than sticky. These wipes are pH balanced for human skin, and are even compostable after use. The wipes contain aloe vera and Vitamin E. The perfect "shower" for those days when finding water isn't convenient.
You can pair those wipes with some dry shampoo, and you'll feel as good as new at the end of a long day.
10) Check out the public showers at a public beach
Many public beaches have showers! No, this won't be the warmest shower of your life, and will probably be downright cold, but at least it's a shower.
These public showers are often in full view of everyone on the beach, so you won't be able to go au naturel. 
This is perfect for van lifers cruising down the coast. You may also find beachside showers at large lakes, too.
We'd definitely recommend beachside public showers on a hot day.
11) Try to get in on a public shower at a boat marina
Another spot we've had success in finding a public shower facility is at a boat marina.
Sometimes, a marina requires a code to get in as they're typically reserved for people who rent a slip. Other times, the bathroom door is propped wide open and you can easily go in there and shower.
When we stayed in Hood River, Oregon recently we found an awesome marina shower that cost just $1 per shower! You never know what you might find if you look around.
We know one guy who showers at marinas and asks the security guard for the code to get into the bathroom.
That's an option that scares me, but it works for him!
12) Find State Parks with Public Showers
Public showers aren't always associated with campgrounds. You can also find shower facilities in state campgrounds.
Your best bet is to find a campground that's near a beach.
We recently found hot public showers at a state park in Port Townsend, Washington. These showers did cost, but they were cheap and hot!
Shower accessories you'll want to have on hand
Everyone loves and needs showers, especially when living the van life. Here are our top recommendations of the shower gear you should have on hand when living life on the road.
Turkish towels are a must when you're using public showers. They dry quickly, fold down small, and are really effective.
This is the only soap I'll use when living in my van. It's biodegradable, smells good and is kind to the environment. Plus, it suds up and works really well!
If you're walking a lot between your campervan and public showers, we recommend using a shower tote to store your soap, shampoo, razors and other showering accessories.
Conclusion on public showers
Public showers aren't very hard to find if you're on a road trip in your campervan.
You don't have to worry about installing a shower unit inside your van, which can take up space and cause moisture and mold.
A solar shower doesn't take up much space, and can be rolled up when not in use.
Our best finds for public showers are at truck stops, cheap nationwide gyms, rec centers and public beaches.
Where are your favorite places to find a shower?