Many people wonder how much it costs to sail around the world, and one couple in Europe has managed to live and travel on their sailing catamaran on the cheap for two years.
Elena Manighetti and Ryan Osborne lived, sailed, and worked aboard a 26ft Heavenly Twins catamaran between 2017 and 2019, sailing nearly 3,000 nautical miles.
The couple stuck to a budget of 500 British pounds per month while cruising: that's about $660 USD, and $8,000 per year! It's simply amazing that the cost of cruising can be so low.
This goes to show that cruising on a catamaran is cheaper than paying rent/mortgage for a house or an apartment, and allows you to travel and see the world in your own tiny floating home. I don't know what could be better.
The Heavenly Twins catamaran
The Heavenly Twins was designed by Pat Patterson and first built in 1971 in the UK. It's 27' long and 13'75" wide with a draft of 2'25".
Unlike bigger catamarans, it has a single outboard engine, mounted at the very center of the boat. It's a 9hp outboard. This makes it an awkward boat to maneuver in tight spaces and one that can't motor against strong headwinds. However, you can literally push it off the dock by hand. She's perfect for fair-weather sailors who prefer to anchor out.
As the sail plan was designed in the 70s, this little boat can only reach about 80 degrees close hauled. So sailing upwind is generally not possible. However, she is speedy and comfortable on a beam reach and downwind. Most cruisers avoid sailing upwind anyway. On passage, the average speed is usually between 4 and 6 knots.
The center cockpit makes it a very dry and comfortable boat to sail in. Moreover, the visibility is excellent, as the cabin is low and you stand very close to the bows when at the helm. At anchor, she is very stable and a side-on swell won't bother you much. However, the splashing on the bridgedeck when the waves are taller can get a little annoying – it's always wise to look for a sheltered spot when the wind is up.
Inside, forward, there is a very small head with no shower on the starboard bow, a linear galley in the port hull, and a dinette above the crossbeams. At the stern there are two small cabins; one per hull. The one on the port side is bigger and is all taken up by a rectangular double bed. The one on the starboard side is smaller and fits a single bed. The forward and aft cabins are separated by the center cockpit.
The main downside to the Heavenly Twins catamaran is the headroom – in most places, it's less than 5ft 9in. Tall people can't stand up fully or move around the interior easily. For this reason, it only makes sense as a liveaboard boat for short people or for cruises lasting a few months a year.
The Heavenly Twins is a very simple boat with a small rig and for this reason it's easy and cheap to maintain. If the engine needs replacing, it's very easy to lift the old one out and buy a cheap 9 hp outboard. New sails cost a fraction of the price of those for bigger sailboats. The amount of antifouling needed to cover both hulls is small.
Overall, it's a great budget catamaran for cruisers who want to keep costs down or who want to cruise part-time.
5 essential sailing books I love
From diesel mechanics, to predicting the weather, to heaving-to a boat in a storm, sign up to see which five essential books will never leave our sailboat's shelf. Enter your info to download the PDF!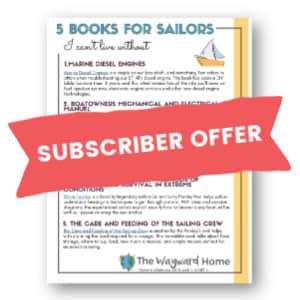 How Elena and Ryan ended up on a Heavenly Twins catamaran
Elena and Ryan have cruised around Europe onboard their 26′ Heavenly Twins Catamaran, which they bought for under $12,000 in August 2016.
The two met in England and decided to move onto their sailing catamaran as they approached 30 years of age.
"We thought there was more to life than working into our old age to pay for a house and cars," Elena said. "We wanted a life of adventure and travel where we could work less and spend more time doing the things we love to do. Ryan is from south-east England and I'm from northern Italy, near the mountains."
They sailed their Heavenly Twins from the United Kingdom to Sardinia (Italy), filling their days with snorkeling, hiking, rock climbing, free diving, camping and scuba diving.
Why they chose a Heavenly Twins catamaran
According to the couple, they chose the boat because she is a strong and sturdy sea boat. A catamaran better suited Elena, as she gets seasick quite easily. Of course, affordability was a big factor in their choice, too.
Moreover, a 26ft catamaran offers a lot more space than a monohull of a similar size. Yet, they could get away with paying docking monohull fees sometimes, as the beam of this little beauty is only 13.75 ft.
Elena and Ryan enjoyed having 360 views of their surroundings while in the galley and salon – something that simply isn't possible on most older monohulls.
A huge advantage of the Heavenly Twins is the rectangular bed, which is almost as big as a standard double. Finally, having a shallow draft helped Elena and Ryan reach shallower spots in anchorages when other boats couldn't. This was particularly helpful in the crowded anchorages of the Mediterranean.
The cost of cruising on a Heavenly Twins sailboat
The couple's goal was to travel on their sailing catamaran for 500 British pounds per month. If they worked or made any extra money, they allowed themselves 650 pounds per month to pay for things like boat upgrades and eating out.
They kept costs down on their catamaran boat in a number of different ways.
Here are some of the tips they shared on how to live on a catamaran on a budget:
Anchor instead of using a marina when traveling by sailboat
Get a simple boat. Elena said: "Go for a '70s or '80s heavily-built fiberglass boat, which will be more forgiving of your mistakes. There's plenty out there in the low price range and it's really easy to get a good simple cruiser. The cost of a surveyor is easily made back by negotiating on the faults they find – it's the best money you can spend on a second-hand boat. They'll also show you any show stoppers."
Work while you're cruising on your monohull or catamaran
Research the cost of living of the countries you plan on visiting
Eat and drink in. "When you're on a sailboat in a beautiful anchorage, you don't feel the need to go out much, so we only go to restaurants occasionally. We're not huge drinkers, but we usually stick with canned beers, which are super cheap," said Elena.
Fish and forage
Sail rather than motor
Get a good cell phone plan
DIY maintenance "As we do all of our boat maintenance ourselves, we tend to keep maintenance costs down and we try to put aside a bit of money for the winter, when we get most of our jobs done," said Elena.
Elena said there aren't really many disadvantages of cruising on their Heavenly Twins catamaran on a budget, except for one: "We couldn't spend money on attractions or renting cars, which sometimes prevents us from exploring on land."
But the best is this: "Our sailing catamaran was always anchored in stunning places."
5 essential sailing books I love
From diesel mechanics, to predicting the weather, to heaving-to a boat in a storm, sign up to see which five essential books will never leave our sailboat's shelf. Enter your info to download the PDF!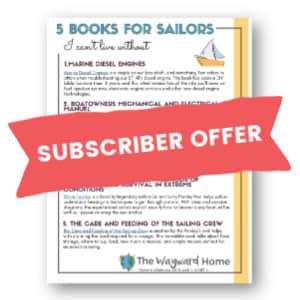 How they afforded their life on a Heavenly Twins catamaran
Both Ryan and Elena worked on the go while living on their catamaran sailboat. Ryan concentrated on the sailing journey and did some design work, while Elena did online marketing work and created videos for their YouTube channel: Sailing Kittiwake.
Elena said it's really important to know sailing on a budget is possible.
"Sailing on a budget opens up the possibility of setting off into a more adventurous way of life when you're still young enough to make the most of it," she said. "Many people plan to wait until they're older and better off, but life gets in the way of their dreams. Sailing on a budget also makes this way of life possible for people who are retiring early or retiring on a smaller income."
She said the best advice she heard is summarized by the famous sailing couple, the Pardeys: "Go small, go simple, go now."
The cost of cruising is millennials' biggest hurdle
Elena and Ryan have figured out how to travel on their catamaran sailboat on the cheap, something many millennials don't even know is possible.
According to a study by Boat US, sailboat ownership among young people is way down, and one reason is that they are afraid of the cost. A lot of time, it's assumed that cruising is something only retirees and the super rich can do, with visions of fancy sailboats or gigantic yachts.
But the good news is this: Cruising is accessible to anyone.
Elena said there are so many things that made her life on her sailing catamaran worth it. Back in 2018 she said:
"We love warm evenings at anchor with a beautiful sunset, we love the moment the sails fill and you turn the engine off to be silently pulled along the calm ocean, we love dark star-filled nights with bioluminescent dolphins shooting around Kittiwake's bows like torpedos, we love being free to explore the world around us at our own pace. Most of our favorite places are islands, as they always have a special feeling to them."
5 essential sailing books I love
From diesel mechanics, to predicting the weather, to heaving-to a boat in a storm, sign up to see which five essential books will never leave our sailboat's shelf. Enter your info to download the PDF!