Morgan Campbell, 30, had only known her new boyfriend Eric Laakmann for six months when she decided to move aboard his catamaran sailboat in San Francisco.
Even though they had been dating for such a short time, they knew one thing: they both wanted to sail around the world.
"At first I thought, wow, this guy is moving fast," said Morgan. "It was only our third or fourth date when he started talking about sailing the world in his catamaran."
But the idea appealed to Morgan. She'd spent every summer sailing with her family and was on race team in high school. Sailing was one of her passions.
So, she took the leap, leaving her overpriced apartment on Nob Hill, which she shared with two other women, and moved aboard.
"Even though it was early in the relationship, I wanted to move onto the boat for a trial period before we committed to sailing away," said Morgan. "It's a huge change for your relationship to spend that much time in close quarters. It will either push you together or pull you apart."
5 essential sailing books I love
From diesel mechanics, to predicting the weather, to heaving-to a boat in a storm, sign up to see which five essential books will never leave our sailboat's shelf. Enter your info to download the PDF!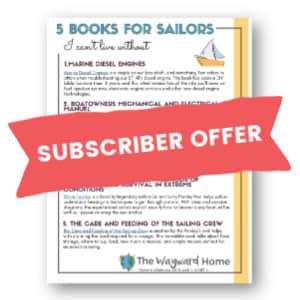 Living aboard a catamaran sailboat in San Francisco
28-year-old Eric had already been living aboard sailboats in the Bay area for years, initially on a 43′ Beneteau Oceanis. He'd bought his most recent boat, a 55-foot Outremer catamaran, in French Polynesia in 2015, and sailed it back to San Francisco.
He'd also grown up sailing, spending up to six months at a time on a sailboat with his parents. In San Francisco, the liveaboard life helped him save a ton of money on atrocious rent.
[You might also like: The best 5 small sailboats for ocean cruising]
The cat is a high-performance multi-hull with narrow hulls, a large sail area, and daggerboards for upwind sailing. She's a boat meant to sail the world, and in fact, had already been around 1.5 times before Eric bought her.
"What's funny is we couldn't find a big enough slip," said Morgan," so we took two monohull slips with a dock right up the middle, beneath the sailing catamaran."
After a few months of living together and taking the catamaran out on test runs, the two decided this was it. They were finally ready to quit their jobs and live a life of travel.
Heading out the Golden Gate on their cruising catamaran
Morgan and Eric didn't hate their jobs, so quitting wasn't as easy as they expected. Eric was the Engineering Project Manager for the Apple Watch, and Morgan worked at a marketing technology company in downtown San Francisco.
They'd both been saving money while working full-time and living on the sailing catamaran, and knew quitting was something they wanted to do.
But they both realized how much identity can be wrapped up in work.
"People often define themselves by what they do, for better or for worse," said Eric. "When you introduce yourself to someone, one of the first or second questions you'll be asked is 'what do you do?'. People try to define you by it. When we quit, it felt weird not having that piece of our identity, but after a week or two you realize that that part isn't as important as it may have seemed."
The two started their journey in May of 2018 by sailing the catamaran boat up to Alaska, where they fished for salmon, explored hidden icebergs, and rowed ashore to walk on the beach.
"When we got to Alaska we were running around like kids," Morgan said. "It's almost like we had to go through a mental transformation to give ourselves permission to have fun. We are so conditioned to have jobs and to work 40 hours per week it feels you don't deserve to play."
They both know eventually, their savings will run out and they'll have to think about work again, so they decided to make the most of this trip and just have fun instead of trying to work remotely.
"When I worked full-time, I can't remember the last time I read a book," said Morgan. "In the first three months of cruising, I read 20 to 30 books! My full-time job right now is to explore new passions."
OTHER CONTENT YOU'LL LOVE:
Adjusting to the cruising life on the catamaran sailboat
So far, cruising and living on a boat is a big change from the hustle and bustle of San Francisco. Alaska didn't have a large cruising community, so the two mostly just spent time with each other.
"When we were living together on the sailing catamaran in San Francisco we were still going to our separate jobs and interacting with a lot of people," said Morgan. "When in Alaska, in three months of cruising, 99% of the words we spoke were to each other."
There were other little adjustments to make as well, like figuring out how to exercise on a stretch of wild Alaska beach where one might run into bear footprints, or a raging creek.
But so far, so good for these two young sailors, who are enjoying every minute of their cruise.
"Our favorite experience has been sailing through ice fields and taking the boat right up to the base of glaciers to watch them calve," said Morgan. "It's so beautiful and peaceful."
Eric agrees that it's been amazing. "We're having raw experiences, not the typical pay to play stuff like you might find on vacation, where every activity is pre-planned and will cost you more. Want to go fishing? You have to pay extra. Instead, we're just forging our own path and it feels very real and substantial."
Their plans for the future on their catamaran sailboat
Morgan and Eric are now in Mexico, having participated in the Baja Ha-Ha sailing rally that left from San Diego. They plan to spend three to five months south of the border, then "hop the pond" over to the islands of the South Pacific.
From there, who knows. Their funds will last a couple years, then they'll have to make their next big decision: Keep cruising and figure out a way to make a remote income, or head back to San Francisco to pick up their careers in tech.
"We'll just keep checking in with each other on a regular basis," said Morgan. "How are we changing and adjusting to this lifestyle? How much longer do we want to go? Every place brings a unique set of challenges and opportunities for us to learn, but if we ever stop growing we'll know it's time to come home."
When I asked both Eric and Morgan what they missed about living in San Francisco, they couldn't think of much, but this:
"I miss good beer!" said Morgan, laughing. "Mexico has the worst beer. When you sail down here, be sure to bring six packs of good IPA."
I assured her – this Portland beer drinking girl definitely will.
(You can follow along with Morgan and Eric's on their Instagram: Voyage of the Zephyr, where they post incredible photos)
YOU'LL ALSO LOVE THESE POSTS:
5 essential sailing books I love
From diesel mechanics, to predicting the weather, to heaving-to a boat in a storm, sign up to see which five essential books will never leave our sailboat's shelf. Enter your info to download the PDF!