If you've never been on a sailboat before, one of the biggest questions in your mind is probably this: What to wear sailing?
You've probably seen glamorized images of people on sailboats wearing white linen pants and blue-and-white nautical tops. Or maybe a flowy dress with espadrilles or cargo shorts with a dashing polo shirt.
Usually, people are also drinking red wine and have platters of food on tables, which never happens while sailing.
In this post, and through my experience living on a sailboat in California, I'm going to try to help you figure out what to wear sailing on your next outing.
Know Where You're Sailing Before Deciding What to Wear
What to wear sailing really depends on where you're going. Skimming across bright blue water in the Caribbean is way different than sailing in the windy and cold San Francisco Bay.
Assess the weather conditions and forecast of where you're planning your sailing trip.
However, no matter the temperature, realize that on a sailboat, you're probably going to be colder than you think.
If you're going sailing, it means the weather is windy. And wind mixed with water spray usually results in a bit of a chill.
The first big thing to remember is to bring more clothing than you think is necessary. Layering up can mean the difference between feeling miserable and comfortable on a sailboat.
Tip #1: Bring a Raincoat/Wind Breaker When Sailing
No matter where you're sailing, you'll want to bring a raincoat like this REI windproof, waterproof raincoat along. Raincoats often double as wind-breakers, so even if it's not raining per se, you may want a coat that blocks the wind.
When sailing on the San Francisco Bay, I almost always wear my raincoat no matter the weather.
In fact, the little video above shows me sailing in Southern California! See, even if you think it's a hot climate, when you're on a sailboat, the temperature goes way down.
If you're sailing somewhere warm and sunny, a light, breathable raincoat won't be hot and heavy. It will prevent you from getting soaked by the spray and chilled by the wind.
We prefer wearing Goretex raincoats for backpacking on our sailboat as they are made to breathe. Plus, our raincoats even unzip at the armpits in case we get too hot while sailing.
Unfortunately, my favorite raincoat from REI has been discontinued, but there are many different choices to pick from.
Here are some lightweight, breathable jackets from REI:
REI Rainier Rain Jacket
This windproof, waterproof jacket is a great pick for proper sailing attire. This jacket claims its windproof up to 60mph!
REI Talusphere Rain Jacket
This light and stretchy waterproof jacket is great for wearing sailing. It's windproof up to 60 mph and has a dry touch interior.
Keep in mind that these raincoats are meant to wear casual sailing. If you're doing extended cruising or coastal cruising out on the ocean, you'll 100% need foul weather gear, which is in a different category than these raincoast.
Tip #2: Have a Good Puffy Coat With You When Sailing
Whenever I'm sailing in California, I always bring my ultra-warm Mountain Hardware puffy coat. This coat both keeps me warm and blocks the wind.
If I'm feeling extra-chilled, I'll put on a sweater, this puffy jacket, and then my raincoat/windbreaker on top. That means I'll never feel cold when sailing!
The Mountain Hardware coat I have is sort of expensive – don't feel like you need a top-if-the line puffy. However, this is the best puffy coat I've ever owned.
If you need a coat to wear sailing, shop for one that's warm, with good reviews, and that fits underneath your raincoat. Some stores to check out are Uniqlo and REI.
You'll never be bummed you brought too many warm clothes when on a sailboat!
This is the exact jacket I wear sailing. It both keeps me warm and blocks the wind like no other puffy I've ever owned. Plus it folds down to a tiny size!
Tip #3: Wear Layers on a Sailboat
No matter where you're sailing, layering is a great idea. For example, in a colder climate like San Francisco, you could wear a moisture-wicking t-shirt, a long-sleeved thermal shirt, a puffy coat and a windbreaker.
If you're in a warmer climate and wondering what to wear sailing, you may go for just the T-shirt and the windbreaker. However, it's still a good idea to bring a couple other layers in case the weather turns nasty or you get chilled by the spray.
Sailing somewhere extra warm? Of course you'll want a swimsuit and cover-up so you can jump into the water when taking a break at anchor. This hasn't happened to me yet as I've usually sailed in colder climates.
REI has a lot of good layering options that I love:
I own and love this smartwool base layer! Wool keeps you warm in the winter and cool in summer and wicks moisture like crazy. This is great attire for sailing.
I own two of these SmartWool zip ups from REI, and love how they keep me warm but not overheated. I love wearing the sweater over the T-shirt when sailing.
5 essential sailing books I love
From diesel mechanics, to predicting the weather, to heaving-to a boat in a storm, sign up to see which five essential books will never leave our sailboat's shelf. Enter your info to download the PDF!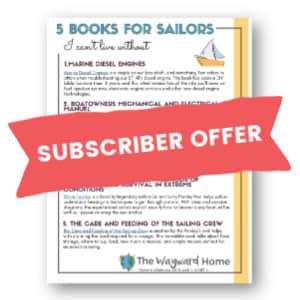 Tip #4: Bring a Face Buff on a Sailboat
This might seem strange, but I really don't like the feeling of wind hitting my face when sailing. In San Francisco, my face felt chapped and red after a day of sailing.
I'd put on face lotion, sunscreen, even vaseline to try to protect my face's sensitive skin, but nothing ever worked until I discovered the buff!
Now, I never set foot on my sailboat, or any other, without bringing along my face buff. It might look creepy, but it's a life-saver for me.
I can cover my face entirely and still breathe through the buff's fabric. This helps protect my face from both the wind and the sun.
You can choose either a lightweight buff like the one I have or one made out of merino wool. There are so many different colors and ways to wear the buff! I usually wear it over my face or around my neck.
I own two of these face buffs from REI! They work really well keeping the wind and sun away from my face while sailing.
You might also like: 13 things I can't live without on my sailboat
Tip #5: Wear Proper Sun Clothes on a Sailboat
Both Tom and I are obsessed with wearing sun shirts. We wear them hiking, backpacking, sailing, working on the sailboat, or any other activity that involves being outdoors.
If you're wondering what to wear sailing, a sun shirt is a must.
Sun shirts keep you way cooler than a tank top on a sailboat because the sun doesn't heat up your skin!
Plus, if you're on the water all the time, it's important to keep your skin from those damaging rays. Getting tan, and especially burnt, is really bad for your skin, so we try to avoid it at all costs.
I've gone through two Columbia sun shirts so far. My first was white, which I don't recommend due to staining issues, and my current one is blue.
Here are a couple of our favorite sunshirts to wear sailing.
I've had great luck with Columbia sun shirts. This is essential sailing clothing to keep the rays off your skin.
Tom loves his Mountain Hardware sun shirt from REI. These shirts are even nice enough to wear out and about when you're done sailing!
Tip #6: Sun hats are essential sailboat clothing
Speaking of sun, we also wear a sun hat when sailing. We both wear the same brand of hat, which is also multi-functional clothing we wear backpacking and hiking as well.
These Sunday Afternoon Sun Hats from REI cover much more of our face than a ballcap and have a chin strap so they don't blow off!
We've found that if we put our raincoat hood over this hat, it works even better and creates the perfect (albeit really dorky), sailboat outfit.
Since sun hats sometimes blow off while sailing, I've found another alternative is to wear my buff up to my eyes and then a ballcap pulled down. This provides a lot of sun protection and my hat stays on, haha.
Here is our favorite hat from REI, which is durable, water-resistant and SPF 50:
The chin strap on this hat makes it ideal for wearing sailing. However, if its really gusty out you may have to pull your raincoat hat over the sunhat and cinch it up!
Tip #7: What Shoes to Wear Sailing
Another conundrum people face when wondering what to wear sailing is the type of shoes!
You'll want to make sure to wear shoes with a non-slip, rubber bottom that is light in color. Don't wear any shoes with black-bottomed soles, including boots, sneakers or sandals.
Boots with dark rubber soles can often scuff a sailboat's deck, which is something any sailboat owner tries to avoid!
On my sailboat, I usually either wear sneakers like Converse or my low-top Sperry rubber boots.
If it's really warm outside, I sometimes will sail barefoot, but if you're on a boat you don't know very well I wouldn't recommend this. There can be hidden hazards where you might stub your toe.
You can also wear closed-toed water shoes with a light sole.
Tip #8: What Bottoms Should You Wear Sailing?
This is another one of those questions that depends largely on the climate where you'll be sailing.
In San Francisco, I often wear jeans when sailing, and if it's really cold, I can add a layer of these SmartWool long underwear underneath.
If I'm out sailing in the ocean, I wear these REI fleece pants with my foul-weather gear pants over those to keep warm and dry.
For casual sailing, however, you can wear anything from shorts, to yoga pants, to hiking pants, to jeans. Whatever makes sense for the day and weather.
Keep in mind that jeans will be very cold and ikcy when wet, so only wear those if you don't think there will be much spray on the sailboat.
Quick-dry clothes are always a good option to wear on a sailboat, and that includes wool and fleece.
Tip #9: A Few Extras to Bring Sailing
As I said before, it's always a good idea to bring too much when you're deciding what to wear sailing. You can always take clothes off if you get too hot.
Here are a few extras I'd recommend bringing on a sailboat:
Gloves
Scarf
Hat
Sunglasses
Sunscreen (don't forget the tops of your hands if you're not wearing gloves)
Swimsuit
Cover Up
We Hope This Helps You Decide What to Wear Sailing!
We hope this guide helps you pick the right sailing clothing to keep you warm and dry on a sailboat.
One of the worst things is going out on a sailboat for the first time and feeling cold, damp and miserable.
Keep in mind that those romantic images of people wearing stylish clothes on sailboats are only made to sell clothes.
Bring more than you think you'll need, and remember to layer!
Hit me up in the comments below if you have any further questions.
Other sailing stories to check out:
5 essential sailing books I love
From diesel mechanics, to predicting the weather, to heaving-to a boat in a storm, sign up to see which five essential books will never leave our sailboat's shelf. Enter your info to download the PDF!