I didn't know a thing about living on a boat when I first moved onto my boyfriend Tom's ketch in 2016. What I did know is that I loved boats, and as a commuter, rode the Washington State ferries over 3,000 times.
But living on a boat is an entirely different animal. Especially a 40-year-old sailboat undergoing a complete restoration.
When we first moved onto our sailboat, it had no refrigeration, no toilet, no stove and no heating. Living on the boat was more like camping than those glorified images you see of boat life. Yup, I actually made our dinners by balancing a frying pan on top of a backpacking stove. Fancy, right?
Even though living on a sailboat can have its ups and downs, it's also an incredible experience.
I do know this: living on a boat isn't for everyone. You need a certain amount of grit and know-how to pull it off.
But if you love adventure, freedom and water, living on a boat could be the best choice.
Here are 11 things I've learned by living on a boat that may help you decide whether to jump aboard.
1.) Boats need a lot of work
Maybe you'll be one of the lucky ones and buy a boat that's ready to sail into the sunset. But most people who buy boats quickly realize the boat needs a lot of work.
When Tom bought his CT-41 ketch, he had no idea how much work the boat would be. He knew he needed to fix a few things, but those things turned into massive projects. The more he fixed, the more he found wrong on the boat.
3.5 years after buying the sailboat, we've taken only one trip on the open ocean. We sailed 7 hours north up the coast to Point Reyes. We've done a few San Francisco Bay sails and anchored out in beautiful places, but our dream is the ocean.
In 2017, we hoped to sail to Mexico in winter, but Tom wasn't done fixing the boat. The same thing happened in 2018. And also in 2019. Now, 2020 is our new goal for a Mexico sail!
One adage about boats is this: Fixing things in exotic places. Before you run out and buy a boat, be aware that you will have to work on it.
2) Living on a boat means lack of space
View this post on Instagram
Let's face it: boats don't have much space. If you're planning on living on a boat, you'll have to get rid of tons of stuff.
Our boat does have cupboards for storage, but right now, most of them are filled with tools (see #1). I actually bought a van so I'd have a place to store my clothes and shoes.
Lack of space means we have to be efficient when it comes to our stuff. In the kitchen, for example, each item has more than one purpose. Instead of buying a pair of onion goggles, I wear swimming goggles. We're always getting rid of stuff, moving stuff around, and try to keep only what we need.
With the lack of space, boats can get cluttered really fast, and nothing feels good about hanging out in a mess.
3) It's hard to find a place to legally live on a boat
I'll tell you a little bit of truth, here. We aren't legally allowed to live on our boat. It's incredibly difficult to find a liveaboard slip in the San Francisco Bay area. Almost every marina has a waitlist for liveaboard status, and when you do get it, you're boat rent doubles.
We solve that problem by staying off the boat as much as possible. We go camping in my van, or travel to see family, or go on press trips for my travel writing. That means we're only actually living on the boat a couple nights per week.
I've talked to other mariners who do the same thing. One woman in the San Francisco Bay area lives a few days per week in her minivan and a few days on her boat.
Anchoring out in a sailboat is legal in many places, and also free. But you'll need to move your boat every few days depending on local regulations.
I can't wait for the day when we go cruising, and we don't have to worry about how many nights per week we live on our boat.
If you're thinking of the sailboat life, you'll want to get on as many liveaboard waitlists as possible. And right now.
Here are some of the most popular cities where people live on their boats, according to BetterBoat.com.
1) Portland, Oregon
2) Sausalito, California
3) Alameda, California
4) Berkeley, California
5) San Diego, California
6) Seattle, Washington
7) The Chesapeake Bay Area
8) Tampa, Florida
9) Corpus Christi, Texas
4) Marinas can be disgusting
Before I lived on a boat, I had a glamorous view of marinas. I imagined beautiful, polished wooden docks with gorgeous boats on either side. Maybe there would be a clubhouse where people would gather and sip wine under umbrellas. Marinas would be a place of joy and laughter, where people shared in the love of boating. Everyone's boat would work, and everyone would put time and effort into the upkeep.
But that can't be further from the truth. Since I started living on a boat, I've seen some truly nasty marinas. Boats in total disrepair. Boats with garbage on their decks, or cluttered with rows of unruly plants. Marinas with crusty characters ambling about, shouting both to and at each other. I've heard marital disputes, crying, cussing, and all sorts of weird stuff.
It's important to choose your marina carefully. Make sure you like the people you see, and that you have similar goals. If you're at a marina preparing your sailboat for cruising, it's fun to be around similar folks.
5 essential sailing books I love
From diesel mechanics, to predicting the weather, to heaving-to a boat in a storm, sign up to see which five essential books will never leave our sailboat's shelf. Enter your info to download the PDF!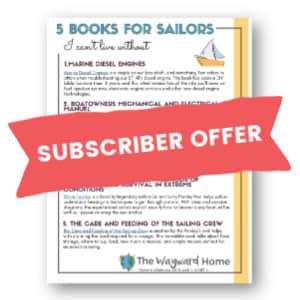 5) Anchoring out is the best thing ever
While marinas are often gross, anchoring out is never nasty. We've spent many evenings at beautiful anchorages in the San Francisco Bay area. It's a joy to feel the gentle rocking of our sailboat while dinner roasts in the oven. We sip on wine and beer, play cards, play music and watch movies nestled in our bed.
Anchoring out makes us feel far away from the din of city life. For the hours we're at-anchor, we feel at peace, in nature, completely relaxed. (Except that on time in Point Reyes when we had to anchor close to shore, and kept watches all night to not run aground.)
Disclaimer: When I talk about anchoring out, I'm referring to the San Francisco Bay area only. I haven't had extensive experience anchoring out, but when I've done it, I've loved it and can't wait to do more.
6) Liking your partner is an absolute must
Luckily, before we lived on a sailboat, Tom and I figured out we like each other. A lot. We lived in a Toyota Prius and in a tent near San Francisco to save money. If we could get along living in a car, we could get along living anywhere, including on a boat.
Living on a boat means you'll have a lack of personal space. If you get in a fight with your partner, there's nowhere to run, except perhaps to the front of the boat.
It's very important that you like and enjoy your partner and share the same hobbies. You also must know how to resolve conflict, or you'll be another one of those weird, unruly marina couples.
7) It's good to have an obsession with leaks and steam
Before living on a boat, I never thought twice about steam. I'd boil spaghetti at full throttle, relying on my kitchen's vent van to whisk the steam away.
But cooking on a boat is an entirely different animal. There are no vents, which means steam collects on every surface. When I'm boiling pasta, I keep the lid on, but Tom still runs around the boat, running his fingers along the walls and ceiling.
He's also spent this entire winter patching up leaks on our sailboat.
Why the obsession with leaks and steam? This is what causes mold. And mold is not a boater's friend.
Even though we do a good job keeping our eye on leaks and steam, we still find specks of mold on our books. Recently, we even found mold on a beer coozie!
Living on a boat has taught me a new appreciation for the dangerousness of steam.
8) Yes, things really do fly off the counter
View this post on Instagram

When we first started anchoring out, I had no idea wakes could cause real damage. I'd giggle and grab my camera, enjoying the rock and sway of our sailboat.
Tom's reaction was completely opposite. He'd run all over the sailboat, putting things away, grabbing things that could fly across the room. "Put your camera down and grab something!" he'd yell at me.
At first, I thought he was full of it. These wakes were tiny! Would anything really fly around? Why yes, yes they can.
Just a few weeks ago, we were cooking dinner in the marina when a huge gust of wind rocked our boat, sending my wine bottle flying. Let me tell you this: wine in the bilge is never a good thing.
Next time a wake or a wind gust hits our boat, I'll be sure to grab flyaway items, not my camera.
9) The cost of living on a boat can be high
A lot of people flock to the liveaboard life to save money on rent. But living on a boat can cost quite a bit of money, especially when you have to fix things that go wrong. (See #1)
Our marina is much cheaper than rent in the San Francisco Bay area, ringing in around $400 per month. Our utilities are just $5 per month. But if you factor in everyone Tom has bought for the boat (a stove, a fridge, a toilet, radar, depth-sounder, sails, rigging), it can really add up.
Living on a boat only works if you can afford to fix it.
1o) The potential for adventure is endless
The best thing I've learned about living on a boat is that there is always adventure waiting. Our sailboat can travel all over the world, bringing us to far-flung destinations.
When the boat is finally fixed and ready (again, see #1), we plan on taking it all over. Top destinations on our list are Mexico, South America, the South Pacific, Vancouver Island, Alaska, the Caribbean and the Mediterranean.
I just love that when you live on a boat, you can take your home with you to so many places. Sailboats are sturdy and rugged, designed to withstand wind and waves. I can't wait to experience life at sea, to explore, to adventure, and to always be home.
YOU'LL ALSO LOVE THESE STORIES:
How to stay fit while living on a boat
This couple sails on their cruising catamaran on the cheap
5 essential sailing books I love
From diesel mechanics, to predicting the weather, to heaving-to a boat in a storm, sign up to see which five essential books will never leave our sailboat's shelf. Enter your info to download the PDF!