Waking up to the gentle lapping of waves as a sunrise spills over the horizon. Spending your days basking in the warm sun, the taste of salty air on your lips and the promise of adventure in your grasp. Discovering the beauty that lies below the surface and making friends with the wildlife that lives there.
It's pretty easy to see the appeal of living on a boat. While it can be a dream, it's not all rainbows and dolphin flips.
The ocean is dangerous. Anyone who says otherwise just doesn't know it well enough. Picking the best liveaboard boat is absolutely essential for both the safety and enjoyment of your time aboard.
There is no one right boat for everybody, otherwise, there wouldn't be so many different types. In this article, we'll discuss some of the best liveaboard boats and hopefully help you find the perfect boat for you.
5 essential sailing books I love
From diesel mechanics, to predicting the weather, to heaving-to a boat in a storm, sign up to see which five essential books will never leave our sailboat's shelf. Enter your info to download the PDF!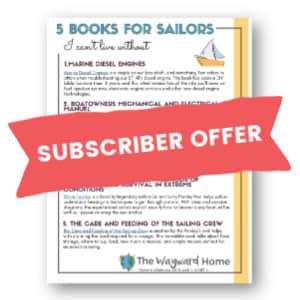 New vs used liveaboard boats for sale
One of the first things you'll need to consider is whether to buy a new or used liveaboard boat for sale. This is usually more of a financial decision than anything else, as a new boat can cost over 10x as much as a similar used model.
New boats are by and large more reliable than used boats. Unmarked by years of wear and tear, new boats have less mechanical issues and malfunctions. If you're not particularly handy with a toolbox, this could be a priceless benefit.
Alternately, if you know your way around an engine, you might actually enjoy taking on a fixer-upper.
Shopping for the best liveaboard boats for sale
Used liveaboard boats are also a bit harder to shop for. When you're buying new, you can easily select any make or model you'd like. With almost endless options, it's likely you'll be able to find everything on your wish list wrapped up in one ideal vessel.
On the used market, pickings are a bit slimmer. Your options are limited to what's available, and you might find you have to compromise here and there to find a boat that meets your needs.
Boat dealerships know how to market online, and you'll find almost every detail imaginable listed out and photographed for new boats. Since most used boats are listed independently by owners, you might struggle to find certain info about the boat, and pictures tend to be much poorer quality.
Time constraints on finding a liveaboard boat for sale
Time is also a big factor here. If you're buying a new boat to live on, you can set your own schedule. Dealerships carry multiple models and can always factory order more.
When you're buying a used boat, you're at the liberty of the sellers. If the perfect boat pops up on the market, you might lose out if you don't snatch it up. You also might end up waiting months to find the boat you end up buying.
In general, you'll have to be a bit more flexible with your timeline, or be willing to compromise on what you want in your boat if you go the used route.
The best types of boats you can live on
There are many types of boats you can live on, the trick is choosing the best boat to live on for your specific needs.
The first thing you'll want to determine is what you're using the boat for. Some people who live aboard their boats mostly keep to their marina slip and rarely travel too far from it. Others use their liveaboards as cruisers and keep mostly to the water, travelling and voyaging often to new waters.
The primary use of your vessel will largely impact the type you should look for. If you plan to embark on longer trips, you'll either need wind power or large fuel tanks, and should look at sailboats or trawlers.
Sailboats
Catamarans tend to be more popular liveaboard sailboats because of their large cabin space. Traditional sailboats are built to travel, and their hulls offer much less living space than catamarans.
Sailing boats make for an incredibly efficient voyage and the gas savings will hugely cut down costs. However, making longer trips via wind power requires some hefty sailing knowledge and experience, and to travel without such would be a hazard.
Sailing is also a lot of work; hard, grueling work, sometimes in rain or cold, powerful winds. Comparing sailing to turning a key and pushing a throttle is comparing apples to oranges. Unless you truly love sailing, you should probably look into a trawler for long distance travels.
Houseboats
Houseboats are, unsurprisingly, one of the most popular types of liveaboard boats.
Their living quarters are often extremely spacious and comfortable, as that's what they're primarily designed for, making them one of the best boats to live on. But because they are built more for living than cruising, of all the boats you can live on, they're not the most seaworthy and are often only considered for lakes or other calm water travel.
Trawlers and Yachts
Trawlers and motor yachts are also great liveaboard options. Both can provide a surprising amount of living space and amenities, yet are also suitable for long distance or rough sea travel.
Most trawlers have rather disappointing top speeds, so make sure to get one that can go fast enough for your needs. If you're planning on plenty of ocean travel, a fast boat can be essential to outrun inclement weather, storms, or sunset.
Best size boat for liveaboard
Not all boats are created equal. A 30 ft. sailboat will have just a fraction of the living space a 30 ft. houseboat has.
Before figuring out exactly what size boat you need, it can be helpful to walk through a few. Getting a feel for a few different size boats you can live on will help you better understand what you'll need.
Space on your liveaboard boat
Before deciding how much space you need, it's also important to consider where you'll be spending most of your time.
Will you spend your days aboard the boat? Out on the sun deck? Inside the cabins? Will you anchor or moor and spend your days on land?
Think about what your life will actually look like once you're living aboard.
If you're moored near rainy Seattle and know you'll be spending a lot of time inside your cabins, you will need to prioritize interior living space. If you're going to be in the Caribbean and are lucky enough to never get sunburn, you might spend most or all of your time above deck, and should prioritize outdoor spaces.
Also, consider your travel companions. If you're on your own, you can get away with a much smaller liveaboard boat than a small family with a pet or two.
Some space saving solutions like foldaway beds or multipurpose use areas might seem like an ideal way to fit more into less, but when you're living full-time in cramped quarters, those solutions can quickly turn into problems.
Where you'll moor your liveaboard boat
It's also important to think about where you'll be keeping the boat. If you plan to anchor or tie up to a mooring buoy, size isn't super important.
Most people keep their liveaboard boats in marina slips, which are priced and assigned based on boat length. Also, some marinas are overwhelmed by certain length boats, and you might not be able to find available slips in those lengths. So if you're hoping to moor at a particular marina, it might benefit you to check what slips they have available.
How you'll travel in your liveaboard boat
How you'll be traveling in your boat also impacts what size you'll need. The larger the boat, the more difficult it will be to maneuver. If you'll be traveling through small waterways, bays, or lakes, a small profile can make for much more comfortable navigation.
Final considerations on the best size boat for liveaboard
Smaller boats are also more cost effective to operate. If you're relying on an engine for power, a few less feet of length could mean thousands of dollars in gas savings down the road.
On the other hand, smaller boats are easily tossed around by large, ocean waves. On many waters, small vessels aren't just inconvenient, they're dangerous. It's important that your boat is big enough to weather whatever conditions you plan to use it in.
Learn more about the best size boat for ocean crossings.
5 essential sailing books I love
From diesel mechanics, to predicting the weather, to heaving-to a boat in a storm, sign up to see which five essential books will never leave our sailboat's shelf. Enter your info to download the PDF!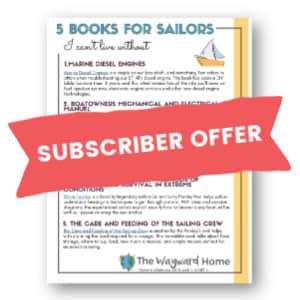 How to find liveaboard boats for sale
Dealerships
If you're shopping for a new liveaboard boat, the best place to start is a dealership.
There, you'll be able to compare models and walk through the actual boats you're considering. They'll also often let you test drive the boat before you agree to purchase, giving you a great chance to test out all machinery and ask questions from the expert.
Shopping online
As I mentioned above, shopping for a used boat is a bit trickier. The Internet has plenty of sites used to buy and sell boats like boattrader.com, boats.com, and even Craigslist. You might get lucky and find the perfect boat listed online, but many boats for sale never make it to the Internet.
Marinas
Marinas are a great place to look for used boats, most have bulletin boards littered with sellers printouts. It also can be helpful to wander the marina itself.
Not only does looking at various boats help you to figure out what size/type of boat you want, but you'll also likely find several adorned with "For Sale" signs, and you might just stumble upon the perfect one.
Finding a boat that's already moored at a nearby marina can also save you a lot of money on transport costs.
If the marina you want to moor at is in high demand, it might not have any open slips, and may even have a years-long waiting list for new tenants. Buying a used boat that's already moored at that marina might be a loophole to getting the location you want.
Some marinas allow for slip transfers with boat purchases. If your marina does, it could be worth checking out what boats are for sale within the harbor.
Conclusion on how to find the best liveaboard boats
Life on a liveaboard boat really can be a dream. If you spend the time to pick out the perfect boat for your needs, you can easily make that dream a reality.
Hopefully this article has helped you start seeing what that reality could look like. If you still have any questions, let us know in the comments below and we'll do our best to help figure it out.
Other posts you might like: