Why we chose a liveaboard trawler for boat life
634 shares "Let's live on a boat." The first time he said it, I rolled my eyes. Living on a boat seemed like a pipe…
*This post may contain affiliate links. Please read our disclosure policy for more info.
"Let's live on a boat."
The first time he said it, I rolled my eyes. Living on a boat seemed like a pipe dream, one so far removed from my reality that I'd never considered it more than a fleeting fantasy.
Had I grown up on and around boats of all kinds? Yeah. Had I bought a small sailboat with my first ever, hard-earned paycheck? Sure. Had a last-minute, 2-night stay on a liveaboard sailboat turned into one of my favorite travel memories of all time? Well, yes.
But actually living on a boat? That's the stuff of dreams and novels, not real life, right?
But actually living on a boat? That's the stuff of dreams and novels, not real life, right?
Wrong.
Just two years after I first heard those words, here I am, typing from the cabin of our small, liveaboard trawler, looking out at the sparkling water and mountains making up what feels like a dreamscape.
A few minutes ago, a pod of orca swam by, breaching just yards from our boat. Now, dozens of porpoises are playing in the waves all around me.
It turns out, it is possible. And while it can be a lot of work, crazy intimidating, and even downright scary at times, living on a trawler is so, so worth it.
How we decided on a liveaboard trawler
It took the better part of two years for our dream to solidify into an actual potential reality. A new job opportunity out in the Pacific Northwest (PNW) seemed like the perfect opportunity to make the leap, so we jumped.
First thing's first, we had to find a liveaboard boat. This decision had me wracked with anxiety, the questions were endless but with every answer, it seemed all I was really learning was how little I knew.
The first decision we had to make was choosing the type of boat. My father taught me how to sail when I was just a girl and I was instantly hooked. It was the first boat I ever drove – or bought – and had always remained my favorite, so when the time came to choose a type of boat, it seemed like a no brainer.
Spoiler alert: I did not buy a sailboat.
In the end, it came down to what was best for our needs. While the gas savings of sail power would have been a huge plus, the benefits of a flybridge boat ended up being everything we needed and more.
5 essential sailing books I love
From diesel mechanics, to predicting the weather, to heaving-to a boat in a storm, sign up to see which five essential books will never leave our sailboat's shelf. Enter your info to download the PDF!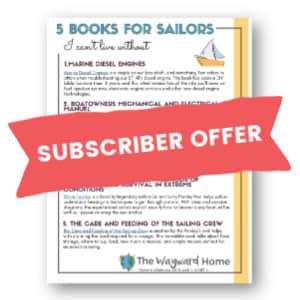 See, our liveaboard boat has some big work ahead of it.
We run a non-profit organization, Oceans Blue Corp, and as we bring it out to the PNW with us, we want to be able to use our boat for some environmental work, too.
Out here, ocean debris is a massive problem, things like abandoned crab traps, fishing nets, and other lost ropes and lines are a huge issue for the wildlife and ecology.
In order to help, we needed a highly maneuverable liveaboard boat, with the ability to get into pretty shallow waters.
We also might need it to tow or haul out larger debris, so a powerful, reliable motor seemed like a must.
We wanted to keep our liveaboard boat under 30 feet
Not only would that save us money with slip rentals, but it would mean even more maneuverability and access, which we needed.
We knew we needed a fair amount of interior space, as the two of us are always joined by our sea-loving, 130 lb Newfoundland dog. A roomy cabin that could comfortably fit the three of us was a top factor.
It's also important to point out that the PNW is far from the tropics. For much of the year, it can be cold, windy, and rainy, so a drivable interior cabin seemed like a must.
Many sailboats have bimini tops that protect the driver from rain, but even the side paneled enclosures tend to be less weather-resistant than a true interior drive cabin.
With all that, we ultimately ruled out sailboats. Instead, we turned our focus to small motor yachts. After finalizing our list of needs, wants, and nice-to-haves, it was time to actually find our liveaboard trawler.
How we found the perfect used liveaboard trawler
I should probably have prefaced that for us, there was never a question of new vs. used. Well, maybe for the 10 seconds it took to look up the prices of new liveaboard trawlers.
After that, we were fully on board with finding a hidden gem to put some time and love into restoring. But it turns out, buying a used boat is easier said than done.
We were moving from Chicago to Washington State. Living on a trawler seemed like a daunting enough challenge, and we didn't want to add towing one through the mountains across the country to our list.
So we limited our search to the Puget Sound, where we'd ultimately be keeping it.
Unfortunately, our nail-bitingly fast timeline meant we had to do the vast majority of the search all the way from Chicago. And 2,000 miles leaves a lot of room for error when searching for the right liveaboard trawler.
Where do you even start?
Well, Millenial that I am, the Internet of course. I quickly found that buying a used boat is a whole lot more complicated than something like a used car.
The price ranges were massive, and confusing, and often seemingly arbitrary. Specifications were missing, outdated, or worse, contradictory, and there was little to go off of beyond the owner's description and pictures.
I also quickly realized, most boat sellers are not Millenials, and are not on the Internet. Most used boat sales take place within a marina and rarely extend much further.
I felt like I was missing out on the perfect boat because I couldn't see what was right in front of me.
The few sellers that had their boats listed online tended to lack rather crucial details. Things like photos or even the boat model. You know, just little details. It made the search feel so frustrating.
I felt like I was missing out on the perfect boat because I couldn't see what was right in front of me.
The different listing sites also gave me grief, should I trust a seller from Craigslist less than one from Boat Trader? Should I even consider buying a liveaboard trawler from Craigslist in the first place?
Love reading stories about boats? Check these out:
I ended up trusting my gut…and asking an annoying amount of questions, of course. We ultimately narrowed it down to a top few contenders and set up a road trip of sorts to go check out our favorite options.
As is life, things change. In the few days it took us to drive out, a few of the liveaboard trawlers sold, another couple ghosted, and a few more revealed undesirable info that bumped them down off our list.
But some things are meant to be, and that one liveaboard trawler that had always sat at the top of our lists stayed put.
It ended up being the first boat we went to see and to be honest, I think we made up our minds the minute we stepped aboard. It felt right, we both knew it, and after dazedly asking as many questions as we could remember to ask, we struck a deal, signed the papers, and became owners of our gorgeous 1984 Bayliner Contessa Command Bridge.
She may be old, and her flybridge needs some cosmetic work, but she's got a brand spankin' new engine and the interior has been well-loved.
She's perfect.
5 essential sailing books I love
From diesel mechanics, to predicting the weather, to heaving-to a boat in a storm, sign up to see which five essential books will never leave our sailboat's shelf. Enter your info to download the PDF!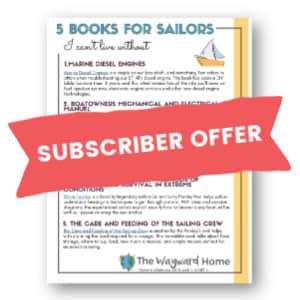 Our liveaboard trawler's maiden voyage
I have to admit something.
We didn't test-drive our boat. I know, I know, I can feel the judgment from here.
Unfortunately, we weren't able to meet with the seller until just after the fuel dock closed, and an empty gas tank meant we were only able to take it for a spin around the bay.
I turned the key and….nothing.
It wasn't ideal, but we did get a several month-long cold start, and the engine sparked up like a dream. We decided the risk was worth it.
The next morning, we got to find out if we were right. We pulled up to the fuel dock practically the minute they opened shop, eager to get out on the water. One painfully expensive tank full of gas later, we were ready to hit to open ocean.
I turned the key and….nothing.
No clicking, no turning, no squealing motor, just nothing. My chest shrunk and I stared at the gas attendant with eyes the size of saucers.
Somehow, he managed not to laugh as he explained that my gear shift had jimmied out of neutral. Deep breaths. Shifted it back into gear and she started back up like a breeze. Thank goodness for kind-hearted strangers.
Finally, we were out on the water. Everything seemed fine…until we turned out of the bay and pushed down the throttle. One of the reasons we bought the boat was its speed, which was well above many similar models we were looking at.
The seller told us it topped out around 30mph, so our hearts sank when at full throttle we couldn't even hit 10.
Fortunately, our very kind and understanding seller gave us his cell number for any questions we might have – of which there ended up being many.
He patiently explained that he treated our boat with antifouling paint, a must-have for saltwater boaters. Add that to the list of things I don't know I don't know.
Marine growth is unavoidable in ocean waters, and can drastically reduce a vessel's speed, efficiency, and maneuverability.
Antifouling paint helps that buildup break away from the hull while the boat is in motion.
After just a few hours on the water, we were able to triple her top speeds.
We felt like we were flying.
Finding a place to keep our liveaboard trawler
The next step was finding a place to keep our boat. We knew we'd be traveling around a whole lot, but we still wanted a home base of sorts, so we looked into slip rentals.
Naively, we selected Port Townsend Marina.
While the marina itself wasn't our favorite, the location was a good center point for a lot of the places we wanted to explore.
When we called and discovered the 2-year waiting list for their long term slip rentals for our liveaboard trawler, we started to panic. It seemed like such an obvious obstacle and yet we'd totally overlooked it.
We hadn't even considered that the marinas we'd want to stay at wouldn't have any availabilities.
Just south of Port Townsend is the beautiful Port Ludlow Marina where we'd actually spent the night a few years ago during a trip on a rented liveaboard sailboat.
The very trip that gave us our first taste of liveaboard life, a flavor we could never quite forget.
It seemed kismet that our search led us back to where we started and felt all the more serendipitous when we found they had several slips available for us to come look at.
We ended up selecting one of two adjacent available spots, which basically gave us a double-wide slip. Our slip is also along the outside row of the marina closest to shore, giving us impossibly easy access. Perfect for a couple of navigation novices.
The marina itself is idyllic, positioned in a quiet bay off the main Puget Sound, juxtaposed below the towering Olympic Mountains.
It feels like our little slice of heaven.
Getting used to living on a trawler
So far, life has been filled with unexpected challenges and overwhelming beauty and awe.
Living on the Puget Sound gives us a front-row seat to one of the most diverse and incredible ecosystems in the world.
But the dream life doesn't come without its fair share of obstacles.
We have so many plans for our little boat and our to-do list feels endless.
Where do we start? With a new radio system, or maybe a better anchor? What about a solar setup for off-the-grid trips? Or should we get a generator instead? But that's all just part of the journey with investing in an older boat.
The last question: where to now? Should we spend a few weeks exploring the beautiful and remote San Juan Islands? Or maybe spend a day following the salmon run up the Hood Canal?
Maybe we'll just trail the orca and see where they take us.
Because that's the true beauty of living on a trawler: ultimate freedom and boundless potential.
We live with the whales.
And we wouldn't have it any other way.
It might not always be pretty, but I have a feeling it will always be beautiful.
5 essential sailing books I love
From diesel mechanics, to predicting the weather, to heaving-to a boat in a storm, sign up to see which five essential books will never leave our sailboat's shelf. Enter your info to download the PDF!