Are you on the market for a sailboat? Then you must be pondering the first, and possibly most difficult choice: catamaran vs. monohull.
Beware: mono owners will try to convince you to get a monohull, and cat owners will tell you all about why monohulls suck. I've owned both: a Heavenly Twins 26 and a Tayana 37.
Both types of boats have advantages and disadvantages, so it can be hard to decide which one to go for. In this article, we'll take an objective look at all factors to consider for your catamaran vs. monohull decision.
It's important to bear in mind that there are different types of monohulls and catamarans.
It's not all black and white: some cats sail at seven knots, some monos sail at fifteen; some cats have little headroom, and some monohulls are very beamy.
It's up to you to research the boat of your dreams thoroughly before you go boat shopping.
Ready to dig into the catamaran vs. monohull debate?
5 essential sailing books I love
From diesel mechanics, to predicting the weather, to heaving-to a boat in a storm, sign up to see which five essential books will never leave our sailboat's shelf. Enter your info to download the PDF!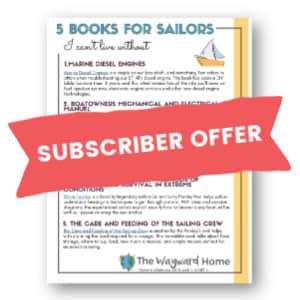 Catamaran vs. Monohull: Purchase Price
Let's look at the first, possibly most crucial factor in your decision: the sailboat cost.
If we're looking at the difference between a catamaran vs monohull, the price is definitely a factor to consider
Catamarans tend to be more costly than monohulls of the same size, because they have two hulls and two engines. This makes production a lot more expensive.
Monohulls are more budget-friendly, especially as there are lots of very good, solid small sailboats from the 70s, 80s and 90s that can be bought for dirt cheap. Think of the Albin Vega 27, the Hallberg-Rassi 35 Rasmus, and the Catalina 36.
You can buy a modern 40ft mono, such as a Bavaria or Jeanneau, in good condition for under $150,000. If you buy new, you're looking at a starting price of about $250,000.
For a brand new 40ft cat, you're looking at a starting price of about $400,000.
Of course, you can buy a used, older catamaran, too. There's the Prout Snowgoose 37, the Lagoon 380, and the PDQ 36. Any of these can be purchased for under $90,000.
For a modern, second-hand 40ft cat, you're typically looking at $200,000 and upwards.
Just starting out on the full-time sailboat life? Check out 11 things I've learned about living on a boat.
Catamaran vs. Monohull: Maintenance and Mooring Costs
As you probably already know, the purchase price is just the first of a long list of costs involved in considering a catamaran vs monohull. You'll also need to pay for maintenance, mooring, haul out and insurance.
Monohulls will be cheaper to maintain, moor and insure than catamarans of the same size.
Why? Because catamarans have two hulls and two engines to maintain and they take up more space. Mooring, hard standing and haul out typically cost 1.5 to 2 times more for catamarans.
When we lived on our 26ft catamaran, we nearly always paid the same mooring fee as a 39ft monohull. So when we decided to upgrade, still having roughly the same monthly cruising budget, we chose a 37ft monohull.
Catamaran vs. Monohull: Safety
Now, this is a touchy subject when considering a catamaran vs monohull for full time living and cruising.
Monohull owners will tell you they'll never go offshore on a catamaran because they're dangerous: they can capsize and won't right themselves up.
Catamaran owners will counter that any boat can capsize, but catamarans are nearly impossible to sink, thanks to the extra buoyancy offered by the second hull. In the event of a capsize, you can climb onto the hulls and wait for a rescue there.
Both schools of thought are valid. Yes, catamarans can capsize and monohulls can easily survive a knockdown. However, unless you're planning on racing hard or sailing the Southern Ocean, chances are you will never have to find out how your boat fares in these situations.
You may encounter extreme weather if you're going on long ocean passages. If this is your plan, you will want to choose carefully.
However, for most sailors, as long as they keep a good watch, know how to deal with rough conditions and choose weather windows carefully, a capsize or knockdown isn't a realistic threat.
What you will probably have to deal with, every now and then, is rough seas and high winds.
When considering a catamaran vs monohull you should know that a monohull can heave to.
This is a maneuver that involves pointing the boat into the wind and locking the helm in place with the mainsail up and the headsail backwinded. Heaving to slows the boat's movement and makes its motion more comfortable.
Most catamarans cannot achieve this, so you'll have to reef and sail skilfully downwind until the wind calms down.
In the event of hitting a container, rock, or a whale, a catamaran offers the advantage of floating even when one hull is damaged. You also have more time to try and effect an emergency repair. Monohulls will generally sink if badly holed.
Questions about full time sailing? Get answers! Take a look at 5 questions I'm always asked about living on a sailboat,
Catamaran vs. Monohull: Comfort at Anchor
There's no doubt that a catamaran, with its bigger interior, roomy foredeck and spacious cockpit is a lot more comfortable to live on at anchor or in a marina slip.
If you're deciding between a catamaran vs monohull, the inside space may be a huge factor to consider, depending on what you're looking for.
The fact that cats don't roll and have a shallow draft, are also huge advantages. However, cats can pitch, especially lighter, smaller ones.
I personally found that a 26ft catamaran is too small and compact to live aboard full-time indefinitely.
My husband, Ryan, couldn't stand up inside and I could only stand up in a few places.
At anchor, at 3tons only, our Heavenly Twins would pitch in anything more than 10 knots of wind. The splashing of the nacelle would make a constant noise, day and night.
In my opinion, you need a 35ft+ catamaran to have enough interior space, bridge deck clearance and headroom. Of course, it all depends on a boat's specific design.
Monohulls are less spacious, but can be very cozy and comfortable in a non-rolly anchorage. In less than 25 knots of wind, with little swell, you won't even notice you're on a boat.
If you're going for a mono and hate rolling, I'd recommend checking the swell forecast to make sure the wind and swell are aligned when anchoring out. A good, protected bay is also esssential.
Catamaran vs. Monohull: Comfort Underway
Speaking of comfort underway, a catamaran vs a monohull will sail differently.
Monohulls heel upwind and when the wind is on the beam, while catamarans stay flat, but pitch upwind. Downwind, cats feel like a house gliding on the ocean at speed, while monos roll from side to side.
The movement is very different in itself: catamarans will generally have a jerky, fast motion, while monohulls tend to be more gentle and slow.
Some people get seasick on monohulls, others on catamarans. It all depends on your body and what it's used to.
Before you make your final decision on catamaran vs monohull, make sure to go out sailing in at least 20 knots of wind on both a cat and a mono. This is the only way you'll know which of the two you prefer.
Comfort underway is a very important factor for those who plan to cruise on their boat full-time and do long passages, such as offshore trips that last longer than four days.
5 essential sailing books I love
From diesel mechanics, to predicting the weather, to heaving-to a boat in a storm, sign up to see which five essential books will never leave our sailboat's shelf. Enter your info to download the PDF!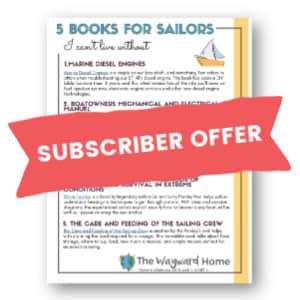 Catamaran vs. Monohull: Performance
Sailing performance with a catamaran vs monohull can be a deal-breaker for some people, depending on how fast or how close to the wind you want to go.
If you're looking for a performance-oriented boat, then there are great options out there for both catamarans and monohulls: racing monohulls that sail fast and catamarans with a diamond rig that can sail upwind.
These types of boats usually cost more, but will give you the thrill you need. Performance sailboats tend to be built lighter and with less storage room and living space.
Not too fussed about going fast? Then the options are slightly different.
There's modern monohulls and catamarans built with comfort in mind, which tend to go at the same sort of speeds.
However, some of these cats don't do well upwind. Older catamarans struggle to sail against the wind even more and will be slower.
Learn what there is to love about full-time sailing, and what isn't so great.
Catamaran vs. Monohull: Maneuverability
Catamarans with twin engines offer incredible maneuverability; they can even turn on the spot. This is ideal for anyone who plans to visit lots of marinas and harbors, and therefore needs to dock their boat often. Catamarans are easy to Med moor, too.
Older catamarans with one single engine in the center of the boat are a lot trickier to maneuver, as we found out when we owned our 26ft Heavenly Twins.
Newer monohulls have decent maneuverability and respond well to the wheel. However, they cannot turn on the spot, so docking and undocking in tight spaces can be a challenge.
Their light weight makes them very responsive to quick engine bursts, though, which means you can get yourself out of trouble with a few swift maneuvers.
Older monohulls can be more difficult to steer into slips, especially those with a full keel. For example, our Tayana 37 won't reverse in a straight line, which makes Med mooring near impossible to achieve.
However, if you're buying an older boat when considering a catamaran vs monohull, it usually means you're on a budget, which in turn means you'll probably try to spend most of your time at anchor.
Mooring our monohull can be stressful, but we do it so rarely, we can put up with the lack of maneuverability easily.
Catamaran vs. Monohull: Aesthetics
Of course, aesthetics play a role in your decision whether to get a catamaran vs monohull.
Some people prefer the classic look of an old monohull with its elegant lines. Some love the sporty profile of the latest production monos. Others like the geometrical style of modern catamarans. It's all subjective.
Even though it may seem vain, don't underestimate the boat's looks – if you don't like her at least a little, it'll be rather hard to fall in love with her. You don't want to end up envying every other boat in your anchorage.
When we dinghy back to our Tayana 37, we cannot help but comment on how lovely her lines are. It's a great feeling.
Catamaran vs. Monohull: Pros and Cons
Still undecided on a catamaran vs monohull? As we've seen earlier in the article, there are different kinds of catamarans and monohulls, so it's hard to make a definite comparison between them.
However, if we assume that you're choosing between a fairly recent catamaran vs. monhull, we can lay out the pros and cons for each. The list below will help you make your final decision.
Catamaran vs. Monohull: Conclusion
Both catamarans and monohulls can make great sailboats and each has some disadvantages.
When making your decision on a catamaran vs. monohull, remember that it's not about how many pros and cons there are for each; it's about which of the factors are most important to you.
Learn more about sailboat living in these posts:
I spent my childhood holidays exploring Europe on my parents' motorhome. Now, I live, work and travel on a sailboat with my husband Ryan. If you like, you can follow us on our YouTube channel, where we're documenting refitting and cruising on our Tayana 37.