5 Best Sailing Catamarans for Sailing Around the World
Are you looking for a boat that is equal parts comfort and speed? Then the best sailing catamaran might be your dream boat. In this…
*This post may contain affiliate links. Please read our disclosure policy for more info.
Are you looking for a boat that is equal parts comfort and speed? Then the best sailing catamaran might be your dream boat. In this article, we'll look at how to choose the best catamaran for sailing around the world, point out some of the coolest boats on the market and try to answer the most common questions around catamarans.
The very first boat I cruised on with my husband was a Heavenly Twins catamaran from 1976; we owned her for three years, spending two of these cruising full-time and sailing from the UK to the Mediterranean.
What is a sailing catamaran?
A catamaran is a sailing vessel with two parallel hulls of the same size, as opposed to a monohull, which only has one. The two hulls are joined by a platform. This design offers great stability on the water, thanks to the wide beam, and reduced hydrodynamic resistance, which makes them faster.
There are the best sailing catamarans of all sizes – from small vessels with simple bunk beds and a small galley to big luxurious ones with an owner's suite and guest cabins.
This means you can buy catamarans from as little as $10,000, up to $1M. Our tiny and simple 26ft Heavenly Twins called Kittiwake cost us $12,000 and we refitted her for $9,000 over two years.
Not sure if you want a catamaran or not? Check this out: Catamaran vs Monohull: What's the Best Choice?
The 5 Best Sailing Catamarans
1) Lagoon 42 sailing catamaran – From $365,000
Weight: 12 tons
Beam: 25ft 3in
Draft: 4ft 1in
Features: Self-tacking jib, 3 or 4 cabins layout, island bed in the master cabin, 6 to 12 berths, up to 4 heads, 2 45hp engines, up to 4 heads, 300L water capacity, 300L fuel capacity.
If you value comfort over speed, then the Lagoon 42 is the best sailing catamaran for you. These catamarans aren't built for performance, but on a trade wind route, with 20-25 knots of true wind on the stern, the Lagoon 42 will do 7 to 8 knots in comfort. Lagoon re-centered the weight, compared to the previous models, in an effort to reduce pitching.
The island beds in the cabins attract cruisers especially because they are a rare sight on boats. Onboard, there's plenty of room to have guests over or to accommodate a cruising family.
Find out more about the Lagoon 42.
2) Leopard 45 best sailing catamaran – From $519,000
Displacement: 14.5 tons
Beam: 24ft 2in
Draft: 4ft 11in
Features: Forward-facing cockpit, 3 or 4 cabins, 8 to 12 berths, up to 4 heads, up to 5 showers, 2 45hp engines, 780L water capacity, 700L fuel capacity.
The big unique selling point of this best catamaran for sailing around the world is the forward-facing cockpit – a shaded and well-ventilated area to relax and socialize. The berths don't feature island beds, but this means they're safer to sleep in underway – no chance of falling off in a big sea.
This beast of a sailing catamaran can accommodate up to 12 people, which is probably what makes them a great boat to charter. The huge water and fuel capacity will allow you to be off-grid for long periods of time.
Read more about the Leopard 45.
3) Fountaine Pajot Astréa 42 catamaran – From $429,000
Weight: 11.5 tons
Beam: 23ft 7in
Draft: 4ft 1in
Features: 3 cabins, up to 3 heads, 2 30hp engines, BBQ, swim platform, island berths, 8 to 10 berths, 700L water capacity, 470L fuel capacity.
The Astréa 42 is the newest of the Fountaine Pajot range; it's meant to be an upgrade to the Helia 44. If you are a fan of modern interior design and luxurious comforts, then the Astréa will make you feel right at home.
The interior of these best sailing catamarans is simply beautiful and the liveability is excellent. The galley communicates directly with the cockpit, making it easier to serve drinks and food, and letting you chat with your guests while you cook up a storm.
The BBQ, big cockpit and swim platform make the Astréa 42 a great boat to spend time on.
While Astréa is a super comfortable floating home, it won't go against the wind or reach the impressive speeds of more performance-based catamarans. You've got to have priorities in life, after all.
Find out more about the Fountaine Pajot Astréa 42.
4) Seawind 1600 catamaran – From $859,000
Weight: 13 tons
Beam: 25ft 10in
Draft: From 8ft 6in to 2ft 1in, thanks to the daggerboards and retractable rudders
Features: Self-tacking headsail, 2 helm stations, walkway between trampolines, up to 4 cabins, 2 heads, 5 to 8 berths, 2 57hp engines, 600L water capacity, 750L fuel capacity.
The 52ft Seawind 1600 is a semi-custom performance sailing catamaran with a low profile, solid construction and seaworthy design. Sailors and racers will love the higher pointing ability of this sailboat. The Seawind can go at 23 knots off the wind.
The hulls of this best catamaran for sailing around the world are kevlar and carbon-reinforced – something you won't find on many production catamarans. The coach roof features a water collection system for those cruisers who love cruising off-grid in remote areas, long-term.
Because the Seawind is a performance boat, the interior is a bit smaller – the hulls need to be narrow and light to perform well. The interior design has a modern minimalist look.
Read more about the Seawind 1600.
5) Outremer 45 best sailing catamaran – From $757,000
Weight: 9.6 tons
Beam: 23ft 3in
Draft: 6ft 6in / 3ft 4in depending on daggerboard position
Features: Self-tacking inner headsail, 3 cabins, 2 heads, 5 to 8 berths, 2 30hp engines, 500L water capacity, 400L fuel capacity.
This boat has been made popular by the YouTube channel Sailing La Vagabonde – a family sailing around the world on an Outremer 45. These best sailing catamarans are solid boats built in fiberglass with a divinycell core, although below the waterline the hulls are all glass. They are designed to sail around the world in comfort and speed – they can easily reach 15-20 knots and sail on the order of 80 to 90% of the true wind speed.
The low cabin profile helps reduce windage and while the narrow hulls mean less living space, they also bring great cruising speeds and reduced pitching. With boats, as you'll find out, it's all about compromises.
Find out more about the Outremer 45.
Budget sailing catamarans for sale
If you feel these best catamarans for sailing around the world are cost-prohibitive, don't despair. You don't have to be a millionaire to buy a catamaran.
Here's a handy list of budget-friendly catamaran builders. Some of these boats are available new, some are older models that you can buy used, and some are even homebuilt.
Privilege
Catana
Broadblue
PDQ
Prout
Gemini
Ocean Twins and Heavenly Twins
Catalac
Regency Marine
Endeavor Catamarans
Wharram (homebuilt)
Bruce Roberts (homebuilt)
5 essential sailing books I love
From diesel mechanics, to predicting the weather, to heaving-to a boat in a storm, sign up to see which five essential books will never leave our sailboat's shelf. Enter your info to download the PDF!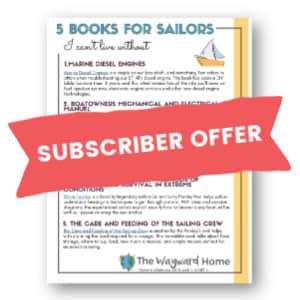 The benefits of the best sailing catamaran
Buying the best sailing catamaran is a huge decision – the newer models don't come cheap, and once you buy one, it's not always easy to sell a boat. So before you call up a broker, let's look at the advantages and disadvantages of catamaran boats. Here's the key benefits.
No heeling.
Unlike monohulls, the best catamaran sailboats don't heel, which means the hulls will stay flat on the water, no matter the force or direction of the wind. This makes for a much more comfortable ride on the ocean – it means living a normal, "straight-up" life, rather than performing your daily tasks at an angle.
No rolling.
Another great benefit is that sailing catamarans don't roll – they won't go from side to side in the swell, which is one of the most annoying and seasickness-inducing motions typical of monohulls. On Kittiwake, we often felt sorry for the people on monohulls whose masts swang like crazy over the horizon in a swell.
Better for seasickness.
In principle, the best sailing catamarans are better for seasickness – the more stable platform and gentler movement of these boats seem to cause less motion sickness. With that said, seasickness is subjective and affects people in different ways, so before deciding on whether to buy a catamaran, go sailing on both catamarans and monohulls.
Big living spaces.
If you go for a decent size catamaran, then the living space on board will feel huge. The area between the hulls offers a good-sized saloon and galley, while the berths in the hulls are usually big enough to host square double beds – the mono crowd's forbidden dream.
Privacy.
Newer sailing catamarans often have a whole hull dedicated to guest cabins. This means you'll have more privacy on board when family or friends are staying on board. You'll be a good few meters apart when sleeping and will be able to use separate heads.
Shallower draft.
The best catamarans for sailing around the world don't need a deep keel or heavy ballast to balance on the water as monohulls do. For this reason, they feature a shallower draft. This can be an advantage in anchorages where a catamaran can get closer to shore and get more protection from the wind and swell.
In some cruising grounds, such as the Bahamas, there are many shallower anchorages and sandbars, which makes having a catamaran a big plus. Moreover, the shallower draft and hull design means you can beach a catamaran in case you need to perform some emergency maintenance, like a leaky thru-hull.
Two engines.
Most catamarans have two engines, which means if one of them fails, you can get to safety using the other one. If you've been around boats a lot, you'll know that diesel engine problems and failures are not uncommon, so this is a handy advantage.
The other amazing thing twin engines can do is that they allow you to turn the boat 360 degrees on the spot, which is of great help in tight marinas. You won't find a monohull that can do that.
Hard to sink.
With two hulls keeping them afloat, the best sailing catamarans are very difficult to sink. The buoyancy provided by the two hulls will likely keep most of the boat afloat in case of a capsize. And if one hull is holed, then the other hull will likely hold the boat on the surface, albeit upside down.
The downsides of a catamaran sailboat
The benefits may make it look like a no-brainer decision, but there are some downsides to catamarans too. Let's look at them.
Splashing.
Even the best sailing catamarans splash to some degree. How much, it depends on their bridge deck clearance. Older catamarans that sit low on the water, like an old Prout or Heavenly Twins, will splash in any fresh breeze.
I was once shocked to discover Kittiwake could splash in a mere 8 knots of wind at anchor. The noise can be very tiring after a while. Higher catamarans may be very quiet at anchor, but loud at sea once the waves are higher than their bridge deck clearance.
You will hear the noise all over the boat, including the berths, where the waves splashing on the bridge deck will resemble the noise of a bomb going off. Not really, but almost!
Less feedback.
While not heeling is great for comfort, it also means that the boat offers less feedback. When a monohull heels, it's time to ease the sheets or reef your sails. And if you miss the clue, heeling allows the boat to spill the wind from the sails, therefore making the ride safe even in high winds.
On a sailing catamaran, you won't receive such feedback and the sails won't spill the wind. The wheel itself will also generally give less feedback. You will have to be on alert at all times, checking on windspeed often, to avoid seeing the boat being overpowered in high winds, which could potentially rip the sails, damage some gear or cause a capsize.
Higher costs.
With two hulls and two engines, catamarans are generally more expensive to maintain. The wider beam also means the majority of marinas and boatyards charge from 1.5 to 2 times the amount they would charge a monohull of the same size.
Size truly matters.
Size makes a huge difference with sailing catamarans. Some smaller catamarans don't offer standing headroom – Kittiwake had 5ft2in headroom in most places, for example. Medium-sized cats (30-35ft) usually have narrow hulls, which means the berths are on the small side, and the stairs going to the hulls are a little cramped.
The inability of self-righting when capsizing.
In the rare occurrence of a capsize, sailing catamarans stay overturned, they can't self-right. A monohull would self-right, so you could potentially repair the damage, and sail on. However, as we've seen, catamarans will likely float even when holed, offering you a solid platform on which to wait for help.
Weight sensitivity.
Most catamarans are rather sensitive to weight, especially those built for speed. With less wetted surface than monohulls, they tend to sink on their waterlines more, which worsens the sailing performance.
Windage.
If you have experience maneuvering boats, you will know that the more windage you have, the more the boat will be blown around by the wind. This can be a nuisance when maneuvering in tight spaces or high winds.
What's it like to cruise on a catamaran sailboat?
Sail cruising on a catamaran is a lot of fun and, of course, very comfortable. The aft deck is well-shaded and protected from the wind, as well as spacious. The foredeck offers a great and fresh chilling out area – just set up a shade, chuck a few cushions around and enjoy the breeze.
In swelly anchorages, you will feel grateful to be on a cat when the monos start rolling. With the boat being flat on the water, you can cook and shower without much hassle even underway.
My favorite thing about a catamaran is watching dolphins play through the trampolines
My absolute favorite thing about cruising on a catamaran? Watching the dolphins play with the bows through the trampolines (in our case the wooden grate). You can get up close to them; it's amazing.
How to pick the best sailing catamaran
Choosing the best catamaran for sailing around the world isn't easy – your decision should be based on a variety of factors. These include:
The kind of cruising you want to do – bluewater vs coastal
Your yearly maintenance and mooring budget
Construction type and sturdiness of the hulls and deck
Build quality – joinery, windows, engine bay and steering mechanism
Safety features, such as curved edges and handlebars above and below deck
Sailing performance – how does it perform against the wind? How fast does it sail?
The weight of the gear you want to take with you – can the boat handle it?
The helm position and visibility from the fly deck
Sail handling ease – are the sails easy to raise, trim and reef?
Headroom
Number of cabins and heads you need
There'll be more factors that will be more personal to you, such as the aesthetics and the feel of the boat, and any preferences you may have in terms of the boat's specific features.
Q&A about the best sailing catamarans
There's so much to say about catamarans, it's hard to cover everything. Here are some of the most common questions about sailing catamarans.
Are catamarans safer than monohulls?
There are many types of catamarans and monohulls – some are suitable for offshore cruising, some aren't. Some are sturdily built, and some aren't. This means that there are offshore catamarans that are safer than coastal monohulls and the other way around.
The real question is: what would make you feel safer? The ability to stay afloat even when a hull is holed, or the ability to self-right in the event of a capsize? Only you know the answer.
Are catamarans faster than monohulls?
Performance catamarans tend to be faster than monohulls of the same length. However, older cruising catamarans often achieve similar speeds to monohulls of the same size.
Are catamarans easier to sail?
It really depends on the design. Moving around deck is usually easier. However, the lack of feedback offered by a catamaran can prove challenging even for an experienced sailor. Sail handling might be more difficult (and dangerous) on those catamarans with high fly bridges, where the mainsail is over 8m above the sea level.
Do catamarans make you as seasick as monohulls?
Most people feel less seasick on catamarans, thanks to the reduced movement of the boat. However, in rougher seas catamarans can bounce around a lot, generating a fast, uncomfortable motion. Seasickness is subjective, so the best way to find out is to try both monohulls and catamarans and see which movement your body prefers.
Can you take a catamaran cruising around the world?
Yes, if you buy a bluewater-capable catamaran, you can sail around the world on it.
Can catamarans go upwind?
Some modern catamarans have rigs (the diamond rig) that allow them to sail closer to the wind. Boat designers have overcome the challenges posed by the wide beam, although most catamarans can't sail as close to the wind as monohulls. Older catamarans, however, struggle to make way upwind.
Can you haul out a catamaran anywhere?
In less developed places, it can be hard to find a yard that has a wide enough lift to pull a big catamaran out of the water. You may need to travel to a bigger city or a country with better cruiser's facilities. However, you can plan your maintenance around this and beach the boat in case of an emergency (if it's legal in that country).
Do catamarans consume less fuel?
Yes and no. In a light wind situation, a catamaran will consume less fuel because, thanks to the reduced hydrodynamic resistance, it needs less power to be propelled forward. However, in bigger seas and stronger winds, the design of a monohull cuts through the waves, making progress more efficiently.
Are catamarans comfortable in heavy weather?
While catamarans don't heel or roll, the fast motion of the boat in heavy weather isn't very comfortable. Some people prefer monohulls, because the heeling tends to somehow stabilize the boat.
Ready to untie the lines and buy a cruising catamaran?
While both catamarans and monohulls have advantages and disadvantages, if your heart is set on improved space, stability and speed, a catamaran might be the right boat for you.
Why not go ahead and do some online window shopping?
Other sailing stories to check out:
5 essential sailing books I love
From diesel mechanics, to predicting the weather, to heaving-to a boat in a storm, sign up to see which five essential books will never leave our sailboat's shelf. Enter your info to download the PDF!