The Best Marine Toilets for Your Liveaboard Boat
228 shares Share Pin Email Twitter If you're planning on spending a fair amount of time on your liveaboard boat, be it weekends and holidays…
*This post may contain affiliate links. Please read our disclosure policy for more info.
If you're planning on spending a fair amount of time on your liveaboard boat, be it weekends and holidays or living aboard full-time, you'll want to choose a good, reliable marine toilet.
But with so many different types on the market, what should you get?
Marine toilets and bathrooms are known to sometimes be smelly, so it's important you pick the best toilet for your circumstances.
You'll have to think hard about how often you'll use the toilet, and whether you want to deal with a holding tank or composted waste.
So, what is a marine toilet and how is it different from a toilet you'd see in a house?
Basically, a marine toilet is a WC that is suitable to be used on boats. Traditionally, it's a WC that uses saltwater to manually flush sewage either out to sea or into a black water tank. However, these days there are more options, such as electric and composting toilets.
In this guide, we'll show you a variety of marine toilets so you can make the best decision for your liveaboard boat.
The Best Marine Toilets
The best electric marine toilets
Let's look at the best electric heads on the market. If you go electric, you should check these models out.
Dimensions: 14″ height x 13 7/8″ width x 17 5/8″ depth
Features: Built-in macerator, vitreous china bowl, low profile.
Jabsco marine toilets are a guarantee – they're one of the most popular marine toilet brands in the world. Spare parts or a replacement toilet are easily available worldwide and technicians will be familiar with this model, whatever country you're in.
The Jabsco marine toilet features a dual function pump in place of a hand pump and dry-bowl valves. It draws about 16 amps.
See the Jabsco Compact Toilet on Amazon
Dimensions: 14″ height x 14 3/8″ width x 18 11/16″ depth
Features: Quiet operation, low water consumption, loop design (eliminates odors), angled back for a good fit against a sloped hull, Smart Flush control, seawater or freshwater flush.
The RARITAN Elegance marine toilet is even more compact than the Jabsco model, with an added touch of style.
The design is ideal for sloped hulls, as the back is angled. You can opt for either seawater or freshwater flush.
The Elegance features a unique Smart Flush control, which offers the options: water saver, water only, normal and empty only modes. The Marine Elegance typically draws 18 amps.
See the Raritan Elegance on Amazon
Dimensions: 15″ height x 14 3/4″ width x 18 3/8″ depth
Features: Elongated solid wood seat, "normal" and "dry" bowl flush options, angled back.
The Dometic MasterFlush is the only electric marine toilet that comes with a wooden seat that fits modern and classic boats alike. The seat is available at two different heights – standard toilet height and a low-profile design that suits perfectly raised platform installations.
The "normal" flush setting adds some water to the bowl after every flush, while the "dry" bowl flushing doesn't add any. The one downside is power consumption; it draws 25 amps.
The best manual marine toilets
If you think a manual marine head is right for you, these three models are the best on the market.
Dimensions: 13 1/4″ height x 17 3/4″ width x 16 3/4″ depth
Features: Twist 'n' Lock handle gets rid of leaks, can be assembled with the pump on the right or left side, dry bowl selector.
The Jabsco Twist 'n' Lock is probably the most popular marine head in the world. The tiny size fits smaller vessels and the simplicity of it makes it a great toilet to have on board with easy maintenance and affordable spare parts.
The handle twists to avoid leaks from the pump.
The new Twist 'n' Lock safety pump prevents flooding and waste backflow by locking the piston assembly in place.
Pros:
Cheap
Reliable brand
Easy to maintain
Cons:
Some reviews complain the joker needs replacing soon
Reviews suggest that if your holding tank is mounted above the level of the toilet, there can be backflow
See the Twist n Lock on Amazon
Dimensions: 13 1/8″ height x 18 1/4″ width x 20″ depth
Features: Slow close seat, integrated chocks that keep the seat stable underway.
The RARITAN PH Superflush manual model features a telescopic handle that tucks away to save space.
The RARITAN PH has a dry flush option and it can be installed above or below the waterline.
The manual piston pump is field reversible for left-hand operation. The double-action piston pump is 66% larger than other manual marine toilets.
See the Raritan PH Superflush on Amazon
Dimensions: 14 1/16″ height x 17 3/4″ width x 19 1/2″ depth
Features: Longer pump handle, can be assembled with the pump on the right or left side, easy to service, slow close seat.
The RARITAN PHII marine head is an upgrade on the PH Superflush. The double-action piston pump draws flush water in as it discharges the wastewater, making servicing easier and faster. It can be installed above or below the waterline and even converted to an electric head through an installation kit
The best marine composting toilets
Want to try a composting head? Have a look at these three popular options.
Dimensions: 20″ height x 19″ width x 17 3/4″ depth
Features: All stainless hardware, elongated seat, quick disassembly, lightweight, 2.2-gallon liquids tank, can be assembled with the handle on either side.
This is probably the most known composting head on the market.
The sleek design makes it appealing for RVers and sailors alike. The Nature's Head composting toilet is a sturdy composting toilet that has been designed for underway use on a boat, with a seat molded into the unit to avoid breakage in heavy seas and a liquids tank that comes with a cap for ease of transport.
The fan draws minimal electricity and the liquids tank takes up to 2.2 gallons. The Nature's Head works well with pre-moistened sphagnum peat moss or coconut fiber in the solids' compartment.
See the Nature's Head on Amazon
Dimensions: 19.75" height x 14.2" width x 19" depth
Features: Solid tank comes with a lid, the lid is gasketed to prevent flying insects from entering the toilet, option to lift the seat, 1.8-gallon liquids tank.
At a similar price to the Nature's Head, the Airhead is a great competitor with some innovative design solutions to the Nature Head's limitations. The smooth, round solids' tank leaves no waste residue inside the toilet. The liquids' tank can be removed without opening the solid's compartment.
Both tanks have handles on them to help you handle them. You can also pick the seat design – round or elongated – and the solids' tank design – flat or hull-shaped. The Airhead works with peat bricks.
The best boat porta potty for use on a boat
Looking for a Porta Potti as your marine head? Here are the ones we recommend.
Dimensions: 17 5/8″ height x 15 1/4″ width x 17 3/4″ depth
Features: Battery-powered flush, holding tank level indicator, easy pour-out spout, 4 gallons fresh water tank, 5.5 gallons wastewater tank.
The Porta Potti White is a luxurious porta potti with a battery-powered electric flush. If you want to flush with a button, just like at home, this is the portable marine toilet for you.
It's easy to transport and comes with a hold down kit to help hold it in place on the floor while underway. The Thetford Corp works with a deodorant liquid, which is included in the package.
See the Porta Potti White on Amazon
Dimensions: 16″ height x 16″ width x 17″ depth
Features: Hand pump, 5.3-gallon detachable holding tank, 3.75-gallon flush tank, level indicator.
The Camco Premium marine toilet comes at an attractive price. The freshwater holding tank features a pump flush action to rinse the bowl of the toilet. It's easy to use, transport and clean.
Use a deodorizer to keep the Camco Premium smelling nice.
See the Camco Portable Toilet on Amazon
Not sure what you want? The different types of marine toilets
There are four main options when it comes to choosing marine heads. Let's look at them in detail.
Electric marine toilets
These boat toilets are operated by a button, which makes them easier to use for those who are transitioning from land life to living on a boat.
Electric heads have a macerator, which means the sewage is somehow treated before being either pumped into the black water tank, or flushed out into the ocean.
You can hook electric marine toilets up to use seawater or freshwater – some people prefer the latter, as it helps keep smells at bay.
Manual marine toilets
These are the most common toilets found on small to medium boats. To flush, you have to use a manual pump that is mounted to the side of the bowl. A pump rinses water into the bowl while draining it via a switch valve.
These heads use saltwater or freshwater for flushing.
Marine composting toilets
In recent years, composting toilets have become more and more popular among campers and sailors alike. The simplicity of the operation, low power and zero water consumption, and minimal maintenance have won over many cruisers.
Composting heads come with two compartments – one for the solids and one for the liquids. The liquids are collected into a portable tank. The solids go into a dry compartment ventilated by a fan and are mixed with either sawdust, coconut coir or peat moss.
This drying process activates the composting process. If the head is used correctly, the waste doesn't contain any pathogens or viruses – they are destroyed by bacterial breakdown – and there is no odor. For more detailed information on composting toilets, check out this article.
Portable marine toilet
Portable marine toilets can be very useful for smaller boats with no bathroom. Porta potti toilets are made up of two parts: an upper section that is a combined flush-water tank and toilet bowl and a lower section that is a holding tank. These are also known as cassette toilets.
To flush, you use a manual or electric pump.
5 essential sailing books I love
From diesel mechanics, to predicting the weather, to heaving-to a boat in a storm, sign up to see which five essential books will never leave our sailboat's shelf. Enter your info to download the PDF!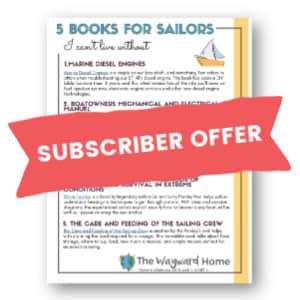 How to choose the best marine toilet for your sailboat
Deciding which marine toilet to install on your boat is a big decision. There are many factors to consider. First, we'll look at the pros and cons of each type of marine head.
Pros and cons of electric marine toilets
Electric marine toilets are easy to use and no fuss – just press a button and you've flushed. While they are intuitive to use, electric heads can pose a challenge – it's hard to know how long to press the button for. Most people underestimate the timing and cause a blockage in the pipes.
They can also be unreliable, noisy and use quite a lot of power.
If you go for the freshwater option, then they consume a fair amount of your water supply, so it's imperative you have a watermaker onboard.
Pros and cons of manual marine toilets
Manual heads are cheap to buy and maintain. They use no power and they can be very reliable if maintained properly. However, they tend to clog easily if not operated correctly.
Moreover, people often pump too many times, which means your tanks fill faster.
Pros and cons of composting toilets
Composting toilets use little energy and no water, making them great for a sailboat with limited supplies and tankage. If used correctly, these toilets smell less than electric, manual and portable toilets.
They are so simple, you can build your own DIY and maintenance is usually as easy as replacing the fan – no regular hose and joker valves dealings.
Another added bonus is that composting toilets don't need any thru hulls to operate and the toilet can be used while in a boatyard.
However, the balance of the compost is rather delicate, so it can take a while to make them work. Improper use can lead to bug infestations in your solids compartment, which aren't a lot of fun to deal with.
Some composting heads need coconut husks, peat moss or wood dust, which means storing some extra supplies on board.
Full-time use of a composting head doesn't allow enough time to compost, which means you will need an additional composting bucket where to dry the solid waste completely – this takes eight weeks.
Pros and cons of portable marine toilets
Portable marine heads are a great way to venture further on a small boat – they are compact, easy to use and discreet.
Like the composting heads, they don't need a thru hull to function and can be used on the hard.
The waste tank has limited capacity, so you will have to either empty it regularly or go on short sailing trips only.
Factors to consider when choosing the best marine toilet
There are many factors to consider when deciding which boat toilet to buy. You will want to have a good think about:
Where you will sail and the countries' regulations – some countries require a holding tank and regular pump outs, so in-depth research of your cruising grounds is essential
The kind and frequency of maintenance the toilet requires
Your budget for the purchase and maintenance
Ease of obtaining replacement parts
The installation process – do you need a new thru hull? Where can you position a vent?
The toilet's energy and water consumption – can you keep it running smoothly?
Ease of disposal of the waste
The room available in your bathroom – composting toilets tend to be tall and wide, so they require more space.
5 essential sailing books I love
From diesel mechanics, to predicting the weather, to heaving-to a boat in a storm, sign up to see which five essential books will never leave our sailboat's shelf. Enter your info to download the PDF!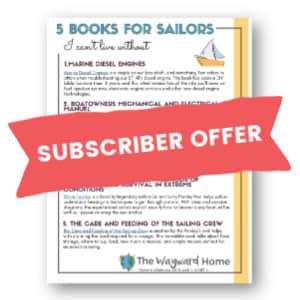 Common questions and answers about marine toilets
Still have doubts? Here are the most common questions about marine heads.
What maintenance do electric and manual marine toilets need?
It's important to service your marine toilet regularly to avoid the formation of bad smells. You will want to regularly check for leaks, reseal the piston rod if needed, remove clogs in the hoses, remake faulty electrical connections, and more.
Where can I dispose of porta potti waste?
It depends on what product you use to deodorize it. To make things easier, look for one that's compatible with flushing down traditional toilets, so you can empty your porta potti at home or in a public bathroom.
Where can I dispose of composting loo waste?
You can pour urine by mature trees, or dilute it to water plants. The compost section can be disposed of in a bag, a composting bin, or it can be buried. The solids, if fully composted, can be used to fertilize non-ingestible plants.
What should fully composted solid waste look like?
It should have a musty or soil-like odor and the visual appearance should be very similar to that of sphagnum peat moss.
Conclusion on the best marine toilets
There are many solutions for boat toilets on the market that suit different needs and boats. Your choice should be based on the size of your boat and head, your power setup and the regulations of the countries you plan on cruising in.
Looking for other sailboat stories? Check these out:
5 essential sailing books I love
From diesel mechanics, to predicting the weather, to heaving-to a boat in a storm, sign up to see which five essential books will never leave our sailboat's shelf. Enter your info to download the PDF!