Getting ahead in San Francisco is never easy. Even if you work a full-time job.
For 4.5 years, Audrey and Garrett Ruhland rented a 385-square foot Nob Hill apartment. Until they decided enough was enough.

"Everything – from rent, to groceries to transportation, to dining out – was a money suck," said Audrey. "And our apartment was so small! We went into that living situation knowing it was going to be expensive – but we got frustrated by how much we were paying for how little."
The two started sailboat shopping before they ever thought about living aboard.
But soon after they bought the 35′ Rafiki sailboat, they decided to give up the apartment life.
"It's been my husband's dream to live on a sailboat for quite some time," said Audrey. "Since we don't have kids and don't own a house, now seemed like the right time to do it. It also seemed like a great way to save money."
How they picked their liveaboard sailboat
Audrey and Garrett wanted a small sailboat they could sail right away. One that didn't need extensive amounts of work. They wanted a wheel, not a tiller, a good engine and comfortable quarters. They also wanted a sailboat that was ready for the bluewater so they could take her out into the ocean.
In Sausalito, only 10% of the marina berths are allowed to have liveaboards, so the couple knew they'd have to wait.
[You might also like: 13 essential items for living on a sailboat]
"We put our names on the waiting list at our marina right away. Again, we weren't thinking of becoming liveaboards at the time, but kind of had a just in case feeling. When we decided that we wanted to move onto our boat, we pursued our marina heavily, but at the same time, respectfully. We put in face time with the harbormaster and office manager and checked in over email every couple of weeks to see if any spots opened – and luckily, one did," said Audrey.
They, they got down to the task of downsizing to live in a tiny space.
5 essential sailing books I love
From diesel mechanics, to predicting the weather, to heaving-to a boat in a storm, sign up to see which five essential books will never leave our sailboat's shelf. Enter your info to download the PDF!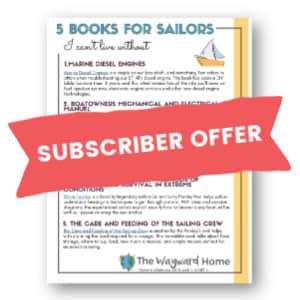 Downsizing to live aboard a sailboat
In the sailing world, a 35′ boat is considered a sizeable sailboat. But when it comes to living aboard, it can feel cramped, even compared to a tiny San Francisco apartment.
Audrey said even though they didn't own much stuff to begin with, they had to give a lot away, and sort what was remaining.
"In the transition, we divided our things into the following categories: donate, throw out, bring onto boat, put into short-term storage, and put into long-term storage at my dad's house," said Audrey.
Both she and Garrett have fulltime jobs in San Francisco, so had to keep their nice clothes. That's why they decided to rent a storage unit that would serve as their closet.
[You may also like: Cost of cruising: How to sail on $700 per month]
"We're lucky enough to have a storage facility within walking distance to the boat, so we go there a couple of days a week to pick up new outfits. The unit has allowed our boat to stay clutter-free, which has been a big plus, and maybe the best part about downsizing," said Audrey.
Whatever she couldn't part with, Audrey shipped home to South Carolina to put in her dad's garage.
"The list of items we brought onto the boat was pretty small," she said. "Sailing books, electronics, our favorite blankets, and kitchen supplies (like utensils, pots and pans, etc.) were among the belongings we brought on board."
To make their sailboat cozy, the two redid the cushions, added pineapple-patterned liners to the drawers, and picked out the perfect rug runner for the cabin. They also got new V-berth foam for their bed and fixed a leak that would stain the cushion if it rained.
Love the liveaboard life? Click below to get 5 books that should be on your sailboat:
Advice for other people wanting to live on a sailboat
So far, so good for Audrey and Garrett in their new liveaboard life. Audrey loves how easy it is to keep their tiny space clean and organized. Now that the couple owns fewer things, its easier for each item to have a home, which leads to a clutter-free life.
She also says its great saving money by living on a sailboat. Right now, the couple is saving $1,200 per month by not paying insane rent in San Francisco.
Audrey has a few tips for anyone else considering the sailboat liveaboard life:
If you're thinking about living on a sailboat with another person (or people), spend as much time as you can with them in small living quarters beforehand. Even if you live in a big space, spend all of your downtime in the same room. Get used to being around each other and in each other's way, because that's what your life will be like once you live aboard a sailboat.
Try downsizing your belongings two to four times a year. If you're a pack mouse like me, try using the KonMari Method to simplify and organize your life.
Go camping. It's the closest thing that's like living on a sailboat.
Having to do things like walk to the bathroom to shower, getting creative about hanging clothes to dry, and spending a lot of your time with easy access to the outdoors will give you a taste of sailbaot liveaboard life!
To follow along with Audrey and Garrett's journey, check out their website and Instagram.
5 essential sailing books I love
From diesel mechanics, to predicting the weather, to heaving-to a boat in a storm, sign up to see which five essential books will never leave our sailboat's shelf. Enter your info to download the PDF!