Our CT-41 sailboat from 1972 was a construction project for five years before we finally got to head on a longer cruising trip to Mexico.
While living on the sailboat, we've spent time without a shower, toilet, stove, heater, you name it. Slowly, Tom (my partner), put each system in place, turning the sailboat more into a tiny home.
When he first got the sailboat, he never dreamed it would take five years to turn the boat into an ocean going cruiser.
We've spent lots of time in boatyards or in marinas without a working sailboat. But amazingly, the good still outweights the bad.
Before you jump into living on a sailboat, I wanted to warn you about the worst things that come along with this lifestyle.
While there are many reasons why I love living on a sailboat, it also has its challenges. It's not all wine and grapes and sailing into a beautiful sunset. It takes work. It takes dedication. It takes figuring out how to live in an itty bitty space, a complaint other sailors have as well.
Before you buy a boat to live on, it's a good idea to know all the possible downsides. You don't want to move aboard and then hate the lifestyle, right?
Here are the top worst things about living on a sailboat. If you're thinking about living on a boat, maybe this will change your mind.
5 essential sailing books I love
From diesel mechanics, to predicting the weather, to heaving-to a boat in a storm, sign up to see which five essential books will never leave our sailboat's shelf. Enter your info to download the PDF!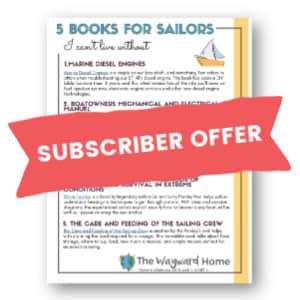 1. The Projects When Living on a Sailboat are Endless
When Tom first bought our liveaboard sailboat two years ago, I had no idea boats took so much work. In fact, he said this phrase to me:
"The best day of a boat owner's life is the day he buys a boat, and the day he sells it."
At first, I didn't know what he was talking about. Sell his boat? Why would he ever want to do that? But now, I know. Living on a sailboat takes so much work. They're tedious. They break. It seems like they need endless time, attention, and maintenance.
Especially if you buy an older boat. However, I've heard of people with newer boats having tons of problems, too!
Sailboats just need a lot of love and dedication.
Through the last couple of years, I learned another adage of people say who live on a sailboat: "Fixing things in exotic places."
And here's yet another one: "B.O.A.T.: Bring Out Another Thousand."
But Tom's done an amazing job restoring this early 1970's liveaboard sailboat, and I'm thankful he's onboard to take care of any mechanical, electrical, rigging, self-steering, toilet, water pump, holding tank, any system that breaks.
I'll stick to the cooking and cleaning and organizing while living on a sailboat, thank you very much.
Although I did learn how to tap a screw.
2. The Kitchen is Tiny When You're Living on a Sailboat
Yes, the kitchen on our liveaboard sailboat is super cute and I'm very thankful to have a two-burner propane marine stove. When we first started living on the sailboat, there was a gaping hole where the stove is now.
At first, I cooked on a camping Jet-Boil stove with a frying pan balanced precariously on top. Then, I upgraded to a plugged-in hot plate.
Now, I have a real stove with real flames while living on a sailboat, and an itty bitty bit of counter space.
It's hard cooking in such a small space, and when we sail or are anchored, the gimbaled stove shimmies and sways, and I have to use pot-clamps to keep everything from crashing down on the teak floors.
However, I do love cooking when living on a sailboat, especially when were are anchored out. The fresh air streams through the companionway and I feel so connected to the outdoors.
After three years of cooking on a liveaboard boat, I've learned to make great use of our tiny space. If you love to cook, this might take some adjusting when you first start living on a sailboat.
3. Living on a Sailboat Means Intense Lack of Space
Our CT-41 liveaboard sailboat is 41′ feet, but that doesn't mean there's a ton of storage space on it. In fact, since the sailboat is undergoing a complete restoration, most of the lockers are crammed with tools of various types.
I have a few shelves for food and pots and pans while living on a sailboat, but the rest goes to Tom's endless supply of wrenches, hammers, electrician's tape, rubber gloves, masks, white chemical suits, and God knows what else.
This means I have one tiny locker above the bed for a select number of clothes, and the rest is crammed into two footstool/storage bins in my Chevy Astro van.
I'm sure this will change when we go on longer cruises. Tom will (finally!) put his tools away, and I'll get a little more space.
Another thing about living on a sailboat means you have to REALLY like and get along well with your partner.
4. You'll Have to Deal with Poo When Living on a Sailboat
So, as with the stove in the kitchen, I'm very, very thankful to have this toilet on the boat. It's a brand new Raritan toilet that works like a charm, except it sounds like a heaving sea lion when I use that little pump handle thingy.
Tom built this to not smell whatsoever, and so far, so good.
The only really gross thing is that when you're living on a sailboat in a marina, you have to visit the pump-out station and use the little poo-poo vacuum cleaner.
The nozzle attaches to a small hole on deck, and it charmingly has a little clear area where you can see liquidy brown goo being pumped out.
This isn't my favorite task in the world. I sit there, pushing the nozzle down, watching everything that went out…come up. Enough said. Ew.
However, when off cruising while living on a sailboat, you're allowed to discharge if 3 miles offshore.
5 essential sailing books I love
From diesel mechanics, to predicting the weather, to heaving-to a boat in a storm, sign up to see which five essential books will never leave our sailboat's shelf. Enter your info to download the PDF!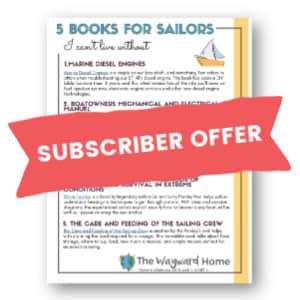 5. Seasickness Does Happen when Living on a Sailboat
If you're prone to seasickness, living on a sailboat is probably not that great of an idea. When we're docked at the marina, the boat doesn't really move at all, but she can bounce around quite a bit in boat wakes and currents when anchored.
[You might also like: The best sailing clothing to wear on a sailboat]
Luckily, I've been able to handle the movement for the most part, except for one times when we were sailing in the ocean.
We passed under the Golden Gate Bridge and everything changed. The small swells turned into long, rolling ones four to five feet high. When we were going into it nose first, I enjoyed the movement, but coming back, we were hit from the back, from the side, over and over again.
My stomach balled into a knot and I had to concentrate on breathing and staring at the horizon.
I've heard even the most experienced sailors get seasick, and I'm looking into ways to cut down on the nausea when out on the open waters. If you have any tips, that's much appreciated!
6. You'll Most Likely Have Internet Connectivity Issues
Living on a sailboat often means you'll have a tough time finding internet, especially if you rely on remote work, like me.
I've always had to piecemeal my internet connectivity, whether that means working in a coffee shop, using a hotspot or marina wifi.
Oftentimes, marina WiFi sucks, so I use an internet signal booster to give me more signal in the boat. When I'm lucky, it's even good enough to stream video!
My favorite internet connectivity device is from Reliable Internet Solutions, which provides unlimited data through AT&T.
This service was expensive but imperative to my needs. I could work on this website and stream videos – and use as much data as I wanted!
If you need to work in the U.S. while living on a sailboat, I'd highly recommend Reliable Internet Solutions.
7) You May Have to Go Without a Shower
Our sailboat has a space for a shower, but we haven't had a shower installed there for the entire time we've had the boat.
Right now, the shower drains down into the bilge, which isn't a good long-term solution. So, the shower's been our closet, or garage.
Eventually, we will have a shower there and Tom will need to plump the water to go overboard rather than into the bilge.
Not having a shower is definitely a pain. I've washed my hair in the sink and used washcloths on more occassions than I'd like to admit.
When we stay at a marina, I have access to a hot shower, but not when we're cruising or anchored out.
And when we finally do get a shower, it will be very short. Showers and humidity cause mold, which tends to be a problem when living on a sailboat.
Conclusion about Living on a Sailboat
I don't think living on a sailboat is for everyone, but I'm able to deal with the downsides.
For me, the good outweighs the bad. I love the idea of being able to move my home around to explore distant ports, or just to change my backyard on a weeknight.
Click here to read 5 Reasons Why I Love Living on a Sailboat.
Before you start living on a sailboat, ask yourself some tough questions.
Do you love fixing things?
Do you have mechanical aptitude?
Do you want to learn about diesel engines?
Can you handle living in a really tiny space with your partner?
Are you okay with cooking in a teeny sailboat galley?
I think people who put up with the downsides of living on a sailboat truly love life aboard. You become so much closer to nature, can explore distant ports, and can even cross oceans to wild and scenic islands.
Could you do that in an RV? I don't think so.
Hopefully, in the next few weeks, our liveaboard sailboat will finally be out of the boatyard.
And living on a sailboat will once again be fodder for dreams.
QUESTION: Do you think you could live on a sailboat? And if you already live on one, what are the hardest things for you to deal with?
Other sailing stories you'll love:
5 essential sailing books I love
From diesel mechanics, to predicting the weather, to heaving-to a boat in a storm, sign up to see which five essential books will never leave our sailboat's shelf. Enter your info to download the PDF!