There's been a big boon to the sailboat market as more and more people want to travel independently and live an adventurous life.
The boat life has a lot to offer: the opportunity to get off-grid, a great platform to practice your favorite water sports, and a home away from home in stunning locations.
If you're thinking about buying a liveaboard boat, you may be wondering this: How much does a sailboat cost?
If you love the sea, owning a sailboat will provide you with wonderful experiences – whether you plan to use her only during the holidays and weekends, or to make her your home.
In this post, we'll go over how much a sailboat costs, examples of sailboat prices and what to look for when buying a boat.
How much does a sailboat cost?
Now, just how much does a sailboat cost? This is not an easy question to answer because there are sailboats for sale for all budgets – from a few thousand to over a million dollars.
There are some key elements that affect a sailboat's price.
These include the kind of boat you need, her size and whether she's new or used. Each of these factors dramatically changes the price range you're looking at.
Let's look at some of these factors to help determine the answer to our question, "How much does a sailboat cost?"
Liveaboard vs weekender vs daysailer
First of all, you need to decide what you'll use the sailboat for: are you going to live on board? Will you just take her out at the weekend? Will you sleep onboard or go home for the night?
You need to make a decision on this early on because the sailboat price between these three kinds of boats varies wildly.
Here are some examples to consider when figuring out just how much a sailboat costs.
Typically, a daysailer will be around 20-24ft and will only feature a little cabin where you can shelter from the elements and make a cup of coffee.
A weekender is generally 26-35ft long and will have bunks and a v-berth, a small heads (bathroom), a small saloon and a modest galley.
A liveaboard sailboat is usually between 27ft and 55ft (or if you dare, even bigger) and features a decent size berth, decent heads, a couple of sea berths, a saloon, a galley, and, sometimes, even guest cabins.
You'll also need to consider the kind of sailing you'll want to do – coastal or bluewater. Sailing near the coast means you're never too far from help.
An ocean-going sailboat requires a solid construction, a deeper draft to steady her in rough seas, a safe design with plenty of handholds and lots of additional gear.
So, just how much a sailboat costs will largely have to do with your goals and plans.
Our first boat was a 26ft Heavenly Twins catamaran called Kittiwake. She was lovely, but lacked headroom, so we upgraded to Skua, a Tayana. Skua is a 37ft bluewater monohull and features a lot more living space and a much gentler movement underway.
Monohull vs catamaran
Whether you buy a monohull or a catamaran also makes a price difference to the overall question of how much does a sailboat cost. Catamarans typically cost more, as they have two of everything: two hulls, two engines and two keels.
Catamarans tend to be more spacious and offer more amenities than monohulls of the same size, which means a higher sailboat price. A huge advantage of catamarans is that they don't roll.
Monohulls are more compact and they can roll; however they usually sail better against the wind and bounce less underway. With the new deck saloon models on the market, you can get that open-space, bright interior feel even on monohulls these days.
Learn why you might want a sailboat with two masts in this post!
Size
Once you've chosen the type of sailboat you want, you'll need to consider size. As a rule of thumb, the smaller the boat, the cheaper it is. But of course, you'll also need to consider the age of the vessel.
New vs used sailboat prices
Just like with cars, the price of new sailboats is more than second-hand ones.
Buying a brand new sailboat means you get to choose all the gear and options on board, but you'll need to wait for production and delivery times – typically a few months to a year.
Buying a used sailboat means getting a proven design that's already geared up with all the essentials. You'll probably need to make some adjustments to make the boat fit your needs, but this is usually an enjoyable process.
With used sailboats, you also need to consider age. Older boats tend to be cheaper and in need of more work, but if well maintained and recently upgraded, they can be a bargain. The condition of the boat is therefore extremely important.
The price of newer sailboats is way more and usually require a smaller maintenance investment, but they may need a lot of upgrades.
For example, a lot of 10-year-old boats never had any gear replaced and suddenly a lot of things will need renewing, such as the standing rigging, sails and the electronics. These sailboat costs quickly add up.
Get inspired: Check out this couple sailing the world in this gorgeous catamaran!
How much does a sailboat cost: Hidden expenses
Buying a sailboat is a bit like buying a house – there are lots of hidden and ongoing costs. Let's look at what these are.
Survey sailboat costs
During the purchase process, if you're buying used, you'll need to pay for a survey and, sometimes, a haul out.
Given the investment you're putting in and the costs involved in owning a boat, it's always best to hire a surveyor to inspect the vessel. The survey will reveal whether there's anything that needs fixing or renewing on board and how important it is to the boat's seaworthiness.
The cost of a survey varies from a few hundred bucks to over a thousand dollars, depending on the size of the boat, how in-depth you'd like the document to be, and whether the surveyor needs to travel to the boat.
This expense will always be worth your peace of mind and you can easily recover it by knocking the price of the boat down, citing the survey findings.
Surveying our 26ft catamaran in the UK cost us £350 – the surveyor lived just down the road and the owner simply dried the boat out at low tide.
Our second survey on the 37ft monohull in Spain cost us €850, including travel expenses.The surveyor lived three hours away and used his own car. Luckily, we didn't have to pay for the haul out – that would have cost another €800.
Dockage and storage sailboat costs
Unless you plan to live on board and anchor out 365 days a year, you will need to consider mooring and storage costs when purchasing a sailboat.
The bigger the boat, the more it costs to dock. Catamarans are charged one and a half to two times more than the equivalent length monohull, to account for their beam (width).
The main options you have for dockage are marinas, yacht clubs, mooring fields and boat yards. Prices for these vary a lot based on their location and amenities.
Typically, a mooring ball or a yacht club slip will cost less than a marina stay. Yard storage rates can be cheap, but you'll need to add haul out costs, as well as other extras, such as chocking.
For example, a night in a beautiful marina for a 40ft monohull in the Caribbean island of Grenada, during hurricane season, typically costs $1.5 per foot per night.
Maintenance sailboat costs
The biggest expense associated with owning a sailboat is maintenance. New and old boats alike need to be looked after – from antifouling and wood varnishing to replacing the rigging and anchor chain. There's always a boat jobs list going; it never ends.
As a rule of thumb, the smaller and simpler the boat, the more economical it will be to maintain.
People typically recommend a yearly budget equivalent to 10-30% of the boat value. However, this can be inaccurate.
It all depends on the condition of the boat, the age of the gear, the upgrades you need to make, whether you do the work yourself or hire a professional, and the area you are in when carrying it out.
There are too many variables and unexpected breakages involved. The sea is a rough environment.
As you can see the question of how much does a sailboat cost ends up being hard to answer as there are so many other costs to add up!
After purchasing our 26ft catamaran built in the 70s for cheap, we had to put in the equivalent to her purchase price into two separate refits.
With our 37ft monohull, we have invested the equivalent to 50% of her purchase price into maintenance and upgrades in the first two years. We did all the work ourselves, DIY.
Find out how to work remotely on a sailboat and live the life of your dreams!
Insurance sailboat costs
Of course, you'll need insurance. No marina or yard will allow you in without having at least third party liability.
And with the risk of the boat sinking, being hit by lightening, losing the rig, dragging into another boat, and more, you'll want to be covered.
Insurance costs depend a lot on the underwriter, the boat's age and condition, the area you choose to cruise in, and more.
Typically, insurance companies quote anywhere between 1 and 5% of the purchase price, or of the survey-assessed value. Always read the fine print, as you may not be insured on ocean crossings, during named storms, and more.
We used to purchase full insurance for our 26ft catamaran for cruising in the Mediterranean for a mere £350 per year.
Now that we are in the Caribbean on our 37ft monohull, we pay £1,100. However, we are only covered against tropical storm damage in Trinidad and the ABCs.
5 essential sailing books I love
From diesel mechanics, to predicting the weather, to heaving-to a boat in a storm, sign up to see which five essential books will never leave our sailboat's shelf. Enter your info to download the PDF!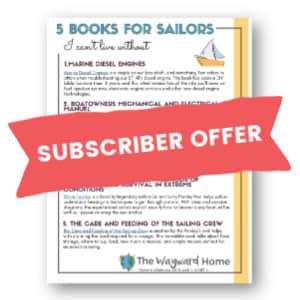 How much does a sailboat cost: Examples
Still wondering exactly how much a sailboat costs? Don't worry, we've got you covered. Here's some examples of sailboat costs, so you can get a good idea of what to expect for your money.
Catalina 22 sailboat price
Price: $3,500-$22,000, used
Type: monohull, daysailer
The Catalina 22 is an iconic American daysailer and the perfect small boat to start sailing on. You can buy her pretty cheap and there's a wealth of information on maintaining this model online, as well as an active owners' community.
Tayana 37 sailboat price
Price: $20,000-$80,000, used
Type: monohull, bluewater liveaboard
Designed by the legendary Bob Perry, the Tayana 37 is a fantastic bluewater cruiser with a deep draft and lots of beautiful teak above and below decks. These boats have sailed all over the world and have an excellent reputation. You can buy a cutter, ketch and pilot house version.
Jeanneau Sun Odyssey 42DS sailboat price
Price: $120,000-$180,000, used
Type: monohull, coastal liveaboard
The Sun Odyssey 42DS is a popular model designed with a cruiser's comfort in mind. If you're looking for a modern boat for coastal sailing that is also affordable, this one fits the bill.
Amel 50 sailboat price
Price: $1,100,000, new
Type: monohull, bluewater liveaboard
Amel is a French manufacturer that builds popular bluewater sailboats. The YouTube channel SV Delos has made it famous. Their newest model, the Amel 50, features a bright, luxurious interior and all the latest gadgets.
Ovni 445 sailboat price
Price: $450,000-500,000, used, $600,000, new
Type: monohull, bluewater liveaboard
Ovni sailboats are regarded as serious, go-anywhere bluewater liveaboards. The 445 offers a super spacious interior, along with ample storage space. The long waterline helps make it comfortable in rougher seas.
PDQ 36 sailboat price
Price: $40,000-$130,000, used
Type: catamaran, coastal liveaboard
PDQ catamarans are nicely-built sailboats that perform decently against the wind. At 36ft, they offer ample room to live aboard. The PDQ 36 is perfect for cruising the US coast in comfort, although it's not deemed solid enough to take on rougher offshore passages.
5 essential sailing books I love
From diesel mechanics, to predicting the weather, to heaving-to a boat in a storm, sign up to see which five essential books will never leave our sailboat's shelf. Enter your info to download the PDF!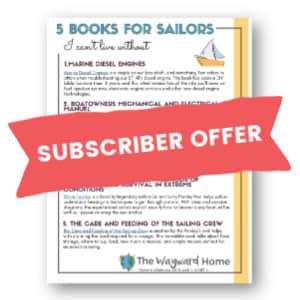 Lagoon 380 sailboat price
Price: $400,000 new, $130,000-$350,000 used
Type: catamaran, bluewater-capable liveaboard
The Lagoon 380 is one of the most popular catamarans out there, partly because it can be bought used for fairly cheap (for a cat!). While it won't break any speed records, it's a comfortable liveaboard boat loved by many.
Prout Snowgoose 37 sailboat price
Price: $50,000-100,000, used
Type: catamaran, bluewater liveaboard
The Prout Snowgoose is a proven ocean-going catamaran with a seaworthy design. As with many older cats, the low bridge deck clearance can produce a rather loud splashing noise underway or in a choppy anchorage.
Outremer 45 sailboat price
Price: $757,000 new
Type: catamaran, performance bluewater liveaboard
If you've ever watched Sailing La Vagabonde on YouTube, you may have noticed they sail an Outremer 45. This catamaran is a beautiful, fast ocean crosser. The hulls are narrow for speed, and therefore less spacious than those of some other modern catamarans.
Leopard 46 sailboat price
Price: $300,000-$450,000, used
Type: catamaran, bluewater-capable liveaboard
The Leopard 46 is a very popular catamaran that blends performance with comfort. The hulls are wide above the waterline and narrow below it, offering both speed and living space.
Check out these tips on the best things to wear while sailing!
Sailboat buying tips for the best sailboat price
Ready to start shopping? Here are our top sailboat buying tips.
If you're on a budget, take a look at this video my husband and I created about how to get a dirt cheap sailboat. Our boat is a solid, bluewater cruiser that just needed a little love to get back to her previous glory.
Are you thinking of opting for a small, bluewater sailboat? Check out these small sailboats for ocean cruising.
Conclusion on how much does a sailboat cost
Sailboat prices vary massively, based on the size, age, condition and type. There's a boat for every budget – you just need to figure out the kind you need and what models fit your requirements to answer the question 'how much does a sailboat cost' for you.
Check out more sailing posts below!