Figuring out the best gifts for sailors can be a challenge, especially if you've never been on a boat yourself!
Sailors typically don't want for much as they live and travel in such a small space. My partner Tom and I have lived on a 41-foot sailboat for four years now, and I've come up with some really cool gift ideas for sailors.
Even if a sailor says they don't need anything, there are always a few items out there that will enhance their lives at sea. I always have a few running "Wish Lists" going on Amazon, and I love trying new things.
These gift ideas are fun and practical and will enhance any sailors life.
I hope you enjoy these best gifts for sailors!
#1) An Ipad
An electronic device like an iPad may seem like a strange gift for a sailor, but this is one of the best things I have ever bought for myself!
When cruising or out at anchor, it's often impossible to get signal for my hotspot, which means streaming services like Netflix are out. Plus, it's cumbersome to carry around a bunch of movies on DVDs.
I bought an iPad so we could download and watch Netflix shows, and we love it! Since then, I've discovered I use my iPad for so much more, including:
Downloading magazines from my library
Downloading cookbooks
Downloading workout programs to do on board
Practicing language skills on my Rosetta Stone app, which I can download right into the iPad
For all these reasons, I think an iPad is one of the best gifts for sailors.
#2) A Kindle
I've owned every iteration of the Kindle since it first came out back in the mid-2000s. This amazing device can store thousands of books, and its super easy to download free books from the library.
This new Kindle Paperwhite is what I have now, and I love that its waterproof! You can also adjust the lighting, font, and font size to make it completely customized for any reader.
Before I take off on an off-grid sailing adventure, I usually download several books to my Kindle, which I can then access for as long as I'd like.
This lightweight, waterproof device is one of our favorite gifts for sailors.
3) The Boat Galley Cookbook
I just purchased The Boat Galley Cookbook (the Kindle version for my iPad!) and I just love it so far.
Authors Carolyn and Jan have been cruising for years, and the cookbook not only contains recipes but tips and techniques specific to sailors.
A sailor will learn how to organize the galley, shopping techniques for foreign grocery stores and food storage tips.
This incredibly helpful book is a fun gift idea for the sailor who loves to cook and go on multi-day adventures.
4) Magma Nesting Pots and Pans
While I don't personally own these nesting Magma pots and pans, I've heard so many good thing about them from sailors and RVers alike.
A sailboat usually has a cramped galley, and this 5-piece gourmet cooking set stores in less than 1/2 cubic feet of space.
This set includes 3 saucepans, a stock pot, and a frying pan. Plus, there are lids for every pot, and they all secure together using a bungee cord.
Someday if I ever need extra pots and pans I will totally try out this Magma cooking set. Another great boat gift idea for a sailor who loves to cook (or has to out of necessity)
5) Jars, Lids and Seeds to Grow Sprouts
One of my friends gave me this gift for my birthday, and while I have yet to use the seeds and accompanying jar, I just can't wait to use them in the tropics.
Sailors often run out of fresh fruits and vegetables when on an extended overnight passage. Sprouts are really easy to grow and provide that little zip of fresh veggies when a sailor is relying on canned foods.
I learned more about growing sprouts from The Boat Galley, and just ordered lids and 1/2 pint jars on Amazon.
Here's what someone will need to grow sprouts:
6) A Ship's Log
I just bought this ship's log – another great product put together by Carolyn of The Boat Galley.
This log is really cool because its five logbooks in one: Ship's Log, Cruising Log, Vessel Inventory, Fluid Changes & Fills, Maitenence and Repairs/Upgrades.
The thought of having everything in one place appealed to me, and I love that I have pages to write down notes about our sailing trips.
This ship's log also includes pre-departure lists and change-of-watch lists, and features a durable waterproof cover. This is a handy and useful sailboat gift idea.
7) A Soft Cooler
I'm really excited to use this AO cooler with high-density insulation on our next sailboat adventure. In the past, we've shoved food and drinks in a Trader Joe's bag to have with us on deck.
A cooler like this one is great for snacks and food when we're sailing, and will also help us with grocery shopping onshore. Soft coolers are also great for potlucks and picnics.
This AO soft-sided cooler features high-density insulation, a removable shoulder strap, durable soft canvas and a leak-proof TPU liner.
I chose the one that holds 24-cans. This is one of the best gifts for sailors and boaters alike – great for fishing, kayaking, etc.
8) Alpine Start Instant Coffee
When sailing in windy conditions, sometimes all you want is a hot cup of joe without all the hassle. That's where Alpine Start instant coffee comes in!
While I haven't tried this yet, it gets great reviews from Kristen Borr of Bearfoot Theory.
Most instant coffee isn't that good frankly, so I'm excited to one day try Alpine Start. It comes in a variety of roasts and flavors, and dissolves instantly into either hot or cold water.
Also a great backup for sailors who run out of beans!
High-quality instant coffee is a great gift for any sailor.
9) Garmin InReach GPS Unit
I bought this Garmin InReach Mini last winter as a way to both track our progress when out at sea and to use as a safety device.
When we sailed from San Francisco to Oxnard, California, family members could follow along and make sure we were allright.
I love that I can text people using the Garmin from anywhere in the world, and I can use the SOS if we get into serious trouble.
The Garmin InReach Mini is an expensive device and you also have to activate a monthly plan. I use the cheapest plan for about $35 per month.
This is one of the best gifts for sailors who are considering a lot of offshore or coastal cruising where cell signal is few and far between.
10) GoSun Solar Oven
This Go Sun portable solar oven makes a great gift for a sailor, especially on hot days! Nobody wants to cook inside on a sailboat oven if its hot and steamy outside.
We don't have this oven yet but would love to try it in the future.
You can set the Go Sun solar oven up within seconds, and it reaches up to 500 degrees in direct sunlight. Use it to bake, roast or steam a meal for two people in just 20 minutes.
I think a lot of sailors would love this cool and unique boat gift idea.
11) An Audible Subscription
Sailors often spend many hours at sea, and listening to a good book on tape is a great way to pass the time.
An Audible subscription is one of the best gifts for sailors who love books. Listening to a book is a lot easier when reading when out on watch!
You can choose between a 1, 3, 6 and 12-months Audible subscription, and the sailor can choose and download any book they want!
12) Turkish Towels
Turkish towels are seriously one of the best things I've discovered for my sailboat. Any sailor would love this super cool boat gift idea.
These 100% cotton Turkish towels are softer and dry faster than typical quick-dry towels. They are large enough to use at the beach, or to wrap around yourself after a shower.
You can choose from a variety of colors with these Turkish towels. They dry way faster than any heavy terry-cloth towel. The sailor in your life will thank you!
13) A Solar Lantern
While I haven't tried one of these yet, people in my sailing groups rave about having a solar lantern on deck at night.
This LumenAid solar lamp features a lithium-ion battery with a long battery life that gives you 50 hours at low. It recharges in 12-14 hours of direct sunlight, or with a USB cord.
It's 100% waterproof, and is lightweight, inflatable and portable. Sailors can even use the little USB outlet to charge a smartphone or tablet.
This is a unique and practical gift idea for a sailor.
5 essential sailing books I love
From diesel mechanics, to predicting the weather, to heaving-to a boat in a storm, sign up to see which five essential books will never leave our sailboat's shelf. Enter your info to download the PDF!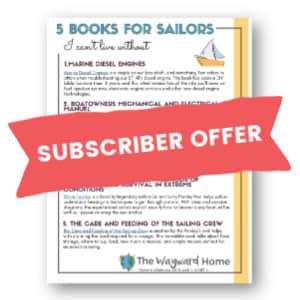 Kristin Hanes is a journalist who founded The Wayward Home as a place to learn about alternative living. She currently lives on a sailboat and in a Chevy Astro van, and has written articles about alternative living published in Good Housekeeping, Business Insider, Marie Claire and SF Gate. Read more about Kristin here.