After several years of living partly on a sailboat and partly in a Chevy Astro van, I have a list of what I can and can't live without.
When you're living in a small space, its important to only pack items that don't take up very much room.
Our sailboat is currently stuffed to the brim with tools as the boat undergoes a total restoration, but there are plenty of sailboat must-haves we use and love on a regular basis.
Here are my top 13 must-have sailboat accessories for sailing and living aboard.
1. A portable bidet
Bio Bidet TP70 PALM Travel Portable Bidet
Item Weight: 1.6 ounces
Product Dimensions: 8 x 4 x 6 inches
Style: Angled Travel Bidet
It might sound weird to use a portable bidet on a sailboat, but trust me, it's the perfect sailboat accessory. It's small enough to fit right next to the toilet in the head and is a great way to keep an excess of toilet paper out of the holding tank.
Also, it's convenient to use as a sprayer to clean out the toilet bowl. I love this little contraption; we even take it backpacking so we don't have to bury toilet paper in the woods.
It may seem silly, but a portable bidet really is a sailboat must-have.
See the portable bidet on Amazon
2. Turkish Towels
Clotho Turkish Towels Set of 6
Product Dimensions: 12.01 x 10 x 5 inches
Item Weight: 3.55 pounds
Made in Turkey, 100% Cotton
I never knew a towel could be so perfect until I tried Turkish towels, recommended by my friend Melody of Saving to Sail. Many sailors use these incredibly soft towels, which are also lightweight, portable and quick-drying.
I use to think microfiber was the best type of travel towel, but now I'm completely sold on Turkish towels. While they are more expensive than traditional towels, they are worth it! We even use them in our campervan.
See the Turkish Towels on Amazon
3. A face buff
Full Face Covering Balaclava iHeartRaves
Dimensions :

5.24 x 5.16 x 0.39 inches

Weight:

1.13 Ounces

100% Polyester
A windy day of sailing out on the San Francisco Bay always leaves my skin red and chapped. I found that wearing a buff over my face is an easy solution to this problem! I love how warm I feel with the buff covering my cheeks and nose while we're out sailing.
This is a sailboat must-have for anyone with sensitive skin.
5. An insulated water bottle
Hydro Flask
I absolutely love my Hydro Flask for both cold and warm beverages. The 32-ounce size is the perfect fit for small spaces inside a campervan, and it's also what I like to take hiking.
The Hydro Flask keeps drinks hot and cold for hours. I can't tell you how amazing it is to take an ice cold sip of water on a hot hike! The flask is stainless steel with a BPA-free powder coating.
I've used my insulated Hydro Flask water bottle so many times when sailing. Sometimes I fill it up with cold water when it's a warm day, other times, I fill it with spicy hot tea to keep me warm.
This insulated water bottle keeps things hot for hours! I've burned my tongue after tasting tea one hour later, so be careful.
The Hydro Flask is great for ice cold water, tea, coffee and other beverages you want to keep really hot or really cold.
Related Posts:
6. Garmin InReach Mini Satellite Communicator
Garmin inReach Mini GPS
Brand: Garmin
Color: Orange
Are Batteries Included: Yes
Screen Size: 1.27 Inches
Display Type: Sunlight-readable, monochrome, transflective memory-in-pixel (MIP)
Item Dimensions LxWxH: 2 x 1.3 x 3.9 inches
Map Type: Satellite
Resolution: 128 x 128
The Garmin InReach mini satellite communicator is a definite must-have sailboat accessory. We turn on our Garmin every time we sail where there's no cell phone signal
Not only does this allow our families to track us, but allows us to track our own route and speed. We use the Garmin InReach hand-in-hand with other navigational equipment on the sailboat.
I love that we can send out an SOS from anywhere in the world if we need help, and we can also send text messages to friends and family members.
The cheapest plan is around $35 per month, which I definitely think is worth the money.
See the Garmin InReach Mini on Amazon
7. Kindle Waterproof Paperwhite
Kindle Paperwhite
Screen Size: 6" glare-free
Storage: 8 GB or 32 GB
Resolution: 300 ppi
Front light: 5 LEDs
I absolutely HAVE to have my Kindle when I'm onboard our liveaboard sailboat. The Kindle prevents the sailboat from being bogged down by stacks of books, and I can fit thousands of books on there.
Also, I read for free using the Kindle as I get digital books from the library.
My Kindle is far better to read than any sort of screen as I can read it in bright light. I also chose the Paperwhite version because it is waterproof, which you can't beat when you live on a boat!
See the Kindle Paperwhite on Amazon
8. Go Pro Camera
GoPro Hero5 Black
Video Capture Resolution: 4K30, 2.7K60, 1080p120 Video
Connectivity Technology: Bluetooth, Wi-Fi, USB
Screen Size: 2 Inches
I am so glad I bought this GoPro camera to chronicle our journeys on the sailboat. It's very small and takes amazing still photos and great video. I also have all the accessories that let you wear it on your head or chest, stick it to the sailboat mast, or put it on the end of a selfie stick.
This waterproof camera provides me with loads of fun while we're out on our adventures, and I would definitely add it to the list of must-have boat accessories. Especially if you're into blogging and video-making.
9. An iPad
Apple iPad
Screen Size: 10 Inches
Brand: Apple
Model Name: Apple iPad
Memory Storage Capacity: 32 GB
Item Dimensions LxWxH: 10.35 x 7.28 x 1.93 inches
We used to use a DVD drive and a computer to watch movies on our sailboat, but that still required having DVS onboard. We've tried to cut clutter by ditching those extra items and investing in an iPad.
Not only can we download shows from Netflix and Amazon Prime, I can also download and read free books and magazines from the library.
I never knew I'd use the iPad so much onboard our sailboat, but now I can't imagine living without it.
10. Pressure cooker for fast, easy meals
Presto 4-Quart Stainless Steel Pressure Cooker
Material: Stainless Steel
Capacity: 4 Quarts
Item Dimensions: 18.81 x 9.88 x 9.88 inches
I am so in love with the pressure cooker on the sailboat. I've cooked everything from flank steak that is fork-tender, to braised chicken that falls off the bone, to black beans that cook in just 30 minutes.
Not only does it save on propane, but you can leave a stew to cook on pressure even when the boat is heeling. A great way to make a fast meal on a boat.
I can't imagine doing without this pressure cooker in our sailboat galley.
See the pressure cooker on Amazon
11. Flexible cutting boards is a sailboat galley essential
Flexible Plastic Cutting Board Mats
Dimensions: 12 x 0.03 x 15 inches
Item Weight: 6.4 ounces
BPA-free, non-toxic
I love using these cutting boards on the sailboat. They are small and hold up well, and fit underneath the sink with the rest of our pots and pans. I can't imagine having real wooden cutting boards on the boat, mostly due to the space they take up.
These are also color-coded if you like to keep your veggies and meat separate.
See the cutting boards on Amazon
12. Shop-vac for sailboat work messes
Shop-Vac 2021000 Micro Wet/Dry Vac
Power Source: Corded-electric
Voltage: 120 Volts
Wattage: 120 watts
I'm sure this Shop-Vac is something Tom and I would agree that is a must-have essential for the sailboat. This vacuum cleaner has been used for so many things it's ridiculous. From unclogging a stuck sink drain to catching wood shavings while Tom drills, to vacuuming out parts of the bilge, to cleaning out under the sink.
I love that we can vacuum up both liquids and solids with this handy vacuum. I can't imagine sailboat life without it.
13. Wine sippy cup
Vino2Go Acrylic Tumbler with Black Lids
Color: Black and Black
Item Weight: 0.38 Pounds
Capacity: 10 Fluid Ounces

There's nothing worse than spilling red wine on teak, which is why I have this handy dandy wine sippy cup onboard.
It's one of my best sailboat accessories, works like a charm and still sort of looks like a wine glass. I use this outside, on the counter when I cook, at the table, in the salon when I read. I did tip it over once and barely anything came out. This is ESSENTIAL on the sailboat! I think Tom would agree.
Welp, there you have it! Those are my top 13 must-have sailboat accessories for life aboard the sailboat.
Other sailing stories you'll love:
What items can you not do without? I'd love to know about them!
5 essential sailing books I love
From diesel mechanics, to predicting the weather, to heaving-to a boat in a storm, sign up to see which five essential books will never leave our sailboat's shelf. Enter your info to download the PDF!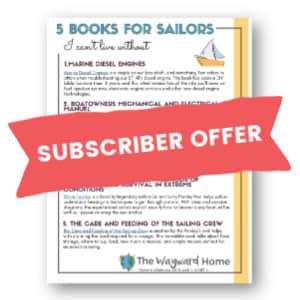 Kristin Hanes is a journalist who founded The Wayward Home as a place to learn about alternative living. She currently lives on a sailboat and in a Chevy Astro van, and has written articles about alternative living published in Good Housekeeping, Business Insider, Marie Claire and SF Gate. Read more about Kristin here.