This sailing post is sponsored by Discover Boating but the content and opinions expressed here are my own.
All my life, I've loved boating. From taking the ferry to Catalina Island, to sitting on the bow while a powerboat plowed through the water in the Columbia River, I've always found something truly special about being on the water.
So, when my boyfriend bought a 1972 CT-41 ketch, I knew I'd love sailing in San Francisco before I'd ever even touched a winch or a line. And I'm not the only one out there sailing on an old boat – according to Discover Boating, there were an estimated 988,200 pre-owned boats (powerboats, personal watercraft, and sailboats) sold in 2017.
For me, it was love at first sight. Even motoring the sailboat down a small channel was thrilling to me, and I'd run up to the bow just to feel and see the way the boat moved through the water. I felt like I belonged on a sailboat, like there's nowhere else I'd rather be.
But living on a sailboat full time in the San Francisco Bay area isn't the same as just going out for a day sail. I'm always asked a lot of questions about what it's really like – so here are those questions answered!
1. Where do you go to the bathroom on a sailboat?
I'll be honest here – when we first moved onto the sailboat, we had no bathroom. The boat is an old one and it's still (almost 3 years later!) undergoing a total restoration. There was no toilet when my boyfriend Tom and I moved aboard, and also, no holding tank.
It was truly like camping in a small cabin with no plumbing.
At first, we used a bucket to go to the bathroom if we really had to go at night! But, we tried not to use that last resort. Usually, we walked down to the marina bathroom or straight to the gym where we both belonged.
Now, there is a toilet and a holding tank, which Tom spent many agonizing hours putting in. I've never been so relieved to see a toilet in my life! Living on a sailboat teaches you never to take even the smallest things for granted, amenities you would have never felt thankful for before.
2. What do you pay for slip fees in the San Francisco Bay area?
I have a secret to tell you: We do not have liveaboard status in the San Francisco Bay area. We are allowed to stay at our marina several nights per week, and then we have to find other options and places to spend the night.
This is one reason I love petsitting so much. I make money, we have a place to live, and we get away from our sailboat marina.
That being said, our monthly slip fee is only $400 per month. Our monthly utility bill is $5 per month. Crazy cheap, right?
Another way we leave our marina is to go anchor out for a couple days in a row. The San Francisco Bay area has some great spots to anchor, such as Angel Island, China Camp, Tiburon, Treasure Island and Richardson Bay in Sausalito.
There's always a place where we can go anchor out and get out of our marina.
Not having liveaboard status keeps our slip fees way down. Slip fees for liveaboards are more than double what we pay – sometimes up to $1500 per month. Plus, there are long waitlists to get official liveaboard status, since only 10% of slips in each marina in the San Francisco Bay area are allocated for liveaboards.
We also spend a lot of time in my Chevy Astro van, traveling the United States.
5 essential sailing books I love
From diesel mechanics, to predicting the weather, to heaving-to a boat in a storm, sign up to see which five essential books will never leave our sailboat's shelf. Enter your info to download the PDF!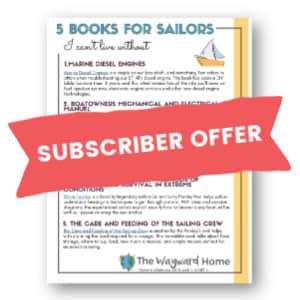 3. How much did your sailboat cost?
Even though our slip fees are very low, there's a lot of time, money and effort that goes into maintaining a sailboat. My boyfriend bought our sailboat for just $30,000 up in Canada, but he has spent countless hours restoring this beautiful CT-41.
Some of the projects he's done are these: replaced the rigging, put in a marine toilet and holding tank system, installed new fuel tanks, bought three new sails, installed a marine stove and a propane tank, installed a new sink and countertop, among countless other projects. Trust me when I say owning a boat is very difficult, especially if you buy an old boat.
[Do you want to own a boat? Head over to this handy boat loan calculator]
We've calculated that the sailboat cost is well over $100,000 considering all the work he's put into it. But much of this work will last a very, very long time, and we're hoping to get years of enjoyment out of the sailboat.
4. Did you know how to sail before you started living on the boat?
I did not know how to sail prior to living on a sailboat in San Francisco. Luckily, Tom has sailed extensively and lived on a sailboat for many years in Sausalito, so I'm learning as I go.
One thing I know is this: I absolutely love sailing. I feel so connected to nature, with the wind in the sails and the boat heeling happily through the water. When I hold onto her steering wheel or crank in the winches, I feel the power of the sailboat. I love how she glides effortlessly through the swell, and how quiet sailing is.
Oddly, sailing reminds me a little bit of horseback riding. With gentle guidance and a little pressure, the boat goes where you tell it to go. It's a delicate balance, and I feel the boat captain needs to be in tune with the sailboat, like a rider is in tune with a horse when doing complicated maneuvers.
Sailing is really something you need to experience if you love being on the water.
And guess what? You don't have to own a sailboat to go sailing in San Francisco, or where you live.
5. What are your plans for the future with your liveaboard sailboat?

When our sailboat is finished with its restoration – which is any day now – we plan on going on so many adventures on our sailboat. Here are just a few of the sailing trips we hope to do in the next couple of years:
Sail to the Channel Islands off Santa Barbara, California and go scuba diving and hiking
We want to head to Mexico and spend a couple months cruising up the Sea of Cortez
During summer, we want to sail to Vancouver Island and go up the Inside Passage
Eventually, we want to sail over to the South Pacific, a journey of about 30 days
Living on a sailboat is incredible because we can change our backyard and go anywhere in the world.
I love that we'll always have our home with us, no matter where we go.
We don't have to book hotel rooms, don't have to constantly search for a new Airbnb.
We have this moveable tiny home that can go anywhere in the world.
5 essential sailing books I love
From diesel mechanics, to predicting the weather, to heaving-to a boat in a storm, sign up to see which five essential books will never leave our sailboat's shelf. Enter your info to download the PDF!