Did you love building lego houses as a kid? I definitely did! The almost endless block combinations are very much like what you see in container home layouts. While creative design ideas may be abundant, figuring out the technical aspects of a DIY build can be difficult.
That's where shipping container homes plans come in.
Do you want to build your own modern, durable, stylish home? Container home plans offer you a practical roadmap to achieve your dream.
According to Discover Containers, the two most popular choices are the standard 20-foot shipping container and the high cubed 40-foot shipping container–used individually or combined in various configurations.
It might seem like a shipping container home comes halfway built for you. If you are new to the DIY home building, there are many, many steps needed before you can decorate and move in.
Need some help? Take a look at this complete guide on How To Build A Shipping Container Home.
Planning is always essential for house building but especially crucial with tiny homes and container conversions. I cannot stress this part enough!
If you can, work with an architect or engineer. He or she will help you layout the home properly, paying attention to all the details like optimizing design, electricity, water, and insulation. But, working with a skilled crafts-person comes at a hefty price tag.
If you're brave enough to design it yourself, consider the layout very carefully and triple check your math!
Get creative and have fun with your shipping container homes floor plans, but remember it needs to be functional. For instance, having the bathroom and kitchen on opposite ends of the house may not be realistic for efficient and low-cost plumbing.
Container home design is full of flexibility. There are almost too many options, which can result in analysis paralysis.
Additionally, I sometimes find that what seems obvious in a completed small home layout, often is not obvious when staring at a blank space.
DIY design is not everyone's forte. Fortunately, there are now sites that offer ready-made container home plans. Let's take a look at the best available options.
5 Best Shipping Container Homes Floor Plans
Similar to picking the best tiny house on wheels floor plan, a big first step is determining your priorities and needs, before you can choose the right container home layout, and of course, size.
As you might guess, the design possibilities between 20-foot and 40-foot shipping container homes plans vary greatly. And the options dramatically expand once you consider combining and stacking options!
So if you want a home office, dining table, bathtub, and upstairs deck, you can have it.
But keep in mind, that even with the overall affordability of containers, the larger the house, the more it will cost and the greater the maintenance needs will be.
DIY not your thing? These 7 shipping container home builders can turn your dream home into a reality!
Plans Price: $359
Size: 192 square feet
Approximate Cost to Build: $20,000
The Model One shipping container home plan showcases minimalist, modern, luxurious shipping container conversion design. Though, you might even not notice it's built from a container due to the beautiful wood panel sidings.
"Imagine waking up to the glow of the sun streaming in through your large sliding doors, looking out onto your favorite landscape. You've just had the best night of sleep in your life (in fact, ever since you built your Model One, you've been sleeping so much more peacefully) and you look around at your surroundings to take it all in.

Reclaimed wood creates a cozy and homey feeling in your shipping container home, and surrounds you like a big hug.

-Erick Haglund of Modern Dwellings, designer of the Model One
This compact 20-foot shipping container floor plan is ideal as a tiny home for one, a mother-in-law suite, or an Airbnb rental.
For optimal efficiency, I'd recommend using a Murphy bed or daybed to create more living space. The deluxe rooftop deck also creates a spacious lounge for soaking in the outdoors with room for friends.
Are these simple container home plans right for you? Learn more here.
Maybe a shipping container isn't for you after all? Learn how to build your own tiny house instead!
Plans Price: $490
Size: 270 square feet
Approximate Cost to Build: $25,100
Lego-style stacking doubles the living space of a 20-foot shipping container floor plan while minimizing a footprint on the land. That is a top benefit of this container home plan by Pinup Houses.
Get even more bang for your living space buck with a downstairs porch and upstairs balcony.
These two-story shipping container homes plans showcase an elevated utilitarian look. Further, they don't skimp on functionality with ample room for off-grid capabilities.
Just imagine the flat roof covered in solar panels! You could also easily fit a rain catchment system up there.
Learn more about these charming container home plans here.
Looking for something even more eco friendly than a container home? Learn more about building your own cob house!
Plans Price: $70
Size: 297 square feet (with deck, 474 .3 square feet)
Approximate Cost to Build: unknown
With 40-foot shipping container homes plans, like this one on Etsy, first-floor living space is doubled compared to a 20-foot shipping container floor plan. It's like going from a studio to a 1-bedroom apartment. A great example of this is the Titian.
With this container home layout, you can enjoy the privacy benefits of a separate bedroom. It's ideal for a couple with features like his and hers closet space on either side of the bed.
To best optimize the living space, look for small space furniture options. Additionally, you can use the big bathroom as a laundry room too.
Learn more about these container home plans and contact the designer here.
Grab my FREE Downsizing Checklist!
Need help downsizing? Grab my FREE Downsizing Checklist to start going through your house room by room.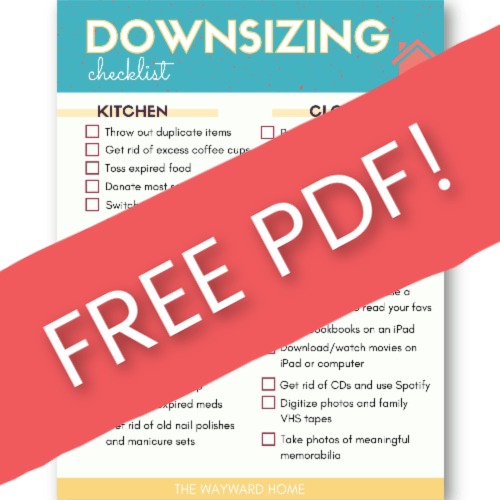 Plans Price: $290
Size: 416 square feet
Approximate Cost to Build: $23,900
Another way to double your living space is to combine two 20-foot containers together with these container home plans. This allows you to create a 16-foot wide living space, in contrast to working with an 8-foot wide, 40-foot container.
Yet again, Pinup Houses provides another wonderful option for creating a functional, off-grid tiny home from two 20 foot containers.
With the cost savings on these economical DIY container home plans, you can add solar power and rainwater catchment systems–as seen in the rendering image.
Often off-grid utilities require additional storage space. To address this, these container home floor plans include a large storage closet, ideal for solar batteries, and outdoor adventure gear.
Good news for DIY builders! These Pinup plans include a detailed description of everything you need to build your small shipping container home. Learn more here.
Interested in off-grid living? Check out one mans amazing house he built for $1500!
Plans Price: $49.95
Size: 441 square feet (with deck: 731 square feet)
Approximate Cost to Build: unknown
Looking for a family-size container home? The Sea Eagle 68 combines three 20-foot shipping containers to create a spacious two-bedroom house.
Because of the spread-out placement of the bedrooms, to me, this makes it a family-with-a-teenager-friendly design. Each bedroom is located in its own container, on the far sides of the house–creating much privacy.
Also, located directly off each bedroom is a full bathroom. One doubles as a laundry room.
Living room space in the middle container connects everything together, as well as the wrap-around deck in the front of the home.
If this design resonates with you, click here to learn more and contact the designer.
Want more shipping container houses? Check out these 9 amazing shipping container houses for sale!
Here's a look at another container home layout created with three 20-foot containers.
Finding the Right Container Home Plans for You
Choosing the right container home layout is an incredibly personal decision. Think long and hard about how you plan to use your space.
If none of the above plans are just right, you can modify or combine different ideas using design software.
Of course, you can also create a completely custom design, tailored perfectly to meet your needs and desires.
Like I said before, identifying practical layouts and features that appeal to you isn't always obvious. An excellent place to start is by creating a Pinterest dream board with design ideas.
But sometimes you need to feel the space to understand what works best for you. So I encourage you to book a stay, or two, in Airbnb container home rentals, like the amazing Box Hop.
Interested in learning more about shipping container homes floor plans? Check this out this set of 50 plans and how-tos by Discover Containers.
From Shipping Container Home Plans to DIY Build
You can build a shipping container home with no experience, as long as you're prepared. A good set of plans will make your DIY build much easier.
Just remember, container home building can look simple, but don't let it fool you. Besides the initial research and planning, there are a thousand little steps needed to complete a safe build.
The good news is, as shipping container homes continue to gain popularity, so does the access to shipping container home building guides. Start researching today!
Before you know it, you'll be building the container home of your dreams.
Alexis and her partner, Christian are nomadic tiny house dwellers. Together they've been traveling for four years for their documentary and community education project, Tiny House Expedition—over 54,000 miles, across 38 states and 30+ tiny house communities. Their documentary work includes the educational series, Living Tiny Legally. Alexis serves on the board of the Tiny Home Industry Association and the American Tiny House Association.