Living and traveling in a van means that you get to see some pretty incredible places. Even better, you get to spend the night and wake up in the morning to gorgeous views, right outside your door.
If you haven't slept well, though, you aren't going to be able to enjoy all the benefits of van life, and those views aren't going to be as inspiring as they should be.
Finding the best campervan mattress will have you sleeping like a dream and enjoying your morning view even more.
Getting a good night's sleep is super important wherever you are living.
Good quality sleep is integral to physical and mental health, as well as overall wellbeing, and one of the most important factors to achieving a restful night is a good mattress.
There's no reason why you shouldn't sleep well in a van, and there are loads of options for van mattresses.
Choosing the best campervan mattress for you depends on several factors, and we'll go into detail on those later in this article. We'll also look at a wide variety of van life mattress options.
Here are our top three picks for best campervan mattresses:
Best Campervan Air Mattress
Intex Dura-Beam Deluxe Comfort Plush Airbed Series
This budget-friendly best campervan mattress shows that air mattresses have come a long way, and don't have to cost the Earth!
13" high air mattress
Built-in electric pump that takes only 3 minutes to inflate
Best Memory Foam Mattress
Zinus 12 Inch Green Tea Memory Foam Mattress
This super comfortable memory foam mattress is infused with green tea and charcoal. This keeps the mattress fresh and dry, promoting restful sleep.
12" thick memory foam
Available in shorter sizes
Best Camping Pad Mattress
Exped Megamat 10 Insulated Self-Inflating Sleeping Pad
This awesome camping pad is perfect for a van life mattress It's really comfortable and has been designed to keep you warm even in low temperatures.
3.9" thick camping pad that only weighs about 10 pounds
Self-inflates in minutes
Rent a campervan before you buy ($40 off!)
Renting a campervan before you buy is a great way to try out a van. Use the coupon code wayward40 to get $40 off any van rental with Outdoorsy. (Click here to browse campervan rentals near you)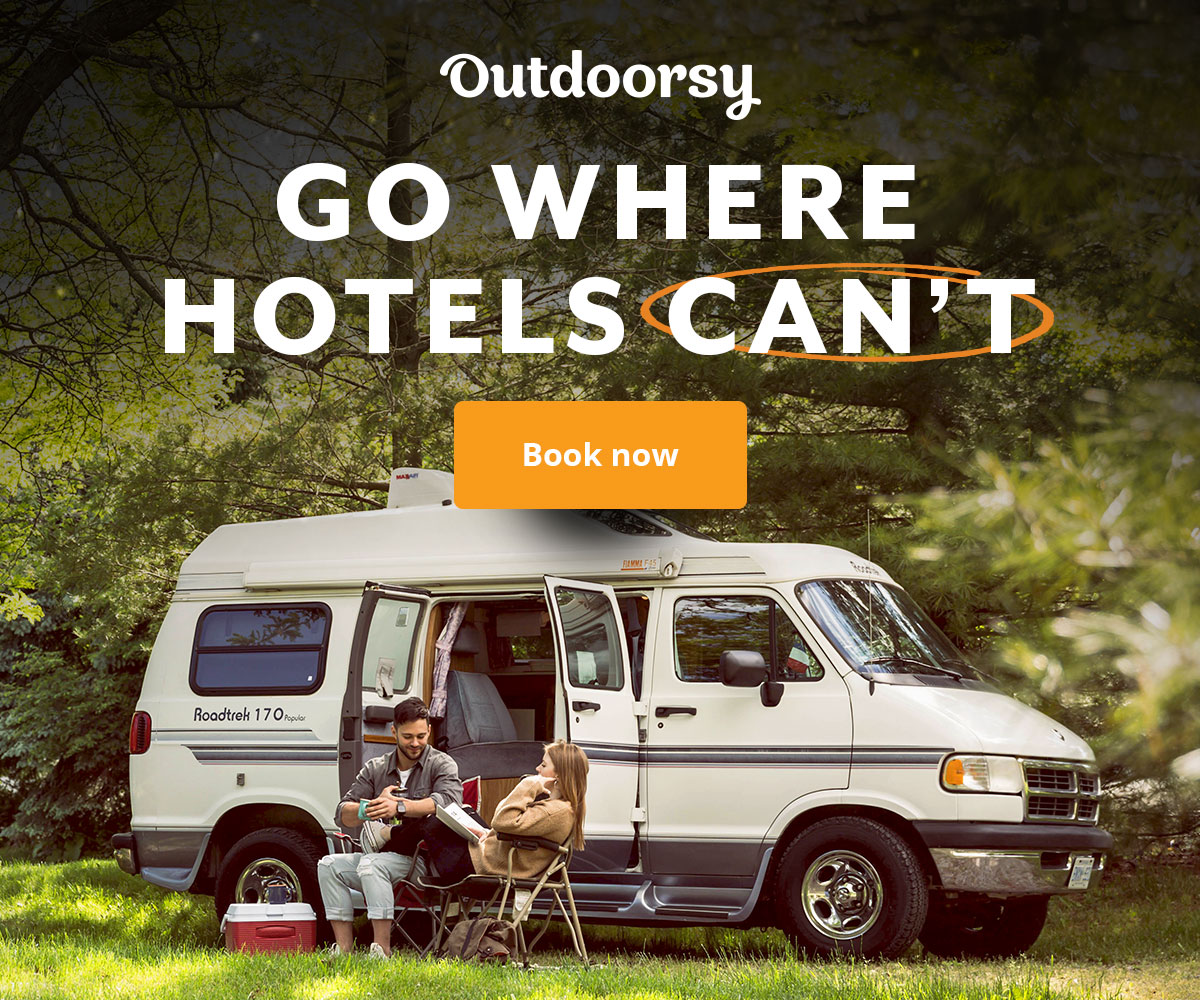 What To Consider When Looking For The Best Campervan Mattress
There are quite a few things to consider when thinking about the best mattress for van camping.
Not everyone has the same needs, when it comes to sleeping well, and if the van mattress is going to be shared by a couple, both will have to be in agreement about which mattress to use.
Sleep Habits
The first thing to consider is your personal sleeping needs. Ask yourself questions about how you sleep. For example, are you a side-sleeper, or a back-sleeper? Do you move around a lot during the night? Answering questions like these will help you narrow down your search for the best campervan mattress.
Cost
Another thing to consider is how much money you want to spend. Mattresses can be very expensive, especially if you're thinking about buying a custom van mattress. You don't have to spend a lot of money to get a good night's sleep, but it's very easy to do!
Climate
This is something that a lot of people don't think about when they are choosing a van mattress. Some mattresses are better suited to dry climates, but don't perform well in areas with high humidity.
The last thing you want if you're in a hot climate is a van life mattress that retains too much heat!
Size
Many mattresses come in standard sizes, which don't always work in vans. If you're building out a van yourself, you might be able to design the sleeping platform so that a standard size mattress can fit.
Otherwise, you'll need to have a custom mattress made, or else find a van mattress that you can cut to fit.
Bed Type
If the bed in your van is permanent and always set up, the best campervan mattress for you can be just about any kind that will fit. If you have a convertible bed, though, your options for the best campervan mattress will be limited to those that can be folded, such as a futon.
Mattress Topper
If you already have a van mattress, but it isn't comfortable enough, a mattress topper is something you might want to consider. This is essentially a thin layer of mattress material that's designed to add a layer of comfort to existing mattresses. This could be a cheap and easy way of transforming your life!
Don't forget these other camper van necessities. Find the best van life stove, cooler, shower, and van awnings and make your van home!
How To Find The Best Campervan Mattress
The first thing you should do when you're searching for a van life mattress is go and test out mattresses.
There are mattress stores everywhere, so get out there and start lying down in public!
Don't be shy about testing out as many different mattresses as you can. Remember that you'll be spending a lot of time sleeping on your van mattress, so it'll have to be right.
Often, you'll be able to find mattresses way cheaper online.
Amazon has a ton of mattresses available, and they're usually way lower in price than in a store. That being said, mattress stores do often have sales, so shop for the best campervan mattress wisely!
Another option for bargain hunters is to try and find a used mattress from Craigslist.
While some people may find this to be an unsavory idea, others won't mind buying used, and will be able to find the best mattress for van camping for a steal!
Need help building out your DIY campervan?
Then you'll want to check out the Sprinter RV Conversion Sourcebook, a step-by-step guide to building out a campervan.
Don't let the name fool you – this book works on any DIY van build.
Sprinter Van Conversion Sourcebook
Take a peek inside:
This amazing 378-page ebook has everything you need to know about converting any van into a camper. It doesn't just apply to Sprinters!
Learn about the six major interior design considerations that lead to 13 secondary features in your design
An RV plumbing chapter on pipes, fittings, tanks, pumps, water heaters, toilets, you name it
Advice on choosing solar panels
How to install blackwater, greywater and freshwater tanks in a campervan
Fifty pages of information on designing an electrical system and wiring your campervan conversion
The Best Campervan Mattresses You Can Buy
We've found a variety of different van life mattresses, each with their own pros and cons.
Best Campervan Mattress: Memory Foam Mattress
A memory foam mattress for van life combines a layer of memory foam with springs or support foam. Memory foam uses your body heat to soften and mold to your body, which many people find to be comfortable and soothing.
Once pressure is removed, the foam bounces back slowly, and over time remembers your sleep position.
Why You May Want A Memory Foam Mattress for Van Camping
A memory foam mattress could be a great van life mattress.
There's a wide variety of memory foam mattresses like this Zinius Green Tea Mattress, and you can choose mattresses that are cooling, ultra-conforming, or have several different layers for sleep perfection.
This could be the best campervan mattress because it can be cut to fit. All you need is a box-cutter and a little patience.
One tool you can use to cut foam is an electric turkey carving knife.
Memory foam mattresses also fold quite easily, so they're great for van mattresses on sofa beds.
Because there is such a wide variety of memory foam mattress styles, you'll be able to find a van mattress that's just the right thickness, firmness, and price.
Pros And Cons Of Memory Foam Mattresses
Our Top Pick Memory Foam Van Life Mattress
Zinius 12" Green Tea Memory Foam Mattress
This is our favorite memory foam mattress because we love the idea of adding infusions to a mattress.
The Zinius is infused with green tea and charcoal.
The green tea has antioxidant properties which not only promote a restful night's sleep, but also keeps the mattress fresh.
Charcoal infused in this best campervan mattress keeps it dry, which is perfect for warm nights in the van!
This awesome mattress is composed of three main layers that will ensure you sleep soundly in your van.
There's a 3" conforming memory foam layer, a 2" layer of airflow-enhancing comfort foam, and a 7" durable high-density layer of support foam underneath.
Best of all for van dwellers, the Zinius is available in short sizes, which means fitting this van life mattress onto your sleeping platform could be easier.
Check out the Zinius 12" Green Tea Memory Foam Mattress on Amazon.
Best Van Life Mattress: Pillow Top Mattresses
A pillow top mattress could definitely be the best mattress for van camping.
These mattresses are quite similar to a typical innerspring or coil mattress, but an additional layer of padding on top sets them apart. The padding is usually at least two inches thick, and makes for a really comfortable night.
Why You May Want a Pillow Top Mattress
Pillow top mattresses are perfect if you're a side sleeper, because they're so cushioned that you'll sink right in and be supported by the mattress.
As with most kinds of mattresses, there are a wide variety of pillow top mattresses available, and you'll be able to choose the level of softness and support that you want.
Be aware, though, that the material used in the pillow topping greatly affects the price, as does the brand name.
You can easily spend $1,500 on a high-end pillow top mattress, which may be out of reach for many van dwellers!
Need a gift for a van lifer? Check out Van Life Gifts: 19 Ideas for the Camper Owner
Pros And Cons Of Pillow Top Mattresses
Our Top Pick Pillow Top Van Life Mattress
Ashley Mt Rogers 13" Pillow Top Hybrid
The Ashley Mt Rogers 13″ Pillow Top Hybrid is a great choice for a van life mattress. We love that this mattress has copper particles in the foam, that draw heat away from the body. This makes it an ideal van camping mattress for venturing into the desert!
This is a hybrid mattress, which means the pillow top is actually made from memory foam. The layers of foam provide enhanced body support and relieve pressure points.
The wrapped coils beneath work in tandem with the memory foam top to reduce motion transfer. This means that this would be an awesome van mattress for couples, if one or both sleepers moves around a lot.
Check out the Ashley Mt Rogers 13″ Pillow Top Hybrid on Amazon.com
Best Campervan Mattress: Innerspring Mattress
An innerspring mattress is the classic that we're all familiar with. These mattresses come in standard sizes and use steel coils as the support system. The mattress is covered in padding or upholstery materials.
Why You May Want an Innerspring Mattress
Innersprings are a great choice for van life mattresses, because they are affordable, familiar, and widely available.
There are different levels of these mattresses. Those that use Bonnel springs which are durable but not good for reducing motion transfer are the most familiar innerspring mattresses.
Higher-end versions use pocketed coils which are individually wrapped in fabric. These coils can move independently, which isolates motion.
Pros And Cons Of Innerspring Mattresses
Our Top Pick Innerspring Van Life Mattress
This simple, yet effective Modway Jenna Mattress could easily be the best campervan mattress for you.
Individually wrapped pocket coils ensure that couples will sleep well, and reduce motion transfer effectively.
The base layer of the mattress is composed of the 8.5" individually wrapped coils, and on top of this is a 1" layer of responsive foam. The mattress also has a polyester quilted top that provides a smooth, even feel.
We think this is a great choice for a van life mattress, and it even claims to relieve pressure on hips, back, and shoulders!
GET YOUR FREE VAN LIFE STARTER KIT!
Thinking of living the van life? Grab my FREE 19-page Van Life Starter Kit to get you going on your journey to living in a campervan. You'll find specs/measurements for top van life vans, van build resources, van buying tips and remote work ideas!
Best Campervan Mattress: Air Mattresses
We've all slept on an air mattress at some point in our lives. It's the guest bed in so many homes, and because it's so easy to use and store, it's also a candidate for the best campervan mattress.
Why You May Want an Air Mattress
Air mattresses are lightweight and easily transportable. If space is at a premium in your van, an air mattress could be the way to go.
This is also an ideal van life mattress just to have around; you might have guests along for the ride sometimes, or kids who sleep on the floor. Either way, an air mattress can be quickly inflated and easily stored.
Air mattresses have come a long way, and many now offer cool features like LED lights, and USB charging ports. Although some of these make perfect van mattresses, you might not have enough power in your van to make it a viable option.
Manual pumps are an option, of course, but inflating a mattress manually can take a long time.
Check out the 16 Best Van Conversion Companies to Build Your Dream Campervan.
Pros And Cons Of Air Mattresses
Our Top Pick Van Life Air Mattress
Although this mattress is budget-friendly, it packs in the features and is actually one of the best mattresses for van camping that we found.
The Dura-Beam Queen comes with a built-in electric pump, and takes mere three minutes to inflate, so setup time is quick and easy.
There's a manual pump, too which makes this best campervan mattress even better value for money.
This van life mattress is 13" high, and can support up to 600 pounds. It provides stability and support by busing Fiber-Tech technology. Thousands of polyester fibers are used in the construction, which make this a really sturdy air mattress.
This van mattress also has indented sides for fitted sheets, and velvety panels which are puncture resistant.
Best Van Life Mattress: Natural Latex Mattresses
Natural latex is definitely a material you should consider for a van camping mattress.
Latex foam is used instead of memory foam, and different levels of firmness are available.
Natural latex is harvested from rubber trees, and is an eco-friendly choice for the best campervan mattress.
Why You May Want a Natural Latex Mattress
Natural latex mattresses are a popular choice among van dwellers. As well as being eco-friendly and sustainable, they can be cut to size, which makes them perfect for van life.
A natural latex mattress is durable and comfortable, similar to a memory foam mattress but with more 'bounce-back'.
These mattresses are all natural, so there aren't any chemicals to worry about, and they're perfect for support if you move around in your sleep.
Pros And Cons Of Natural Latex Mattresses
Our Top Pick Natural Latex Van Life Mattress
Latex Pure Green Natural Latex Mattress
We love this super comfy mattress and think it'd make an excellent choice for the best campervan mattress.
The Pure Green is filled with 100% organic latex foam, and the quilted cover is made from organic cotton and certified organic New Zealand wool.
Each mattress is designed, sewn, and assembled at the Sleep On Latex factory in Chicago.
This best mattress for van camping provides firm support from a 6" firm organic latex foam base, and also features a medium latex foam layer and organic wool padding. The best night's sleep of your life could be waiting for you if you buy this van life mattress!
Need help with your van's wiring and plumbing?
The team over at Far Out Ride has you covered! Check out all their van wiring diagrams and tutorials here.
The builder's package gives you diagrams and tutorials on wiring, water, propane and floor plans. You can also buy each diagram separately depending on what you need.
Best Campervan Mattress: Futon Mattresses
Traditionally a Japanese mattress, the Futon has gained popularity all over the world, and could definitely be the best campervan mattress.
The mattress filling is made from compressed layers of material such as organic cotton, wool, and latex.
The mattress is then tufted in place to keep the batting secure, and put in a removable cover.
Why You May Want a Futon Mattress
Futons are usually very affordable, and are an excellent choice for van-life, as they can be cut to size. However, you'll need to re-sew the cover to keep the mattress in place if you cut it smaller.
Futons are known to be quite firm, but different firmness levels are available. Another thing to consider is that some of the filling materials used can provoke allergic reactions.
A Futon mattress is a great choice for a van life mattress because it's fairly lightweight, and can be folded for use on a sofa bed.
Pros And Cons Of Futon Mattresses
Our Top Pick Futon Van Life Mattress
Moizaic Trupedic Futon Mattress
This full size Futon mattress is perfect for van life, and folds easily for use as a sofa bed.
The Trupedic Futon mattress is 8" thick, and provides medium firmness, so a wide range of vans lifers will find it comfortable.
The middle layer of this best campervan mattress is composed of foam, wrapped in cotton layers, and the cover is lace-tufted fabric that gives it a sofa-like appearance that we think is really cool.
Best Van Life Mattress: Camping Pads
For van dwellers who want to keep it simple-yet-effective, a camping pad mattress might just be the best campervan mattress.
These camping pads are usually meant for tents, but they work just fine in cars and vans.
Why You May Want A Camping Pad Mattress
This best mattress for van camping is super simple, easy to use and even quicker to set up than an air mattress.
The best part about this van life mattress is that it can be easily folded when not in use, and because it's been designed for camping, it takes up hardly any space.
Many camping pad mattresses self-inflate, but remember that you get what you pay for, and not all camping pad mattresses are created equal.
You may have to spend a little more to get a van mattress that's durable enough for daily use.
Check out these van life boondocking essentials!
Pros And Cons Of Camping Pad Mattresses
Our Top Pick Camping Pad Van Life Mattress
We think this camping pad mattress could be the best camper pad mattress out there for folks who want an easy yet elegant sleeping solution.
The Megamat Duo comes in two sizes, the Long Wide Double, and the Medium Double. Both mattresses are almost 4" thick and weigh less than 10 pounds.
This best mattress for van camping is made from an airtight, laminated material, and the surface is designed to keep you from sliding around.
Best of all, the mattress has a high R-value of 8.1, which means that it insulates the sleeper from the cold.
We think this is the best campervan mattress for van lifers who like to camp out at their favorite skiing spot.
The Megamat self-inflates in minutes, and even includes a mini pump, to be used for fine-tuning the firmness.
Conclusion On The Best Campervan Mattress
As we've seen, there are so many mattresses to choose from that it can feel overwhelming!
However, there's an ideal van mattress out there for everyone.
We hope that this article has been helpful if you're trying to decide on the best mattress for van life.
Feel free to leave any questions in the comments section below!
Check out more van life posts you will love:
Nicholas Marshall is a writer, photographer, and musician who currently lives in a '97 VW Eurovan with his wife and six-year-old daughter. Since selling their house and hitting the road, Nicholas and his family have meandered through the Western States. Van life has been everything they hoped it would be: challenging, rewarding, relaxing, and exciting.
You can follow Nicholas and his family on Instagram @wonderfulvanlife, and also on their website, itsawonderfulvanlife.com.