You've decided to live the van life and you're going for a campervan conversion so you can customize the interior layout to make it exactly how you like it. Great plan.
Sketching out what your campervan interior will look like is an exciting time – you get to make big decisions on how your home on wheels will function. A van bed can take up a huge amount of space, so it's important you get the design right.
You need to strike a good balance between comfort and maximizing available space.
The good news is there are many awesome campervan bed ideas out there, based on the dimensions and shape of your vehicle of choice.
You'll find slider beds, flip-out benches, platform van beds and drop-down table beds.
In this article, we'll cover all the best campervan bed ideas to make your van conversion feel like home.
Get your FREE Van Life Starter Kit!
So you want to live the van life but have no idea which van to choose? Here are specs for 10 popular vans, van buying tips, remote work ideas and van build resources. Get your FREE kit now!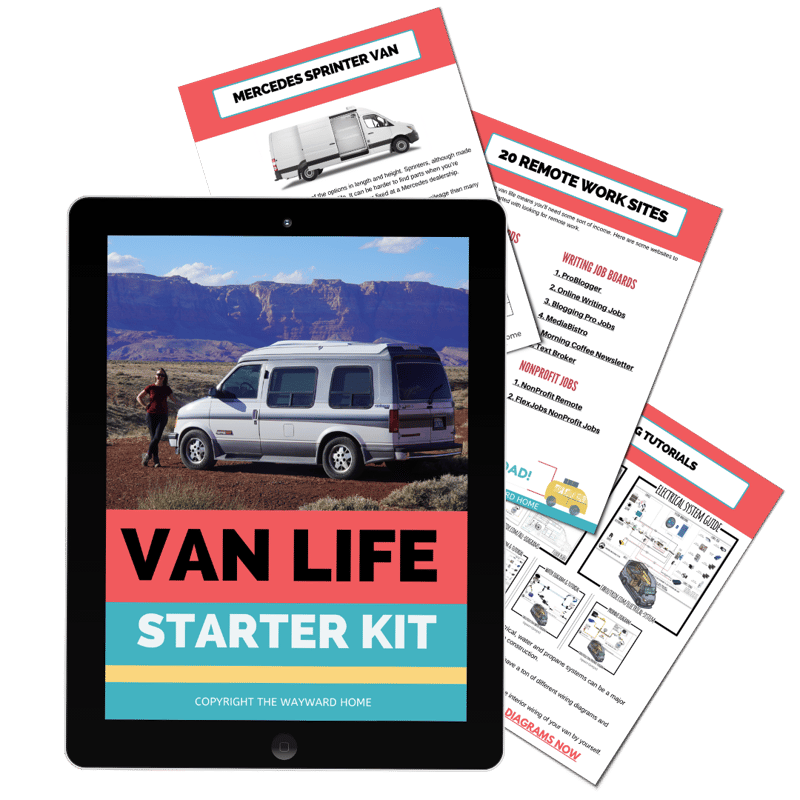 Tips to get you started with your van bed conversion
View this post on Instagram
Before you start considering campervan bed ideas and their pros and cons, there are some things you need to consider. Here are some tips to get you started:
Start your van interior layout plan with the bed – this is the item that will take up the most space, so it will give you an idea of how much living space you have left once it's in place.
Make sure you can fully lie down, completely stretched, in the space you mean to use as a campervan bed for taking measurements. Test it (make sure to use a pillow) to make sure there's enough space and don't forget to account for insulation and sound-proofing, which can take up to a couple of inches off the walls.
Take headspace into account – will you be OK sliding or crawling into your van bed? Do you want to be able to sit up and read or are you OK lying down all the time?
Permanent or non-permanent? Think about how you'll be using your van and how often. Is it realistic to go for a non-permanent design, a bed that you need to make every night, or will you find it annoying after a while?
How handy are you? If you're doing your own DIY conversion, bear in mind that some campervan bed ideas are more complicated to build than others. Look at the building plans before committing to a specific design. Find van lifers who have used the bed design you like and ask them what they like and dislike about it and if they'd do anything differently if they were to build it again.
Ask around for common professional conversions issues. Will you be using a campervan conversion company? Try to get in touch with some of their clients to take a look at their van and ask them about any problems with their conversion. Was the money worth it? This will help you get some campervan bed ideas for your own rig.
7 campervan bed ideas to kickstart your van conversion
Now that you have an idea of where the bed should go and whether it needs to be permanent or non-permanent, it's time to look at the best van conversion bed ideas out there.
1) Permanent elevated platform van bed
This elevated bed platform on a RAM ProMaster by Wayfarer Vans offers plenty of storage space and a slider table.
Pros: permanent, lots of storage under the bed, you can sleep or relax with the back doors open in the summer. Also, you can extend the bedroom with an awning or tent.
Cons: it takes up lots of space and the person sleeping at the rear needs to climb over the other to get in and out of bed.
A permanent elevated campervan bed one of the most common van bed designs – it's essentially a wooden frame that sits at the back of the interior at varying heights. You can build the bed quite high up, so that the back of the van acts like a garage to store ample gear.
Or you can place it low down to enjoy more headroom and use the storage underneath for drawers and a sliding table.
This bed design is great for wide campervans like Dodge Promasters where you can sleep across the bed.
Narrower vans require a longer platform to provide full lying space, which means they take up more room.
2) Drop-down table campervan bed idea
The table on this Pro Master City Bench Seat Cargo van by Contravans folds down to create a bed.
Pros: it saves space by merging a dinette and a bed and it's easy and quick to set up.
Cons: you need to make the bed every night. The gap between the cushions can be uncomfortable when lying down and you can't have both the bed and dinette set up at the same time.
Another classic van bed design is the dinette drop-down table bed. It's practical and space-efficient.
The table is either mounted to a wall or on an adjustable leg and pedestal. The shape and size match that of the free space near the couch, so you can drop it down to create a bed. The couch cushions drop down to create a sleeping platform.
3) Couch slider bed for your campervan bed design
This stunning slider bed is made by The Ply Guys.
Pros: it saves space by merging a couch with a bed and it's very easy and quick to set up.
Cons: you need to make it up every night.
The couch slider bed (or pull-out bed) is essentially a couch extension. How do you achieve this design?
You extend a couch by installing sliding slats. You can mount the couch at the rear of the van or against a side wall, depending on your van's dimensions.
This campervan bed idea is perfect if you value living space more than having a permanent bed set up. The sliding slats make it super easy and quick to make up your bed at night.
Remember to install a lock for the slats, so they don't slide around while you're driving.
4) Joint bench twin campervan beds
This Sportsmobile T45DYO features twin beds that can be joined.
Pros: it's versatile and it's very easy and quick to set up.
Cons: can't store any gear underneath like in an elevated platform van bed
Do you use your campervan in a variety of situations? Then the joint bench twin beds is an excellent design that adapts to different adventures, because you can use them as two single beds or turn them into a big double bed.
This particular van bed design is made up of two benches, mounted one on each side wall. When it's time to sleep for the night, you simply slide these beds together to make one larger bed.
In other designs, you'd use a wooden panel to fill in the space between the twin beds, or a lifting table.
5) Flip-out bench campervan folding bed
If you need maximum space efficiency, you may want to go for a flip-out bench. This campervan folding bed is a wooden bench with a wooden platform featuring a backrest mounted and hinged to one side. The platform flips out and the backrest serves as legs.
When the bench is closed, you can use it as a couch and when it's time to go to sleep, you flip it open to create a decent size bed.
Pros: it's space-efficient and it's very easy and quick to set up.
Cons: you have to make up the bed every night and you may need to store an extra cushion.
Get your FREE Van Life Starter Kit!

So you want to live the van life but have no idea which van to choose? Here are specs for 10 popular vans, van buying tips, remote work ideas and van build resources. Get your FREE kit now!
6) Bunk beds as a campervan bed idea
Pros: they're space-efficient and they can be permanently set up.
Cons: they leave less space for storage and the person who sleeps on top needs to climb into bed.
Are you traveling with a friend or with kids? Then bunk beds are a great way to fit more than one bed in a campervan.
You can either have a single bunk bed on top of a platform bed, or you can have two single bunk beds on top of each other. The second design can work both on a side wall and at the rear of the vehicle.
No need to store a ladder either: just build a permanent wooden one that sits vertically on one side of the bunk bed.
7) Murphy bed campervan bed
Pros: it's super space-efficient and you can leave your bed made up.
Cons: you lose wall space for lockers and shelves and on a narrow van you may loose wall space on both sides.
The ultimate way to save space on a campervan conversion is the murphy bed. The bed platform rests on a side wall and folds down when it's in use.
If you allow for enough space between the platform and the side wall, you can leave the mattress, covers and pillows sandwiched between them. You could even use the murphy design for two bunk beds.
Beware: to make this design work for a double bed, you need a fairly big campervan.
The best mattresses for a van bed
Once you've picked the best campervan bed design for your vehicle, you can start looking at mattresses. First you need to carefully measure the bed space and, if applicable, the flip-out or slider. Then you need to decide what kind of mattress to use.
For a permanent campervan bed, we recommend a memory foam mattress for comfort. Choose whatever size is closest to your bed platform measurements and then cut the foam to make it fit the exact shape of your van. You can easily do this yourself at home.
For a slider or flip-out bed, try to fit a ready-made folding mattress that can function as a sofa or bed.
For a drop-down table bed, we'd recommend buying memory foam pieces and cut them to your dinette's shape. Once they're fitted, you'll need to upholster them with some nice fabric.
Here's our top recommendations for permanent van bed mattresses:
The best foldable mattresses for non-permanent beds:
Our DIY drop-drown table beds materials recommendations:
Need help building out your campervan?
If you're ready to start building your own DIY camper van conversion right now, there's an amazing book that will help you convert your van. And despite the title, this book doesn't only apply to Sprinter vans. I asked the author this question myself as I bought the book to help me with my Chevy Astro.
The Sprinter RV Conversion Sourcebook is 378-pages of pure conversion gold, written by Greg Keith, who is currently on his THIRD Sprinter van conversion. I'd say this guy knows what he's talking about when it comes to camper vans.
Here's some of what you'll get from the book, which again, applies to any van conversion:
An RV plumbing chapter on pipes, fittings, tanks, pumps, water heaters, toilets, you name it
How to get internet access in your van
The five criteria to think about when insulating your camper van
Advice on choosing solar panels
How to install blackwater, greywater and freshwater tanks
Fifty pages of information on designing an electrical system and wiring your campervan conversion
And soooo much more!
Check out the Sprinter RV Conversion Sourcebook and start working on your van right now.
Remember, so much of this info can also be used on a small camper van, or any type of van, really.
Conclusion on the best campervan bed ideas
Ready to pull the trigger and get that campervan bed built? There are lots of cool designs and creative ways to install a bed on a van. We hope you've enjoyed our list of conversion van bed ideas!
Whatever layout you choose, make sure it's one that suits you and your needs, as well as the size of your vehicle.
Other posts you might like:
Get your FREE Van Life Starter Kit!
So you want to live the van life but have no idea which van to choose? Here are specs for 10 popular vans, van buying tips, remote work ideas and van build resources. Get your FREE kit now!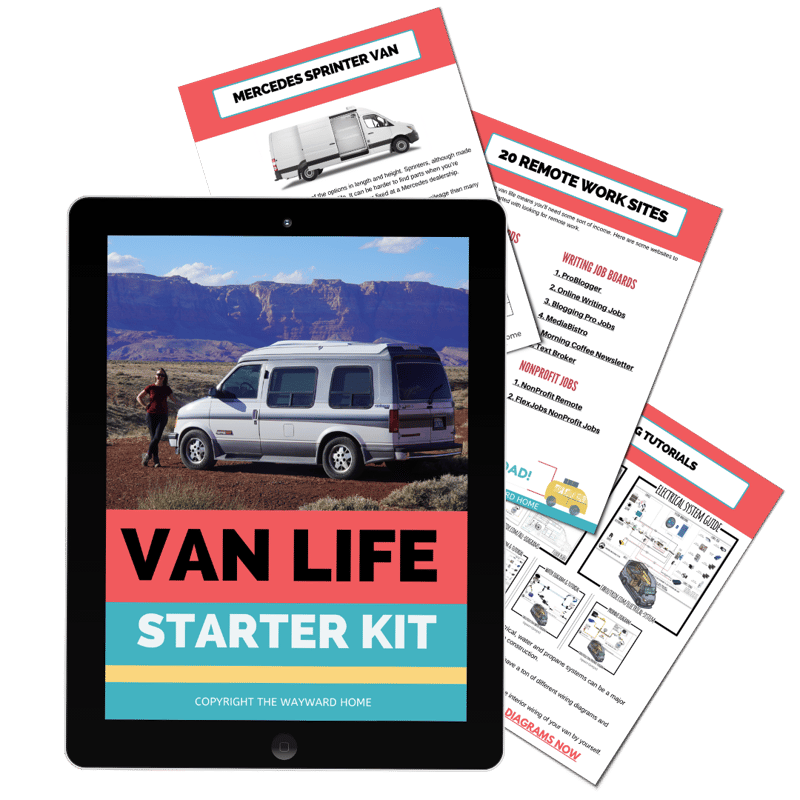 Get your FREE Van Life Starter Kit!
So you want to live the van life but have no idea which van to choose? Here are specs for 10 popular vans, van buying tips, remote work ideas and van build resources. Get your FREE kit now!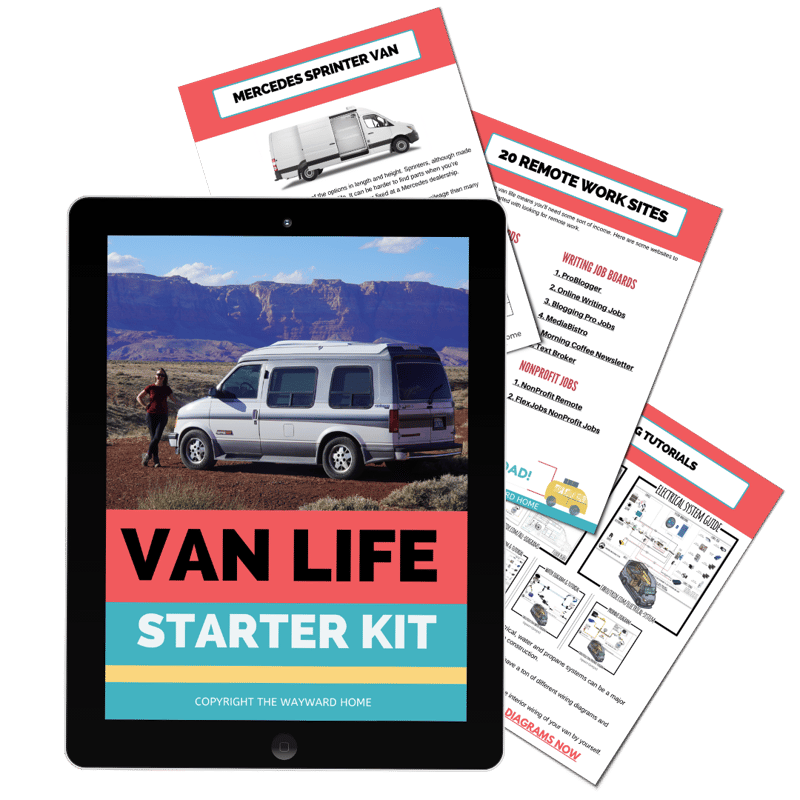 I spent my childhood holidays exploring Europe on my parents' motorhome. Now, I live, work and travel on a sailboat with my husband Ryan. If you like, you can follow us on our YouTube channel, where we're documenting refitting and cruising on our Tayana 37.