If you're building out a DIY campervan, one big decision is your campervan kitchen. It doesn't matter if you have a larger van like a Mercedes Sprinter van conversion or a smaller van like a Ford Transit Connect – when there's a will, there's a way.
A van kitchen gives you the freedom and flexibility to cook when boondocking or at a campground.
It might seem impossible that campervans can have all the amenities of home – refrigerators, kitchen sinks, stoves, even ovens – but, they do!
With a little bit of creativity and ingenuity, you'll be able to build a van kitchen right into your rig.
This is so much easier than setting up a portable camping stove, wash basin or grill on a picnic table every single time you want to cook.
Here are 9 swoon-worthy campervan kitchens to give you some ideas for your van build.
Also, be sure to check out this post: 13 kitchen essentials you'll want in your campervan
1) Gorgeous cabin-like campervan kitchen
Not all of us are able to create this level of craftsmanship detail on our campervan kitchens, but really, this needs to be admired.
Just look at that countertop, that backsplash, that pull-down kitchen faucet and deep sink. I'm swooning right now just looking at it.
As you can see, this van kitchen has a recessed two-burner propane stove right in the countertop.
Who needs a house when you have an awesome campervan kitchen like this?
2) Rustic, tiny campervan kitchen with portable stove
This campervan kitchen is the epitome of using a tiny space really well. I love how this van life kitchen is small and functional, with running water and tanks, plus a one-burner propane stove.
The built-in storage with bins keeps clutter off the countertops. This is a great van kitchen idea for a low-roof van.
This van build also features a portable toilet with what appears to be cat litter.
3) Van kitchen row behind the front seats
This campervan kitchen idea uses the width of your van rather than the length. I've seen this type of campervan kitchen on all sorts of vans, down to a small VW bus.
This van kitchen has all the essentials you'll need for a hearty meal while living the van life, including a sink, faucet, two-burner stove and even a collapsible dish tub!
4) Check out the oven in this Sprinter campervan kitchen
You guys. I'm just so in love with this campervan kitchen because it has an OVEN. I'm thinking about chilly, rainy nights with a shepherd's pie roasting, or maybe even an apple pie.
Just imagine those delicious smells. 
I did a little research and found the oven: Camp Chef Deluxe Outdoor Oven.
You can read even more about campervan ovens here: What is the Best Campervan Oven? Our Top 4 Picks for Van Life
5) Slide-out drawer campervan kitchen with a camping stove
These slide-out campervan kitchens are becoming popular for smaller camper vans. This way, you don't have to take up room inside your van for a kitchen. The hatch provides some weather protection while you sit in bed and stir your dinner. 
Plus, all you need for this set-up is a simple two-burner propane stove, so this campervan kitchen won't break the bank.
Click here to check out two-burner propane stoves at REI.
Another slide-out kitchen because we love them…..
Just love the built-in storage and cutting board in this set-up! Slide out van kitchens are perfect for smaller vans that don't have as much interior space.
You can sometimes find slide-out van kitchens in campervan conversion kits.
6) All-in-one interior campervan kitchen
This is a campervan kitchen-in-process being built in a Ford Transit van. They first custom-built the countertop to fit this awesome Dometic 2-burner gas hob, sink and tap.
The lid to the unit closes when not in use, creating a smooth surface.
These van lifers first picked up a used bathroom vanity for just $30 and then bought a hardwood panel to go on top. 
7) Side slide-out campervan kitchen
I love the counter space in this slide-out van kitchen. It's a simple DIY design that fits a one-burner stove and a cutting board, perfect for preparing a small meal.
The only downside of this campervan kitchen is you'll need a van awning if you want to cook in bad weather.
8) Super simple van kitchen with a backpacking stove
This small campervan makes use of a little bit of shelving and drawers to create a tiny van kitchen. This cast iron pot is balancing on a simple propane backpacking stove.
A little can go a long way when you're living the van life.
I just love this ultra-minimalistic campervan kitchen.
9) Luxury Sprinter van kitchen
If you want some luxury campervan kitchen build-out ideas, check out this fancy kitchen by Van Craft. This is a phenomenal-looking, stream-lined kitchen in the longest wheelbase Sprinter van, at 170″.
You'll have plenty of room in this cute van kitchen for cooking, baking, storage and refrigeration.
Why would you need a house if you have a campervan like this?
Our Pick
DIY Campervan Conversion Sourcebook
Learn how to build your own van with this detailed van build sourcebook. While the title reflects Sprinter vans, the concepts can be used on any DIY campervan conversion. You'll learn design considerations, how to plumb your van, choosing solar panels, installing water tanks and electrical and wiring systems. A great resource!
Learn More
Learn More
Conclusion on van kitchen designs
I hope these campervan kitchens give you some ideas for your own build.
Campervan kitchens are almost like fingerprints – no two are alike. I love the ingenuity and creativity that goes into van life and DIY campervan builds.
If you already have a campervan kitchen, share a pic in comments for others to see.
Other van build stories to check out:
Get your FREE Van Life Starter Kit!
So you want to live the van life but have no idea which van to choose? Here are specs for 10 popular vans, van buying tips, remote work ideas and van build resources. Get your FREE kit now!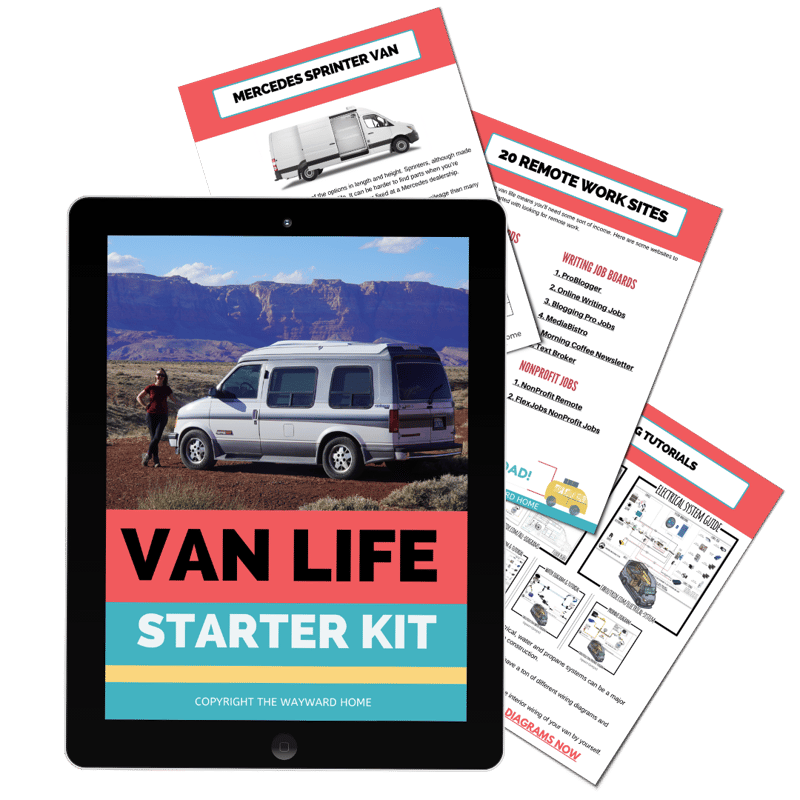 Kristin Hanes is a journalist who founded The Wayward Home as a place to learn about alternative living. She currently lives on a sailboat and in a Chevy Astro van, and has written articles about alternative living published in Good Housekeeping, Business Insider, Marie Claire and SF Gate. Read more about Kristin here.