If you're thinking about hopping on the van life bandwagon, you're probably wondering what it takes to build out some of the best vans to live in.
A DIY campervan conversion costs way less than hiring a company to build out a van, but what if you're not handy?
That's where campervan conversion kits come in.
A campervan conversion kit is part custom build and part DIY campervan.
You buy a van conversion kit from a company that includes things like the campervan bed framing, kitchen, pull-out drawers, etc., then you do the installation on your own.
Van conversion kits can run anywhere from $4,000-$20,000, or you can just buy one component, like a campervan kitchen.
This is way cheaper than a custom camper van build, which can go well over $100,000. To boot, a campervan conversion kit can be used on vehicles that aren't cargo vans, like minivans, or to build an SUV camper.
It takes some serious DIY skills to fully build out a campervan on your own, and if you've never built something in your life, it can all feel quite daunting. Some people get by reading articles online and watching DIY van build videos, but your finished product might not be up to the standards you hoped.
Van conversion kits for a campervan strike a happy medium between a custom build and a DIY project. Check out these top camper conversion kits so you can start living the van life right now.
Van Type: Dodge City Cargo or Dodge Promaster Conversion Kits
Location: Colorado Springs, Colorado
Cost: $4,696-$8,795
Wayfarer Vans helps you turn a Dodge City Cargo or a Dodge Promaster High-Top Cargo with a 136″ wheelbase into a proper campervan. The smaller kit is called the Wally Campervan Conversion kit, and the Promaster uses the Walter Camper Kit.
Both of these kits can be financed through the dealer where you buy a campervan, which is pretty awesome if you don't have the money to pay up front.
Here are the key differences between these two kits.
Wally Dodge City Cargo Van Campervan Conversion Kit
If you're converting a Dodge City Cargo van, your van conversion kit will be a little over $5,000. You can either install it on your own or bring it into the Wayfarer shop for free installation.
This kit includes durable insulating panels, a sturdy table that folds up against the wall, flooring, and camper boxes with cushions. At night, these cushioned camper boxes turn into your bed.
You can also purchase each component separately, then install it yourself.
Walter Dodge Promaster Campervan Conversion Kit
If you're converting a larger Dodge, like a Promaster 1500 or 2500, 136″ wheelbase, high-top van, your van conversion kit will run you under $9,000.
This Dodge Promaster van conversion kit includes flooring, wall and ceiling paneling with wool insulation, perimeter shelving, a kitchen with 5-gallon fresh and grey water tanks, a sink, bed platform and privacy paneling for the sliding door and rear windows.
You can't DIY this van conversion kit, but have to take it into the shop.
As with the Wally kit, you can order each component separately if you're trying to build out just part of your van.
Click here to learn more about Wayfarer vans.
Van Type: Mercedes Sprinter Camper Van Conversion Kit
Cost: Starting at $11,000
Location: Portland, Oregon
Adventure Wagon's Sprinter conversion kit gives you everything you need to get that Sprinter camper van up and running. These kits can fit either a 140″ or a 170″ wheelbase high-roof Sprinter van.
The Sprinter conversion kits can be installed in a few weekends by an exuberant DIYer, or a few days by a professional shop.
These modular van conversion kits include the electrical system, ventilation, insulation, ceiling fans, molded trim, etc – basically, all the legwork of the interior build has been done for you.
Then, you can choose add-on features like a MOAB Bed, Monk Bunks, Mule Bags, etc.
Click here to learn more about Adventure Wagon.
Van Type: Cargo vans, minivans and SUVs camper conversion kits
Cost: Base rate of $8,995
Location: Denver, Colorado
Contra Vans camper conversion kits for a smaller van make great use out of limited space. These van conversion kits come with a comfortable, full-size memory foam bed and two long, pull-out drawers. It also includes a roof vent and a retractable kitchen.
You can also choose from a variety of add-ons such as roof racks, floor mats, awnings, bike racks and more so you get a campervan just for you.
Contra Vans is really flexible with how they do your campervan conversion kit, so just reach out and ask.
If you purchase a van through a dealer, you can add on the conversion kit and have the van shipped right to Contra Vans in Denver, where your van will be finished in a few days.
Want to learn more about Contravans conversion kits? Check out this post: These car camper conversion kits will change your life
Rent a campervan before you buy ($40 off!)
Renting a campervan before you buy is a great way to try out a van. Use the coupon code wayward40 to get $40 off any van rental with Outdoorsy. (Click here to browse campervan rentals near you)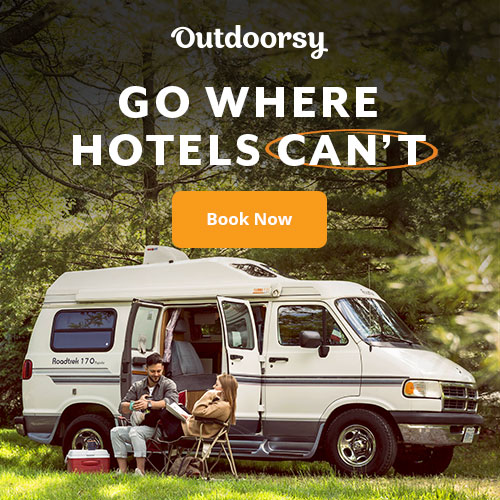 This is a great way to see exactly what you need in your camper van conversion and what length and type of van you need. It's way cheaper than buying a van you regret!
Van Type: Mercedes Sprinter
Cost: $18,000-$22,000
Location: Portland, Oregon
ZensVans makes a DIY Sprinter van conversion kit that's absolutely stunning to look at, with its aluminum exoskeleton and bent bamboo panels. These components are installed in your Mercedes Sprinter camper van using factory holes and can be easily removed as needed.
ZensVans van conversion kits come with a kitchen with bamboo cabinetry, upper and bedside cabinets, 3-panel bed system, fold-out gear drying rack, slide out porta potty concealer and an option to add-on bamboo ceiling, door and wall panels.
If you don't want to put any work into your build, you can also hire ZensVans to do a complete campervan conversion.
Click here to learn more about ZensVans.
Get your FREE Van Life Starter Kit!
So you want to live the van life but have no idea which van to choose? Here are specs for 10 popular vans, van buying tips, remote work ideas and van build resources. Get your FREE kit now!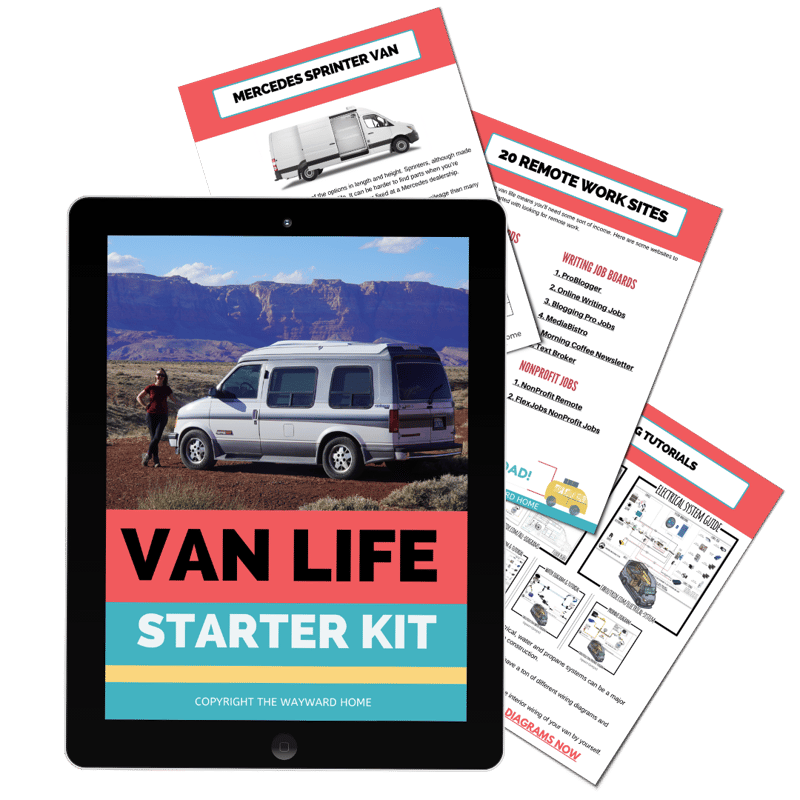 Van Type: Many
Cost: $3,990-$4,990
Location: New U.S. dealer in Clovis, California (brand based in Europe)
QuQuQ's amazing little "van-in-a-box" modules turn your van into a camper with barely any effort. The bed pulls out of the box, which also has several pull-out drawers with a stove, cooler and storage space.
For real, you can turn any van into a camper in just a few minutes with this unique van conversion kit.
QuQuQ started in Europe and is now expanding into the United States, appearing at several shows across the country in 2020.
The really cool thing about the Ququq boxes is that it can turn almost any type of vehicle into a camper. Just fold down the back and middle seats, put the box in your trunk and spread open the mattress. Ququq's website shows the box in minivans, larger vans, and even a small Jeep.
Learn more about Ququq boxes here.
Van Type: Minivans
Cost: $1,000-$3,800
Location: Quebec, Canada
Freeway Camper Kit is a Canadian company that wants to help get your car on the road – and fast. There are so many campervan conversion kits to choose from on the website, it's mind-boggling.
You can get a simple bed frame and storage system for $1,000, up to the "Sleeping Giant" conversion kit for $3,800 and it can be installed in 30 minutes.
This largest kit is suitable for all long-wheelbase minivans, including the Toyota Sienna, Dodge Grand Caravan, Chrysler Town&Country, Kia Sedona, etc.
The kit comes with a kitchen counter and sink, water pump, batteries, freshwater tank, grey water tank, thermoelectric cooler, foam mattress, and much more.
You get a lot of value for the price and it's easy to pop this right in the back of your van.
Click here to learn more about Freeway Camper Kit.
Van Type: Any
Cost: $2,665
Location: Truckee, California
These modular kitchen kits by Trail Kitchens can go in any type of campervan. This campervan kitchen conversion kit comes with a complete water system and indoor/outdoor cooking system for a DIY campervan.
You'll get a 14-gallon marine grade water system with a portable sink/stove unit, all put together in a space-saving, compact package. You can either cook inside your campervan or pull the entire unit outside and cook under the sky.
This DIY campervan kitchen kit has additional add-on options, including a hot water heater for hot showers and cleanup. This removable kitchen pod has places to organize your utensils and camping gear, all in one place.
This is a simple addition for a DIY campervan.
Click here to learn more about Trail Kitchens.
Rent a campervan before you buy or build
One great way to test out vans is to rent one before you jump on the buyer's bandwagon.
Use the coupon code wayward40 to get $40 off any rental through Outdoorsy. Click below to browse all the vans!
Want more help building out your very own DIY campervan?
*Click the image to learn more about the book!*
If you're ready to start building your own DIY camper van conversion right now, there's an amazing 378-page van conversion book that will help you convert your van. And despite the title, this book doesn't only apply to Sprinter vans. I asked the author this question myself as I bought the book to help me with my Chevy Astro.
The Sprinter Conversion Sourcebook is pure van conversion gold, written by Greg Keith, who is currently on his THIRD Sprinter van conversion. I'd say this guy knows what he's talking about when it comes to camper vans.
Here's some of what you'll get from this van conversion guide, which again, applies to any van conversion:
An RV plumbing chapter on pipes, fittings, tanks, pumps, water heaters, toilets, you name it
How to get internet access in your van
The five criteria to think about when insulating your camper van
Advice on choosing solar panels
How to install blackwater, greywater and freshwater tanks
Fifty pages of information on designing an electrical system and wiring your campervan conversion
And soooo much more!
Check out the Sprinter RV Conversion Sourcebook and start working on your van right now.
Remember, so much of this info can also be used on a small camper van, or any type of van, really. I even bought it to read over for my Chevy Astro van!
Conclusion on campervan conversion kits
If you're trying to build a DIY campervan but need a little help, these campervan conversion kits are just what you need.
You can choose anything from an expensive interior conversion kit for a Mercedes Sprinter van to a cheaper minivan conversion kit with just a bed frame and pull-out drawers.
These companies offer high-quality kits that can be installed in a campervan in a matter of minutes or days. You won't have to spend hours and hours watching DIY campervan YouTube videos if you order one of these kits. They'll help get your campervan on the road even faster.
Happy trails!
More stories about building a van:
Get your FREE Van Life Starter Kit!
So you want to live the van life but have no idea which van to choose? Here are specs for 10 popular vans, van buying tips, remote work ideas and van build resources. Get your FREE kit now!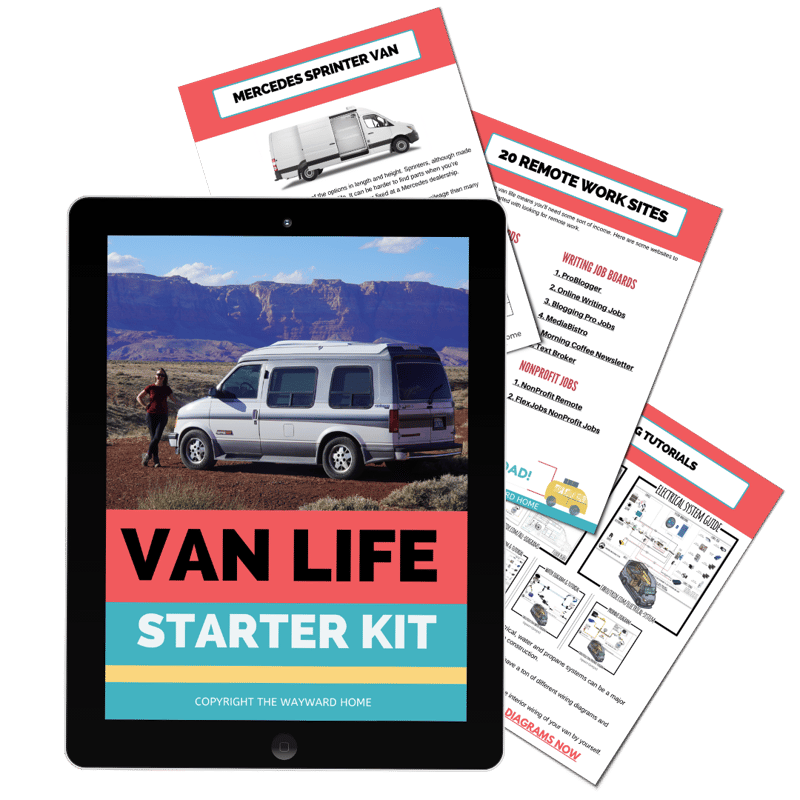 Kristin Hanes is a journalist who founded The Wayward Home as a place to learn about alternative living. She currently lives on a sailboat and in a Chevy Astro van, and has written articles about alternative living published in Good Housekeeping, Business Insider, Marie Claire and SF Gate. Read more about Kristin here.