So you decided that you want to invest in a camper van conversion. You might start looking on social media for some inspiration. You're infatuated with all of the beautifully designed and creative campervan interiors.
During your search, you're likely to see tons of immaculate Mercedes Sprinter campervans that look like a luxury apartment on wheels. The excitement grows until you look up the cost.
Like me, you may have realized that a camper van, although incredibly awesome, probably should not cost double your annual income.
Fear not, there are many other options out there. In this post, we are going to explore the benefits and disadvantages of choosing a Ford Transit camper van for living the van life full-time.
Rent a campervan before you buy ($40 off!)
Renting a campervan before you buy is a great way to try out a van. Use the coupon code wayward40 to get $40 off any van rental with Outdoorsy. (Click here to browse campervan rentals near you)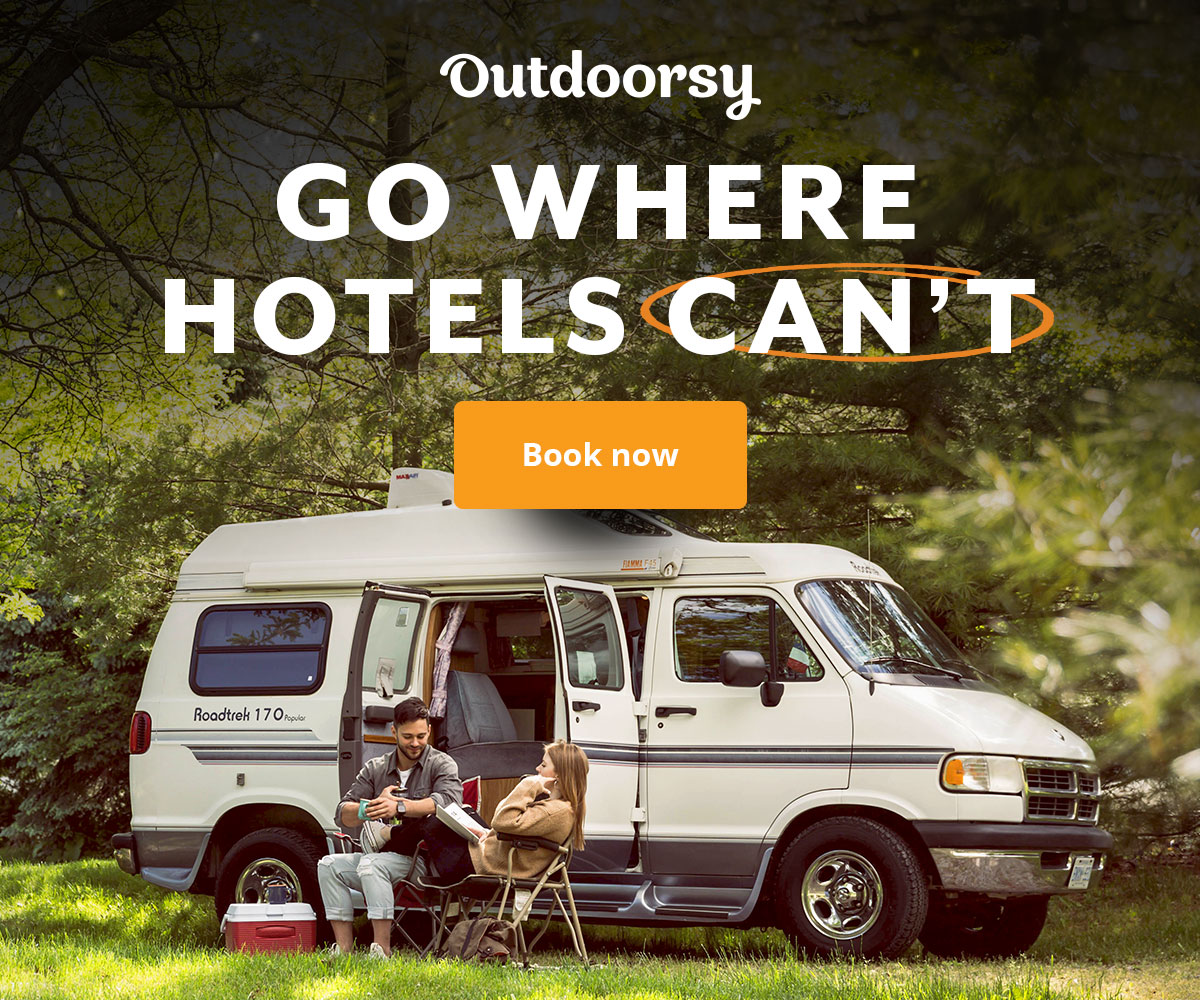 Ford Transit Camper Van: The Facts
When making a decision as large as moving into a camper van full time, it's always best to have all the facts and all the options. This is the ideal way to make the best decision for you and your goals. So let's review the basic facts for the Ford Transit camper.
In 2014 Ford came up with (intentionally or not), another large cargo van option for camper enthusiasts with the Ford Transit. This van simulates the size of Mercedes Sprinter but for a fraction of the cost.
If your van camping dreams include more space with a discounted price, a Ford Transit camper conversion may be the answer for you.
The Ford Transit camper is a large passenger or cargo van that is a great shell for your home on wheels.
Like the Sprinter van, there are varying height options. For full-time van living, a high or medium top would be the best choice, unless you're planning on adding a pop-top for standing up.
For low-roof and medium-roof Ford Transit camper vans, there are Ford 150/250/350 options and for the HR model there are 250/350 options available. This equates to engine power and weight capacities. Depending on what your needs and desires are, this will be something to pay attention to in your search.
The specs and measurements for all Ford Transit vans can be found here. A 2019 Ford Transit van can start at $33,000. For comparison, a similar size 2019 Mercedes Sprinter starts at $41,000.
The Positive of a Ford Transit Camper van
Purchasing a large campervan will be a big decision. With any large decision its best to research all your options and the pros and cons of each.
First, we'll go over the positives of a Ford Transit campervan.
Ford Camper Vans are Cheaper
As mentioned before, a Ford Transit camper van can be a money saver when considering a large cargo van conversion.
When searching for a used Ford van, converted or not, you will find a significant cost decrease from a Mercedes.
In addition, a Ford Transit camper van conversion is less expensive to maintain and repair. Since the main reason for most to venture into van life is to travel, regular repairs and servicing will be expected and inevitable.
Thus with a Ford camper van, you will have less recurring cost and less upfront cost.
Easy to Drive
The Ford Transit camper is known for very easy driving for such a large vehicle. Steering is noted to be responsive and the van has a tight turning radius.
With a standard V6 engine, it offers decent power for all your van life adventures.
Lots of Space
A large Ford camper van offers endless possibilities for your conversion dreams. Check the specs for exact measurements.
There is easily enough room to comfortably fit a couple, family, and travel pets.
Rent a campervan before you buy (coupon!)
Want to rent before you buy? Use the coupon code wayward40 to get $40 off any rental through Outdoorsy. Click below to browse rentals.
The negatives of a Ford Transit camper
Now, we'll go over the negatives of a Ford Transit camper van so you can make an informed choice as to which van to buy for a DIY camper.
Towing capacity
The Ford Transit van conversion does have towing capacity but not as much as similar vans in its class. So if your van life plans involve frequent heavy towing, this may not be the best van for you.
Drivetrain limitations
The 2020 Ford Transit camper is in the first of its class to have AWD capabilities. The 2019 and earlier versions you will only find 2WD. This can limit some harsh weather and off-grid adventures.
DIY Ford Transit Van Conversion versus Custom Conversion
When looking at the numbers a DIY Ford Transit van conversion will always be cheaper. But it's not always a black-and-white money decision.
A DIY Ford Transit camper van conversion requires space and time. It's important to consider all these factors when deciding which way to go.
A professional Ford Transit van conversion can be beautiful but can cost 10s of thousands of dollars for a custom build. There are benefits and drawbacks to both options.
A well known Ford Transit conversion company is Sportsmobile. Many professional conversion companies are beginning to work on Ford vans as well as Sprinters.
Another company that does gorgeous Ford Transit camper van custom conversion is Van Life Customs. Their latest Vincent Van-Go van is a jaw-dropper.
If you find you want to go the DIY route there are a few resources on the internet to help guide you in the process.
If you want something in between DIY and professional conversion, a campervan conversion kit may be a great option for you.
Need help building out your DIY campervan?
Then you'll want to check out the Sprinter RV Conversion Sourcebook, a step-by-step guide to building out a campervan.
Don't let the name fool you – this book works on any DIY van build.
Sprinter Van Conversion Sourcebook
Take a peek inside:
This amazing 378-page ebook has everything you need to know about converting any van into a camper. It doesn't just apply to Sprinters!
Learn about the six major interior design considerations that lead to 13 secondary features in your design
An RV plumbing chapter on pipes, fittings, tanks, pumps, water heaters, toilets, you name it
Advice on choosing solar panels
How to install blackwater, greywater and freshwater tanks in a campervan
Fifty pages of information on designing an electrical system and wiring your campervan conversion
Conclusion on Ford Transit campervans
If you are looking for a van to live in full time with more than one person and in need of large space, a Ford Transit can be a great option for you. You will find the price to be less upfront and less throughout the miles you put on it for your van adventures.
These vans are easy to drive and reliable, which is a must for long road trips.
The Ford Transit 2019 and older vans will not be the best option if your adventures will often require 4 wheel drive. It may also not be the best if you are in need a van that needs to do heavy towing.
But remember, the newer 2020 Ford Transits will come with an AWD option.
Overall, a Ford Transit is a great option for those looking for a spacious, reliable, and cost-effective van!
Get your FREE Van Life Starter Kit!
So you want to live the van life but have no idea which van to choose? Here are specs for 10 popular vans, van buying tips, remote work ideas and van build resources. Get your FREE kit now!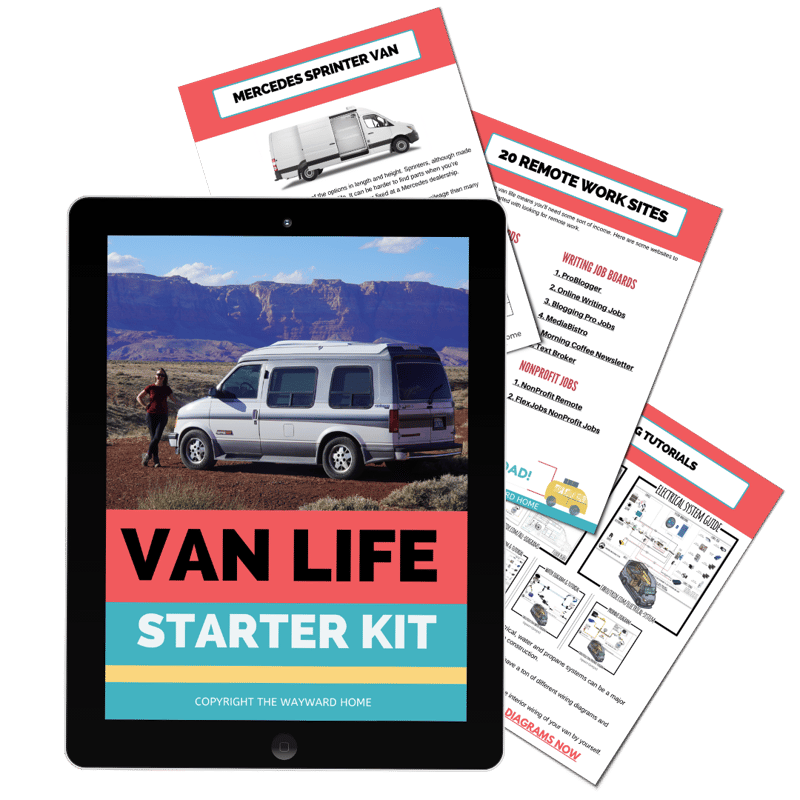 Hi there! My name is Sarah and I am the creator of Tiny Van Big Living. I am a traveling Occupational Therapist who lived in a converted Ford Transit Connect camper van (Vanny Devito) full time for almost two years, now part-time. I am collecting experiences, not things while slowly climbing out of the giant hole that is student loan debt.