There is no cooler ride than an off-road 4×4 camper van for your wild camping escapades. If you enjoy overlanding, driving on rough terrain, getting away from light pollution and waking up to a spectacular landscape, then a 4×4 van camper van for sale might be the right camper for you.
Having an off road camper van means you will be able to travel further and get away from it all.
These hardy 4×4 vans are designed to drive on icy, snowy, sandy, rocky or muddy roads and terrain with excellent traction.
An off-road van offers more freedom and easier maneuverability than an RV, fifth wheeler, trailer, standard van or motorhome.
Rent a campervan before you buy ($40 off!)
Renting a campervan before you buy is a great way to try out a van. Use the coupon code wayward40 to get $40 off any van rental with Outdoorsy. (Click here to browse campervan rentals near you)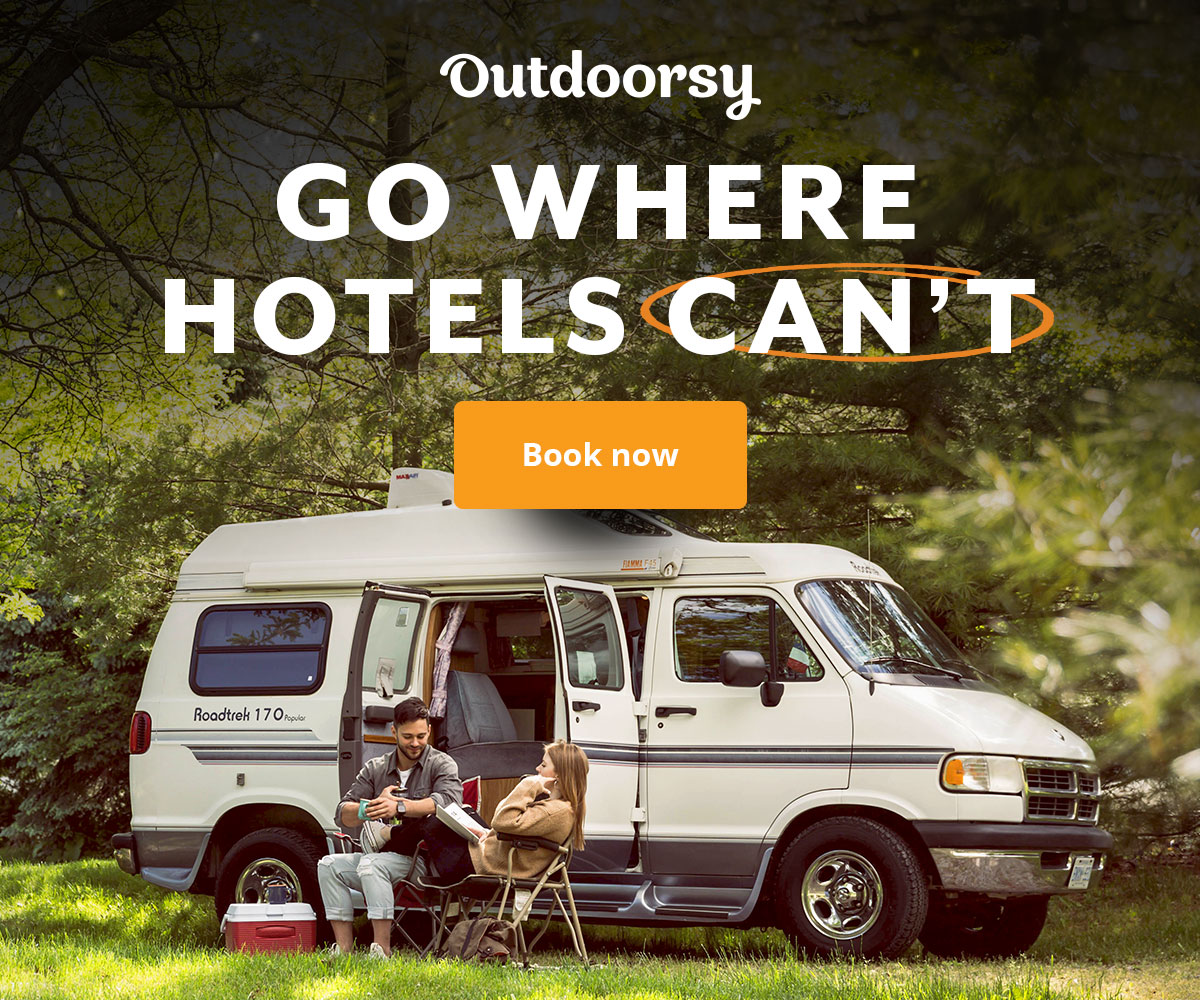 What is a 4×4 Camper Van?
A 4×4 camper van is a hybrid between a normal camper van and a more rugged 4×4 vehicle. They typically offer the comforts of home with the off-road capabilities of a 4×4.
There are many off road camper vans on the market to cater to different needs – from small off-road vans that provide an easy-to-move camp, to larger 4×4 camper vans for sale featuring the amenities more commonly found on an RV.
And while many of these vehicles come with a pretty hefty price tag, you'll find there are some budget-friendly options too. Whichever kind of off-road camper van choose, you'll be able to get off-grid in no time.
The benefits of a 4×4 camper van
Buying an off road van is a big commitment, so before you start window shopping for 4×4 camper vans for sale, let's look at the positives and negatives of these rugged vans.
Here are the key benefits of 4×4 camper vans explained.
You can go further in a 4×4 van
It goes without saying – a 4×4 camper van will allow you to travel further, to wilder and less-traveled places. No need to stick to popular camping spots. If you seek unspoiled nature and solitude, an adventure van will allow you to find them.
You can take your adventure gear with you
4×4 camper vans are often designed for adventurous people, who prefer to get out in the wilderness and go mountain biking, surfing or rock climbing, rather than setting up a comfortable camp to read a book.
If you chose an off road van, you'll be able to carry your favorite gear with you. Most 4×4 camper vans are designed to be modular and space-efficient.
Some models can even carry a motorbike!
Interested in travel trailers instead? The best off-road campers to get you deep into nature
4×4 camper vans are easier to maintain than a motorhome or trailer
Most off-road camper vans are built with fewer comforts than an RV, fifth wheeler or motorhome. While this might put some people off, it is a considerable advantage – a camper with less complicated systems is easier and cheaper to maintain.
Easy to store
Many off road camper van models are rather compact, which makes them easy to store and park, even in towns and cities. Their maneuverability also helps driving them around in tighter spaces.
Easier to stealth camp
Some 4×4 camper vans for sale look similar to mini buses, 8-seaters, transport vans or family vans, so they fit in well in an urban setting. For this reason, you might find it easier to stealth camp in one of these vehicles when you're back in town – they blend in well in parking lots and residential areas.
Fun driving
When looking for the right camping vehicle, having fun driving isn't usually a priority, but come on! Driving an off-road camper van on uneven terrain, splashing around in puddles and feeling the gravel move under the wheels is so much fun.
It surely counts for something, right?
The downsides of a 4×4 camper van
While 4×4 camper vans are definitely one of the coolest rides around, there are also some drawbacks to bear in mind when considering a purchase. Let's look at the main downsides of 4×4 camper vans.
Living space
There isn't a whole load of living space in an off road van – much of the room is dedicated to carrying gear. If you're expecting large surroundings, you may want to go with an RV.
They can get expensive
Adding all the bells and whistles to a 4×4 camper van to get it rugged and off-grid ready can be quite expensive. The incredibly rugged camper van by We Roll with It cost $300,000!
Rent a 4×4 adventure van on Outdoorsy (coupon code!)
Want to rent a 4×4 van to check it out? Use the coupon code wayward40 to get $40 off any rental with Outdoorsy.
Check out these 4×4 camper vans for sale
There are lots of different 4×4 camper vans for sale to choose from, many of them great. These are our absolute favorites.
Sportsmobile Classic 4×4 Camper Van – From $90,000
Weight: 8,500 lbs
Features: 10,000 lbs towing capacity, Partial Military Wrap Leaf Shackle System, integrated collapsible "penthouse", sofa-bed and kitchenette.
This certainly looks like a serious 4×4 van! The Sportsmobile Classic takes the Ford Cutaway body and molds it with a fiberglass shell, all reinforced with steel. Just looking at it transports you to a sandy desert race or mountain lake.
What makes the Sportsmobile off road camper van our number one? The impressive off-road and towing capabilities and the super solid construction.
It also comes with a variety of comforts, including a galley with microwave and fridge, a hidden electric toilet, a solar panel, a sofa and more.
However, if you prefer to dedicate more space to your gear, you can order a model with a different floor plan, or a custom model.
Find out more about the Sportsmobile Classic Adventure Van.
Tourig 4×4 camper van custom build
TouRig, based in Golden, Colorado, builds 4×4 camper vans custom for your adventure. TouRig can add external upgrades like roof rack, bumpers, and custom suspension.
Full interior build outs including heat and hot water, a full kitchen, shower, cassette toilet, solar, lithium battery system, huge water tanks and more to allow you to go overlanding long term.
A basic TouRig build will set you back around $30K and range up to around $90K depending on what amenities you choose.
A full conversoin with Tourig takes 6-12 weeks.
Learn more about Tourig 4×4 camper vans.
Outside Van's Off-Grid 4×4 Van – From $123,000
View this post on Instagram
Weight: Varies based on the custom build.
Features: Custom built to fulfill your specific needs, racks and mounts, rooftop tent options, insulation and sound damping.
If you're looking for a hybrid between a classic nomadic van with your chosen comforts and a 4×4 camper van, then this Sprinter 4×4 camper is the real deal. It features most of the luxuries you find on a motorhome but is still rugged and easily maneuverable.
Outside Van is a Sprinter van conversion company that custom builds each van, so you can pick your favorite options – from a fully kitted galley with sink and overhead cabinetry, to a 3-panel bed and bunk beds.
You could set this van up just like those you see on YouTube (#VanLife, anyone?), with the added bonus of the four-wheel drive. You can either give them your own Mercedes Sprinter van (they accept Mercedes-Benz Sprinters, Ford Transits, Nissan NVs, and RAM ProMasters that are 2007 or newer), or buy one from them; their designers will guide you in deciding on the floorplan and options.
Learn more about Outside Van's Off-Grid Van.
Oasis Campervan Toyota Sienna 4×4 Van Conversion – Around $8,500 (excluding the cost of the van)
Weight: Varies based on the custom build and minivan
Features: Partial self-build option available, full-size double bed, working kitchen and running water.
Own a minivan which you'd like to turn into a 4×4 adventure van? Then you need to check out Oasis Campervans. They can transform your Toyota Sienna or Dodge Grand Caravan into a camper full of comforts.
You can go for a full conversion with a kitchenette, double bed, running water and more, or you can opt for a partial conversion to save money. This features all the frames in place, the kitchen, bed platform and storage space. You can then put your DIY skills to use and add any extras you may want.
Toyota Siennas are the only 4×4 minivan on the market, which makes them popular for van lifers.
Find out more about the Oasis Campervan Conversions.
Winnebago Revel 4×4 Camper Van – From $149,299
Weight: 13,550 lbs
Features: Wet bathroom, full kitchen, dinette, powered patio awning, running boards and a solar panel.
Do you dream of a modern-looking 4×4 camper van that comes with all the comforts of home? The Revel Van by Winnebago might be what you're looking for.
This van will take you off-road, with a toilet and shower, a kitchen with sink and fridge and a solar panel. No need to rough it on the Revel! There's even a wind sensor that retracts the patio awning in case the wind gets gusty.
Oh and don't worry about carrying capacity – the double bed lifts away to create a garage for bikes or any gear you want to take with you. Even the bathroom doubles up as a storage space – just slide in the shelves and you have gained an extra cabinet.
Learn more about the Winnebago 4wd Revel Van.
Winnebago Boltd 4×4 Van – From $198,614
Weight: Around 11,000 lbs
Features: 4-season insulation, twin beds, flex bed kit, wardrobe, wet bathroom, kitchen and sofa.
How luxurious can a 4×4 camper van get? As luxurious as a Boltd. Inspired by German explorer and naturalist Alexander Von Humboldt, the Boltd by Winnebago is an up-market option for a bigger 4×4 camper van.
This off-grid beast features the Pure³ Advanced Energy System, which generates up to a staggering 11,600 watt-hours of power. This means you can really go anywhere, for however long, on the Boltd. With a generous bed, wardrobe, wet bathroom, full campervan kitchen and sofa, you can set up camp in the wilderness without giving up modern comforts.
And while there is plenty of living space in the camper, there's also a dedicated trunk storage compartment for your gear.
The main issue with this 4×4 van is that it's pretty low, meaning you won't want to tackle exceptionally rocky or deeply rutted roads. Better to keep this one in soft sand, dirt or snow.
Find out more about the Winnebago Boltd.
6) 4×4 Mercedes Sprinter van with a DIY conversion – From $25,000
Weight: Varies depending on how you build and kit the interior.
Features: Completely custom made, DIY and cost-effective.
If the adventure van of your dreams doesn't exist yet, you can build your own, DIY, for a much lower price tag than most models available on the market. Just buy your own 4×4 Sprinter van, design your perfect floorplan and start building.
Think about it: you could save up to $75,000 (depending on how minimalist you go with your conversion), you'd know the van inside out and you'd have the satisfaction of building your own. Maintenance will be cheaper too, as you will likely be able to fix almost everything you installed yourself.
A DIY off-grid adventure van could save you $75,000
Greg Keith of the Sprinter RV Blog wrote an entire book on how to convert your Sprinter van into your dream camper – The Sprinter RV Conversion Sourcebook.
Need help building out your DIY campervan?
Then you'll want to check out the Sprinter RV Conversion Sourcebook, a step-by-step guide to building out a campervan.
Don't let the name fool you – this book works on any DIY van build.
Sprinter Van Conversion Sourcebook
Take a peek inside:
This amazing 378-page ebook has everything you need to know about converting any van into a camper. It doesn't just apply to Sprinters!
Learn about the six major interior design considerations that lead to 13 secondary features in your design
An RV plumbing chapter on pipes, fittings, tanks, pumps, water heaters, toilets, you name it
Advice on choosing solar panels
How to install blackwater, greywater and freshwater tanks in a campervan
Fifty pages of information on designing an electrical system and wiring your campervan conversion
7) Budget option: Chevy Astro 4×4 camper van – Around $6,000 with $1,000 lift kit
Weight: Varies depending on how you build out the interior and which components you add
Features: Budget-friendly, agile, custom interior and sleeps 2.
If you're on a tight budget, consider the good old Chevy Astro AWD. You can buy a converted one, or convert your own to fit your needs.
You could go totally minimalistic and choose to have a bed plus storage space, or you can add overhead cabinets and other luxuries. Some Chevy Astro Vans have been converted with a permanent double bed and a small kitchen with sink.
This 4×4 Chevy Astro van has a 3″ lift kit by Journeys Off Road in Prescott, Arizona.
Want to start living the van life right now?
Grab your FREE Van Life Starter Kit, with 19-pages of van life specs/measurements, van buying tips, places to camp for free and remote work ideas.
Alternatives to a 4×4 camper van
Do you feel like these 4×4 camper vans for sale aren't right for you? Maybe you just want your own a vehicle that you can transform into an adventure rig for the weekend or for the holidays?
Here are three alternatives that allow you to do that.
1) Hawk pop-up 4×4 truck camper by Four Wheel Campers – From $18,995 (excluding the truck)
Weight: 1,100 lbs
Features: Kitchen with sink, dinette, double bed, 6′ 6″ headroom, sleeps up to 4.
A pop-up truck camper is an ideal solution for those who prefer a compact, low-profile and agile vehicle for boondocking. The best bit? You can remove it in half an hour.
We love the Hawk Model by Four Wheel Campers. It comes in different floorplans that accommodate either more sleeping or sitting space. The Hawk features a kitchen with sink and worktop. The headroom is impressive at 6′ 6″ and, even though there isn't much living space, it can sleep up to 4 people.
Find out more about Four Wheel Campers and their models here.
2) A 4×4 Land Cruiser with a rooftop tent – From $1,500 (excluding the Land Rover)
Weight: Around 100 lbs
Features: Easy to set up, comfortable mattress, allows using all the space on the Land Cruiser for carrying gear.
Big fan of 4×4 Land Cruisers and minimalist wild camping? Then you should consider a rooftop tent for a Land Cruiser. Installing a rooftop tent doesn't require any special skills; you can just buy a compatible tent and follow the instructions. This is an easy set-up that will allow you to move your camp around easily.
What makes this option better than tent camping? Rooftop tents come with a mattress, which makes them way more comfortable to sleep in.
You won't have to look for the perfect even terrain to set up camp – just stop the Land Rover in a good flat spot and pop the tent open.
3) 4×4 Jeep Pop-up Camper by Ursa Minor Vehicles- From $7,050 (excluding the Jeep)
Weight: Around 250 lbs
Features: Inside access, 6′ 9″ headroom, hard top and optional racks.
If you like the concept of a rooftop tent but not the idea of having to be outdoors when going to bed, you could opt for a 4×4 Jeep Camper by Ursa Minor Vehicles. It's a little like having a permanent, easy-to-set-up rooftop tent with indoor standing headroom.
Another advantage? There's still space to mount your favorite gear on the roof – from a surfboard or kayak to skis or a bike. Their streamlined design minimizes wind noise and keeps you safe in a blow.
Find out more about Jeep Campers.
4×4 conversions for a 2wd van
Finally, if you already have the perfect off-grid camper van, RV, or camper, but you just wish you could take it off-road, why not consider a 4-wheel drive conversion?
This entails replacing the axles, hubs, transmission, driveshafts, wheels, tires and some suspension components of the vehicle. It would be a great solution is you love your current van and can't face the thought of changing vehicles.
You can employ a company to do the conversion (check out Quigley and Agile Offroad) or you can buy a kit and do it yourself if you have welding experience (check out U-joint Offroad).
Ready to venture further on a 4×4 camper?
If you crave escaping to the wilderness and exploring further, an adventure van may be just right for you. You can set up camp deep into a forest, have fun driving off-road in the mountains or stargaze in the desert.
A 4×4 camper van will let you access wild places to pursue your favorite adventure hobbies – rock climbing, surfing, mountain biking, paragliding, and more. And while not all models are affordable, you can always go for a Chevy Astro AWD, a Land Rover with a rooftop tent, a DIY conversion of a Sprinter van or a Jeep pop-up camper.
We expect the 4 wheel option for vans to become more popular in the future, as more and more people worry about maneuverability and uphill performance. So the options for 4×4 camper vans are bound to increase.
Are there any 4 wheel drive vans?
There are plenty 4 wheel drive vans on the market. Mercedes Sprinter vans are a common choice, as are used Ford E-Series vans converted by Sportsmobile. You can find both Toyota Sienna and Chevy Astro vans with 4-wheel drive. Ford Transit came out with a 4×4 van in 2020.
Does Ford Transit come with a 4×4?
Ford released its very first 4×4 van in 2020 which the company calls an AWD version. AWD balances the torque between the front and rear wheels for a more balanced ride.
How much does a Quigley 4×4 camper cost?
Quigley can turn a 2wd Ford Transit into a 4-wheel drive for between $13,000-$14,000.
Check out some other van life stories:
I spent my childhood holidays exploring Europe on my parents' motorhome. Now, I live, work and travel on a sailboat with my husband Ryan. If you like, you can follow us on our YouTube channel, where we're documenting refitting and cruising on our Tayana 37.