The Ford Transit Connect camper's main selling points for me were the compact size and easy drivability.
If you aren't sure if you'll like van life and don't want to spend a lot of money, you really can't beat the Transit Connect camper.
A Ford Transit Connect, more specifically, the 2010 model, is ideal for full-time van living and makes an excellent daily driver.
I'll explain more about why I chose a 2010 Ford Transit Connect camper van, and how it might work best for your van life goals.
Rent a campervan before you buy ($40 off!)
Renting a campervan before you buy is a great way to try out a van. Use the coupon code wayward40 to get $40 off any van rental with Outdoorsy. (Click here to browse campervan rentals near you)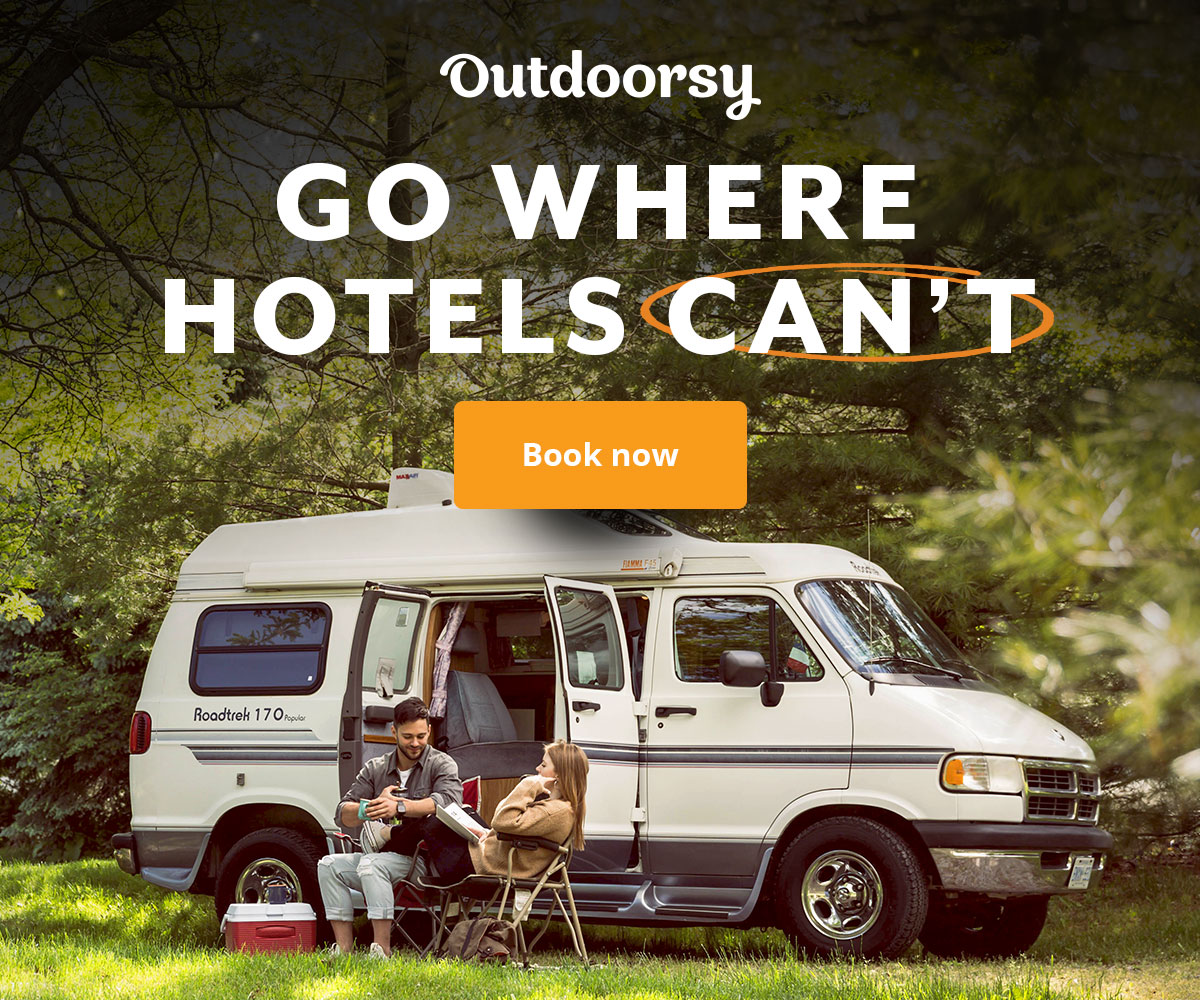 What is a Ford Transit Connect?
The Ford Transit Connect was introduced in Europe in the early 2000s and then imported to North America starting in 2009. It even shares parts with Ford's smaller car, the Ford Fiesta.
Throughout the past decade, the van has gone through several iterations. The 2019 Ford Transit Connect has two new powertrain options and a new 8-speed transmission.
Currently, you can get a Ford Transit Connect Cargo Van or a Ford Transit Connect Passenger Van.
The vans come in two sizes: a short wheelbase and a long wheelbase. The short wheelbase vans are 104.8″ long, or 8.7′. The longer wheelbase vans are 120.6″ long, or about 10′.
As you can see, Ford Transit Connect vans are small camper vans with a unique look. I've often gotten comments that my van "looks European." The van is extremely compact and can even fit into compact parking spaces!
You will often see Ford Transit Connect vans in large cities used for deliveries on narrow streets. Thus for van lifers, this makes it very easy to blend in for city stealth camping.
The benefits of going with a Ford Transit Connect camper
Now I'm going to tell you the benefits of choosing a Ford Transit Connect as your camper van.
There are a lot of Ford vans out there
Ford vans are often used for company fleet vehicles.
From what I researched for my Ford Transit Connect camper, many companies ditch vans after 100,000 miles of use. A van that's been properly maintained shouldn't give you any major problems up until at least 250,000 miles.
If you search for a van or fleet van online you will likely find a number of affordable Fords available to purchase.
Repairs are typically inexpensive and parts are easy to find on a Ford Transit Connect camper
Ford Transit Connect vans are a great choice as they are easy on the budget. Repairing a Ford van won't cost an arm and a leg, and you can find parts all over the world.
I met one couple who was traveling Central America in a Ford Camper van. They told me even there, they could find parts for their van.
After 2 years of owning my Ford Transit Connect, I have had a few repairs done myself and it has been very inexpensive and hassle-free.
The gas mileage is awesome
You can't beat the gas mileage on a Ford Transit Connect camper van. I drive all day for my work and the gas mileage is excellent at about 28 MPG. The fill-up price at the gas pump makes up for the limited living space for this camper van.
The vans are stealthy and easy to maneuver
Given the Ford Transit Connect's low profile, this van is great for stealth camping. People will have no idea that someone is living in a compact camper van like the Ford Transit Connect. Due to its compact size, the van is also really easy to drive and park, which is a huge bonus.
Rent a Ford Transit Connect before you buy! (coupon!)
Not sure if you'll like a Ford Transit Connect? There are tons of them for rent on Outdoorsy. Just use the coupon code "wayward40" to get $40 off your van rental!
Things to consider when choosing a Ford Transit Connect camper
When searching for a Ford van to live in full time there are several key factors you should consider. I'll explain why a 2010 Ford Transit Connect camper won in all of these categories for me.
Think about your budget
I decided the amount I wanted to spend on a van and conversion was $15,000 total. If you have been searching vans you probably know that vans can cost upwards of $80,000.
So at $15,000 I knew something very large was not going to be an option for me. I also figured out that buying a van and then converting would be the best way to keep costs down.
So, if you're in the same budget range, a Ford Transit Connect camper may be the best option for you as well.
Know your limits
When I started living the van life, I was living alone in Los Angeles. I did not (and still do not) have any trade skills, so I knew I wouldn't be able to do any of the work converting the van into a camper.
Also, I also bought the van the same month I gave my 30-day notice to my employer. So, with all those factors in mind, I knew that a smaller van would be less complicated and a lot cheaper.
Thus, if you want a minimally complicated conversion, a Ford Transit Connect camper may be best for you.
Ponder what drivetrain you want
When I decided to live full time in a van, I was about to begin traveling for my job. I couldn't ever be too sure if I would be in a cold or warm climate.
I was very surprised when researching vans how many are rear wheel drive (RWD).
Originally, I wanted 4×4/AWD but finding this in my budget was like looking for a unicorn.
I decided to settle on only searching for vans with front-wheel drive (FWD).
A great perk of the Ford Transit Connect camper is it has FWD and can handle decently in the snow.
The size of your camper van
I have literally spent hours comparing dimensions of the mini cargo vans to decide which one has the most cargo space.
I'm here to tell you that the 2010 Ford Transit Connect camper has the most cargo room of all the mini cargo vans out there as of date.
The newer models have gotten smaller and smaller since 2010. Since this model is older I found it to fit perfectly within my budget.
Deciding on a layout for your Ford Transit Connect Camper
If you decide to go the Ford Transit Connect route than you next decision would be your campervan layout.
Recently, I have seen more and more Ford Transit Connect camper conversions but in 2016, I couldn't find much. The van has a very small space so being creative is necessary.
In 2016, I decided to have a large platform campervan bed with modifications. I wanted the space behind the passenger seat to the end of the back door to be modular. The idea was that a board would pull out from the platform to make that area either a bed or seat.
Unfortunately, I was told they couldn't make this work so it ended up being an entire platform bed.
The pros and cons of a full platform bed
A platform campervan bed provides optimal storage because a van lifer can utilize the entire space under the bed. There is also plenty of room for two people to sleep comfortably.
One con is that you have to get outside the van to access your stored items. My van was always messy because everything I needed just ended up being all over the bed.
It's also difficult to hang out in the van or work on your computer. That's because you either have to lay down or hunch uncomfortable over the computer.
After a year and a half, I decided to switch it up.
Need help figuring out how to wire and plumb your van?
The team over at Far Out Ride has you covered! Check out all their van wiring diagrams and tutorials here.
The builder's package gives you diagrams and tutorials on wiring, water, propane and floor plans. You can also buy each diagram separately depending on what you need.
Going to a more modular Ford Transit Connect camper design
For the next version of my campervan layout, I decided to go for more of a modular design.
I got the idea from another conversion van to make a bench that converted into a bed. I found someone on Craigslist who was up for the challenge and within 24 hours I had a whole new set up.
Essentially, the bed/bench has slates on it that make a similar to a couch. This setup is ideal for hanging out, working, and sitting in the van way more convenient. When its time for bed the slates slide out and rest on a platform to make a bed that is about the size of a twin size bed.
The pros and cons of a modular bench/bed campervan layout
The main pro is that space is more versatile. I can easily transform from a desk/living room area to a bedroom. I found it way more comfortable to do computer work, read, or just unwind after a long day of work.
The con is that there is way less storage available. In order to be able to use the couch/bench the main aisle of the vans needs to be clear, thus I had to downsize my items again to make this set up work.
Conclusion on why I chose a Ford Transit Connect camper
Overall, I do not think I could have picked a better type of van than my Ford Transit connect camper.
I had intentions of being in Alaska for just the summer but decided to stay for a year.
Obviously, it's way too cold in the winter to be living in a van but I was easily able to rent a room for the winter and use my van as a daily driver.
This may have been way more difficult with a larger van. Driving large vans can be intimidating, but driving a Ford Transit Connect feels like driving a regular sedan.
I have been able to successfully travel through small towns and large cities with this van. It's also a really a great all-terrain van.
The Ford Transit Connect is ideal for anyone who is budget-minded and needs a van that can easily double as a daily driver.
Are you ready to get started building out your camper van?
If you're ready to start building your own DIY Ford Transit Connect camper van conversion right now, there's an amazing book that will help you convert your van. And despite the title, this book doesn't only apply to Sprinter vans.
The Sprinter RV Conversion Sourcebook is 378-pages of pure conversion gold, written by Greg Keith, who is currently on his THIRD Sprinter van conversion.
Here's some of what you'll get from the book:
A van plumbing chapter on pipes, fittings, tanks, pumps, water heaters, toilets, you name it
How to get internet access in your van
The five criteria to think about when insulating your camper van
Advice on choosing solar panels
How to install blackwater, greywater and freshwater tanks
Fifty pages of information on designing an electrical system and wiring your campervan conversion
And soooo much more!
Check out the Sprinter RV Conversion Sourcebook and start working on your Ford Transit Connect camper van right now.
Remember, so much of this info can also be applied to a small camper van like the Ford Transit Connect!
Hi there! My name is Sarah and I am the creator of Tiny Van Big Living. I am a traveling Occupational Therapist who lived in a converted Ford Transit Connect camper van (Vanny Devito) full time for almost two years, now part-time. I am collecting experiences, not things while slowly climbing out of the giant hole that is student loan debt.