If you're dreaming about a camper van conversion for van living there's a lot to think about before jumping in and buying one of the best vans to live in.
Campervan conversions can really run the gamut in terms of price.
There are luxury Sprinter van conversions that could cost you up to $150,000, or simple DIY cargo van campers that will only be $1,000.
There are also campervan conversion kits, which are a combination between a DIY and a custom build.

What's exciting is this – soon you'll be living in a van – a more adventurous and free lifestyle. There's nothing better than hanging out in your adventure van in the middle of nature, breathing in the fresh mountain (or desert) air.
Once you start living in a van, you might never look back.
Do you love campervans and van life? Check out our free Facebook community group.
How to choose the right camper van conversion for van life
Choosing the right van for your camping needs requires a lot of thought. A big part of your van decision will be ruled by how much money you want to spend.
A used van from Craiglist or Facebook Marketplace can be as cheap as a few thousand dollars, where a fancy Airstream Sprinter van will cost you way over $100,000.
Here are some other factors to think about when choosing your perfect camper van for van living:
Whether or not you want to stand up in your camper van conversion
The type of gas mileage you're expecting, and whether you want to use gasoline or diesel
Whether want to buy a camper van that's already built out or do a DIY camper van conversion
The size of the van: do you want a minivan, a small cargo van, a full-sized cargo van, a conversion camper van, a vintage van like an old VW, or a high-top van? (We'll tell you more about each type below)
Will you absolutely need a bathroom and kitchen in your van?
Do you plan on taking your van off-roading? If so, you'll probably need a van with all-wheel drive
There are so many vans out there to choose from when it comes to doing a camper van conversion. What type you choose is entirely up to you.
The questions above should help you narrow down which camper van conversion you need.
Get your FREE Van Life Starter Kit!
So you want to live the van life but have no idea which van to choose? Here are specs for 10 popular vans, van buying tips, remote work ideas and van build resources. Get your FREE kit now!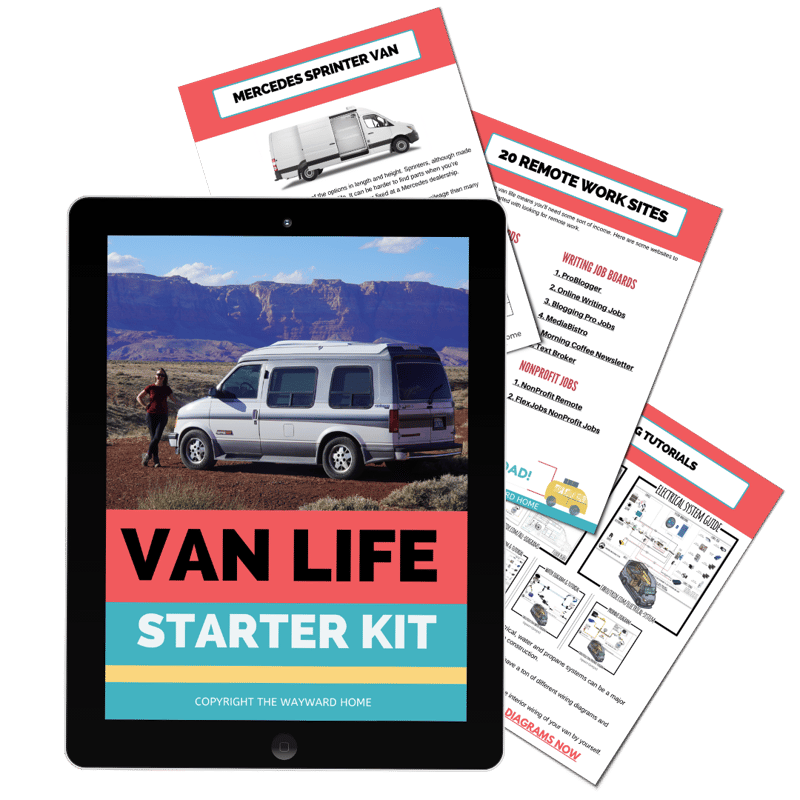 The types of vans you can convert into a camper
Now, we'll do a quick rundown of the various types of vans out there you can turn into a camper for living in a van. There are so many vans on the market that it's hard to talk about each and every one of them. These are the main vans we've seen people turn into a camper van conversion.
The Mercedes Sprinter camping van
The Mercedes Sprinter van – whether it's branded as a Dodge, Freightliner or Mercedes, is iconic to the van life. You'll see tons of photos of beautiful couples on Instagram lounging in their Sprinter camper van conversions.
Sprinter vans have a great reputation, but they are the most expensive van you can buy for van life. Also, they must be fixed at certified Mercedes mechanics, which can lead to an even greater expense.
One main positive of Sprinter vans is they run on diesel, so get better gas mileage than other vans.
Check out these 4×4 Sportsmobile Sprinter vans for an example.
The Ford Transit van
Ford Transit high-top vans are another popular choice for a camper van conversion. These full-sized cargo vans have plenty of interior space for your campervan build.
Ford Transits don't get many bad reviews, only that their rear-wheel drive layout makes them difficult to drive in the snow.
You can buy Ford Transits with engines that take either gasoline or diesel.
Read more about Ford Transit campervans.
Dodge Promaster vans
Dodge Promaster vans are popular among custom camper van conversion companies. Their wide body makes it possible to sleep across the van, rather than along the length. Front-wheel drive makes them easy to maneuver in a variety of conditions, and they're an all-around, hardy van.
Small cargo vans
If you're looking for amazing gas mileage and maneuverability, you might want to consider a small cargo van to convert into a camper. There are several top-notch small cargo vans on the market right now. We've seen the Nissan NV 200, the Mercedes Metris, the Promaster City and Ford Transit Connect turned into a camper van conversion.
A high-top conversion van
Back in the day, there was something known as a "conversion van." That's basically a luxury passenger van with a high-top fiberglass roof, wood detailing and cabinets. I chose a 1994 Chevy Astro conversion van for camping, as it was under $6,000 on Craigslist!
This little camper van conversion has just the right amount of room for sleeping and headspace for moving around. There are also full-sized conversion vans on the market, such as the GMC Explorer and Chevy Express.
A full-sized cargo van for a camper van conversion
Cargo vans, like the ones you see plumbers and electricians driving around, are also a choice for a campervan conversion. These vans are usually cheaper than their high-top counterparts but work just fine for sleeping, cooking, and resting.
The main issue with cargo vans is you can't stand up, which might be a dealbreaker for some.
A huge benefit of cargo vans are their stealth factor – you can stealth camp with ease and nobody would ever guess you're in there.
Minivan for a camper van conversion
Yup, some people really do go with minivans for a camper van conversion. These are super cheap – one couple even converted a used minivan for under $700! A minivan is just the basics. You'll have somewhere to sleep, and that's about it.
Minivans tend to get good gas mileage and there are tons of choices on the market.
Want to try renting a van before you buy? We've partnered with Outdoorsy to
offer you $40 off any campervan rental.
Just enter the code: wayward40 upon checkout.
Camper van conversion kits: Part DIY and part custom build
One way to go about a camper van conversion is to buy a camper van conversion kit.
A camper van conversion kit can be as simple as a pre-built bed frame you can buy, to a more elaborate build with a bed, storage, drawers and a camper van kitchen.
Camper van conversion kits are cheaper than hiring a company for a full camper van build out, but give you peace of mind that experts helped build your van.
You can also hire a local electrician or craftsman to help you with the hard parts of your camper van build.
Check out these 7 camper van conversion kits you can buy right now.
How to build a DIY camper van conversion for van living
A DIY camper van conversion is an affordable way to start living in a van. That's why Benjamin McConkey, 30, and Alison Westfall, 30, of HeyVoyager.com built their own DIY campervan.
The couple paid only $5,000 for a white utility van that you see electricians and plumbers driving around.
"They are reliable vans, they are meant to haul heavy equipment or tools so we liked the idea that it was durable," said Alison.
After purchasing their cargo van, the couple then had to decide on the right campervan layout.
Alison and Ben wanted a camper van conversion that would work for a six-month trip driving across the United States. They wanted simplicity, with just a bed, couch and storage.
Here are some of their design considerations:
Not sure which van life van is right for you? Click below to see specs on 6 popular van life vans:
How they built their DIY campervan for van life
Alison and Ben watched YouTube videos, read blogs, and relied on Alison's father to help them with the camper van build.
"Neither of us had an experience doing renovation before, so it was overwhelming at first," said Alison. "My dad helped us quite a bit, guiding us when it comes to tools, our flooring, the design, the insulation."
But the two eventually put their camper van together, with a whopping price tag of only $1,000.
They even put together a guide on how to do your own custom camper van build, which you can check out here: Van Conversion Guide.
"We don't have solar panels, we don't have a stove, no sink with running water," said Alison. "We hope people will get that it's not intimidating."
The biggest challenge in their camper van conversion journey
The couple said their biggest challenge into going into van life wasn't necessarily the camper van build.
"Making the jump to do this was the most challenging," Ben said. "We'd been wanting to do a trip and build a van for a long time, so making that initial leap was the biggest challenge mentally. Then, it was the design. Just wanting to make sure we thought of everything."
Alison said it was hard to anticipate what their daily life would be like, and what it would be like living in a space so small.
"We really learned to work together," she said. "The biggest thing aside from the actual conversion was that it's the first big project we've tackled together. It really strengthened how well we work together and communicate. We learned a lot about each other."
You can follow the couple's journey on www.heyvoyager.com And on Instagram.
Hiring a Sprinter camper van conversion company for your van build
Another way to do a camper van conversion is to hire a reputable custom build company. One of those is Townsend Travel Trailers.
Thomas Townsend, CEO, said his company almost exclusively works on Sprinter vans from the year 2007 and newer.
"Sprinter camping vans are an asset because they don't go down in value all that much," he said. "It's something you can use, get enjoyment out of and its low maintenance. The Sprinter van is best in terms of engine and price, and the interior is the right size for a build."
You first have to pick which Sprinter van you want to convert into a camper.
The shortest one is 144 inches with a living space that's 11′ long by 6′ feet wide. The longest is a 170-inch extended van with a 15′ long and 6′ foot wide living space.
As you can see, both Sprinter vans are very wide, so you'll be able to sleep across the van, rather than length-wise.
Want help picking the right van for van life? Check out this list of specs on 6 popular vans!
How to choose your custom Sprinter camper van
When talking to a Sprinter van builder, you'll have to decide what exactly you want in your new van conversion.
"You'll have to consider how long you'll be on the road and what type of gear you want. You may or may not need a bathroom and a shower. You'll have to think about your galley, heating, hot water, things like that," said Townsend.
Many Sprinter vans cost between $45,000-$55,000 and the camper van interiors can range from $30,000-$150,000.
So, it's obvious that a custom Sprinter van conversion will cost you a pretty penny.
"You don't want anything extraneous in your camper van," said Townsend. "If you can get by without taking a shower, it's best to eliminate that. If someone wants to live in a van full-time we focus on creating a Class C RV. Those vans are compatible with an RV park, with gray water tanks, fresh water tanks, campervan heating, and a water tank."
The campervans are also designed to last for two to three weeks off-grid.
"For water, you'd have 30-50 gallons of fresh water on board that can last for three weeks, and you catch gray water in a tank, "he said. "We get power from solar which charges lithium batteries and the alternator. With on-demand power in the middle of nowhere, you can run blenders and even heating systems that run off diesel. You can also have hot water….it takes 1 gallon of gas for 15 to 20 hours of hot water and air."
Townsend Travel Trailers mostly builds with aluminum, composites and powdered coating for finishes. Not water-based because they scratch too easily.
If you want to go the custom build route for a Sprinter van, also check out Outside Van and Sportsmobile Sprinter 4×4 vans.
Conclusion on building the best campervan conversion
As you can see, there are many ways to start living the van life right now.
You can go for a DIY van conversion, a campervan conversion kit, or a custom van build.
The DIY option for a campervan is the cheapest while a custom build tends to be most expensive. A campervan conversion kit is a happy medium between the two.
Vans aren't the only vehicles you can turn into campers. There are also SUV camper conversions and car camper conversions.
To get started on your van build and do even more research, check out the Sprinter RV Conversion Sourcebook, which explains installing solar, insulation, greywater and blackwater tanks, etc. This 378-book has everything you need to know about doing a DIY camper conversion and works on any type of van.
Click here for a closer look at the Sprinter RV Conversion Sourcebook.
Good luck on living the van life in your camper van conversion and exploring the great outdoors.
Where can I park a campervan conversion?
A lot of people worry about where they can legally park a campervan. When traveling, you can always park a campervan in a campground or a rest stop. In some areas, you can safetly spend the night at a WalMart or Cabellas. Boondocking is a great option for your camper van conversion, which means camping for free on public lands. For more info, check this out: Is it illegal to sleep in your car?
Where do I buy a camper van conversion?
There are so many places to look for a campervan. You can search Facebook Marketplace or Craiglist for your perfect van. Or you can join Facebook groups dedicated to selling vans, like Class B Campervans/Buy/Sell/Trade. Some people use AutoTrader or even shop at dealerships that sell custom camper van conversions.
How do I choose the right camper van?
You'll need to think about where and how you'll be traveling to choose the right camper van conversion. Do you need to stand up? Then you'll need a high-top camper van. Do you want a bathroom and a kitchen? Then consider the extended Sprinter or Ford Transit vans. Are you going to be driving on rugged roads? You'll need a 4×4 camper van.
Why is a camper van better than an RV?
Camper vans are much easier to maneuver and get better gas mileage than your typical RV. They drive like regular cars and fit in parking spaces. Camper vans are also easier to store in a driveway or a garage.
Other camper van stories you'll love:
Get your FREE Van Life Starter Kit!
So you want to live the van life but have no idea which van to choose? Here are specs for 10 popular vans, van buying tips, remote work ideas and van build resources. Get your FREE kit now!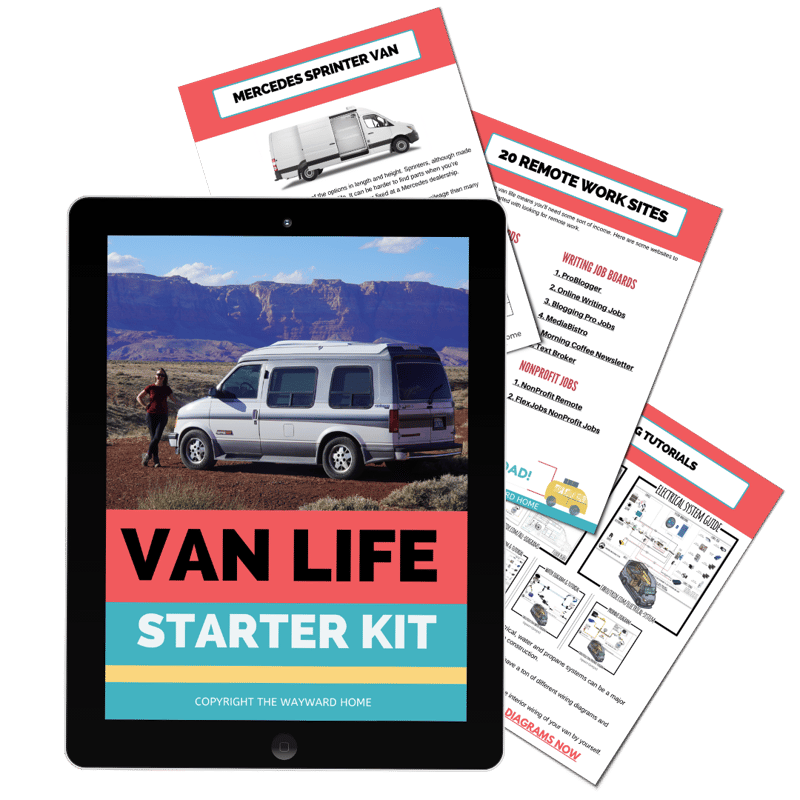 Kristin Hanes is a journalist who founded The Wayward Home as a place to learn about alternative living. She currently lives on a sailboat and in a Chevy Astro van, and has written articles about alternative living published in Good Housekeeping, Business Insider, Marie Claire and SF Gate. Read more about Kristin here.