If you're looking for a solidly-built, high-quality van conversion to hit the road and start living the van life, opting for one of these professional van conversion companies is a great option.
A custom or standardized build will save you a lot of the headaches involved in a DIY conversion.
You won't need to learn a lot of practical skills or technical systems and you won't risk damaging the van or the equipment by getting things wrong.
When using one of these van conversion companies, everything will look flawless and high-end; plus you will typically have a warranty on the gear.
Sound appealing? Then let's look at some of the coolest professional van conversion companies on the market.
Rent a campervan before you buy ($40 off!)
Renting a campervan before you buy is a great way to try out a van. Use the coupon code wayward40 to get $40 off any van rental with Outdoorsy. (Click here to browse campervan rentals near you)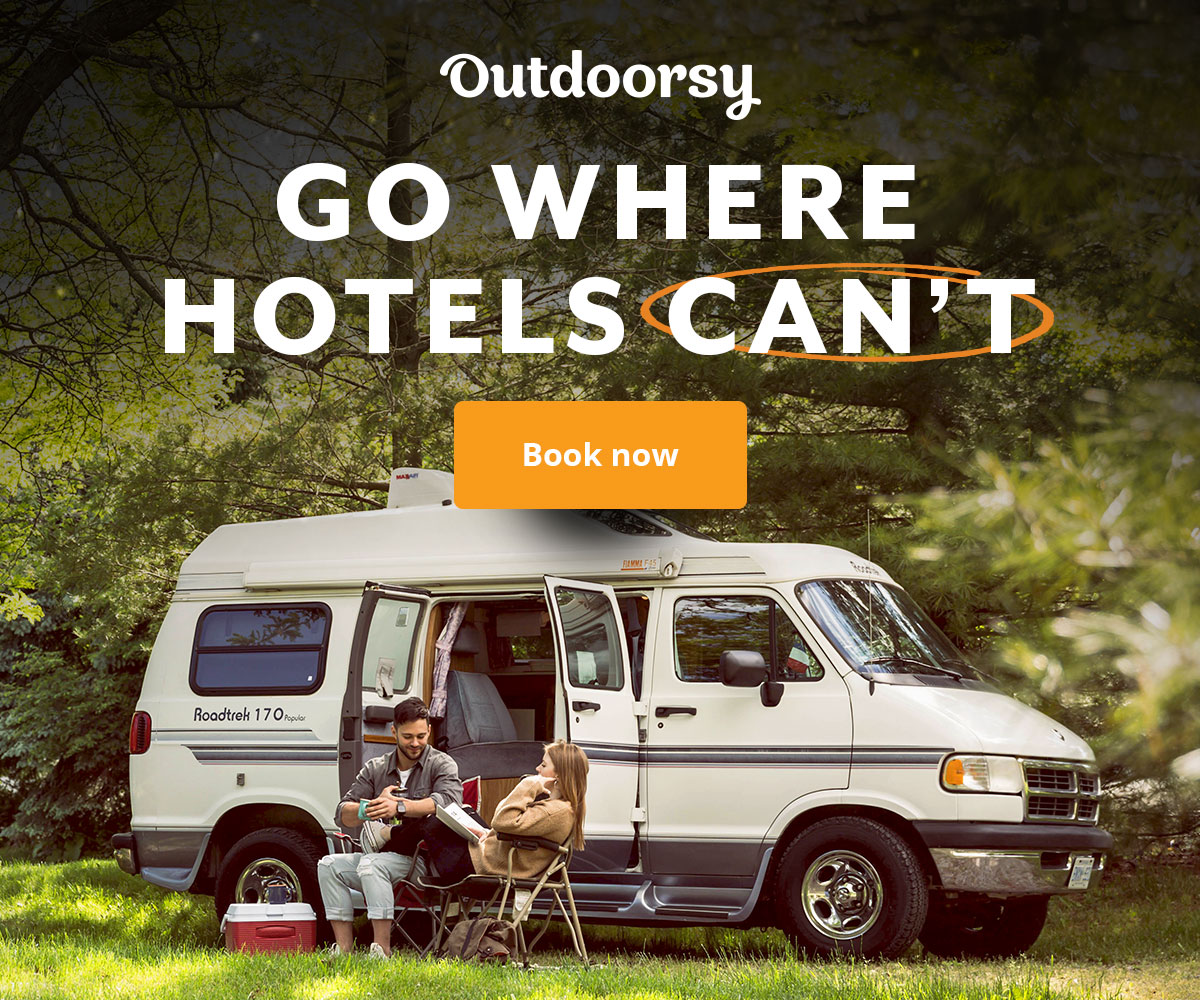 The best camper van conversion companies out there
We've selected the best van conversion companies we could find. Have a look at these gorgeous van builds.
Just in case you're window shopping, we've included some of the most important information to help you choose which campervan conversion company to hire.
1) Van Life Customs van conversion company
Location: Denver, Colorado
Cost: $60,000-$80,000
Rigs: Ford Transit, Ram Promaster and Mercedes Sprinter
Build Time: 6-8 weeks
Van Life Customs is one of our favorite custom van conversion companies. They'll convert any of the three panel vans popular for van life, including the Sprinter, Promaster and Transit.
Each conversion is unique and reflects the needs and taste of the van lifer who commissioned it. Modern, rustic, boho – you choose the look and the equipment you want to be installed and they will build something beautiful.
You'll have to get on the schedule though as this is a popular van conversion company. They're currently taking orders about six months out.
VLC also have some ready-to-go converted vans for sale.
If you're a DIY enthusiast who's starting from scratch, you can book a consulting session with their experts to help you figure out your own build.
You can also buy some materials directly from them, such as insulation and inverters as part of a campervan conversion kit.
Head over to the Van Life Customs website to check out their stunning creations.
2) Contravans van conversion company
Location: Denver, Colorado
Cost: $7,000-$50,000 depending on conversion
Rigs: All box trucks, various SUVs, cars, cargo vans and the Toyota Sienna minivan
Build time: 4-6 days for a turnkey kit, 2-8 weeks for a custom build
Contravans can convert almost any vehicle into a campervan conversion, but they aren't working on Mercedes Sprinter vans just yet.
They're one of the few camper van conversion companies out there that convert box trucks into modern tiny homes.
Contravans' builds span from small and space-efficient kits to install in cars and SUVs, to bigger and more sophisticated gear for cargo vans.
The process looks something like this: Contravans uses 3D modeling to plan your van's layout, then a CNC shop cuts components to their exact specifications, then comes parts prep, pre-assembly and installation.
Contravans is booked about three months out for van conversions, and busiest times are spring through late fall.
We love that this van conversion company works on cheaper vehicles for cheaper prices, so you're not out $80k for a custom build.
While Contravans advertise a number of vehicle conversions, they can also work on custom builds from scratch, or install a partial conversion. You can even test drive one of their vans to check the quality of their work.
You can read more about their conversions on the Contravans website.
What about a minivan conversion? Check some out here and see if it's for you!
3) Advanture Co. camper van conversion company
Location: Placerville, California
Cost: From $36,000 for a base build
Rigs: Various van models
Advanture Co. specialize in custom and standardized conversions for a variety of van models.
Their campervan interiors look gorgeous, whether you go for a modern, minimalistic, or rustic feel. Their floorplans can accommodate one or two beds, tables, toilets, and more.
Advanture Co's base package turns your van into an RV with a bed, kitchenette, cabinets, bench seat mounts, outdoor shower and heating. You can add more options to your build, including leather seats, a portable toilet, a 12-volt fridge and a propane stove.
Find out more about Advanture Co. on their website.
4) Sportsmobile camper van conversion company
Location: Huntington, Indiana; Austin, Texas; Fresno, California; Reno, Nevada
Cost: Starting at $85,000 (including the van)
Rigs: Mercedes Sprinter, Ford Transit, Dodge ProMaster, Chevy/Ford E-Van, Mercedes Metris and Sportsmobile Classic 4×4
Sportsmobile is an icon on the van conversion companies scene. Their sporty, rugged builds don't go unnoticed on the road. They've been in the business since the 60s, so they have vast experience of converting a variety of vehicles.
You can choose one of their standard plans or to design your own conversion for roughly the same price. Included in the price is a five-year, unlimited miles warranty.
We love that Sportsmobile designs campervans for people in wheelchairs so anyone can get out camping.
Sportsmobile has established relationships with many dealers, so you can get financing for the vehicle and up to 50% of the build. This is super convenient because you don't have to first go buy your van, then take it to Sportsmobile. They do the heavy lifting for you.
You can choose between a high roof van, or Sportsmobile will install a penthouse pop-top on low roof vans, which adds a lot of flexibility to your campervan.
There are tons of choices and options if you go with this van conversion company. Everything from seats and beds, to bathrooms, to cooktops, to windows, to colors and materials. Sportsmobile really makes your campervan your own.
Sportsmobile will deliver your campervan anywhere in the U.S., which adds an extra level of convenience.
With their stellar reputation and longevity, Sportsmobile is one of our favorite campervan conversion companies.
You can find more information about their conversions on the Sportsmobile website.
5) Glampervans
Location: San Franciso, California
Cost: From $30,000-$65,000
Rigs: Ram Promaster 136
Glampervans produce standardized conversions for the Dodge Ram Promaster. Their interiors are practical and modern.
We love that the Glampervans build-outs are clean and upscale, yet way cheaper than a custom Mercedes Sprinter van.
The company is possibly the best Ram Promaster converter, given that they have tested their rig for 16 months, over 24,000 miles in all sorts of conditions – from snow-covered mountains to remote beaches.
Their MUV campervan conversion features a queen bed, a kitchenette and lots of storage. While the design is standardized, you can still pick and choose between several options.
Here's some of what you'll get with this van conversion company:
Queen bed with a memory foam mattress across the width of the van, which gives you more internal living space
A 55-liter top-loading fridge
Insulation for sound deadening, heating and cooling
Interior lighting
Awning and porch lights
A hideaway portable toilet
Each van conversion is crafting with maple plywood, vinyl flooring and marine quality drawer and cabinetry hardware.
Read more about Glampervans on their website.
Feeling inspired to start van life but still need a van? Check out the 13 best vans for van life to find your perfect match!
6) Beartooth Vanworks camper van conversion company
Location: Belgrade, Montana
Cost: From $40,000
Rigs: Mercedes Sprinter, Ram Promaster and Ford Transit
Beartooth Vanworks build rugged customized vans that are ideal for the adventurous van lifer.
This best van conversion company offer a variety of designs – from super minimalist conversions that maximize space to store lots of large gear, to cozy campervan interiors that can accommodate a family of four.
Although the company specializes in Spinter vans, they can also work on other vehicles. Each build is highly customized and you can install as little or as much equipment as you like.
We love that you can really make a Beartooth Vanworks van your own. You can choose minimal power in your van, or enough to keep you off-grid for days.
You can choose the number of seats and whether you want a platform bed or a gaucho bed, which converts from a bench seat to a comfortable bed in no time.
You can find out more about their rigs on the Beartooth Vanworks website.
Want a Sprinter van but lost on how to find the right one? Never fear we have the 12 top spots to find Sprinter vans for sale!
7) Aspen Custom Vans
Location: Aspen, Colorado
Cost: Available on request
Rigs: Mercedes Sprinter, Ram Promaster, Ford Transit and Ford F-350
Aspen Custom Vans is a custom van conversion company that turn your van life dream into a reality. All of their designs are Instagram-worthy. Most of their floor plans feature a double bed, a dinette, a decent galley and lots of storage.
The best bit? You can rent one of their vehicles to get a feel for what living on one of their conversions is like. The company also offers DIY conversion consultations over the phone, to help you kickstart your own build.
Learn more about Aspen Custom Vans on their website.
8) Colorado Camper Van
Location: Loveland, Colorado
Cost: From $12,500
Rigs: Ford Transit, RAM ProMaster, Mercedes Sprinter, Nissan NV, Ford E-Series, Chevy Express/Savana and Euro Van
Colorado Camper Van convert a variety of vehicles into RVs. They can do a basic pop-top installation, or go all out and deliver a full build-out. They also sell a pop-top DIY kit ($9,000) that you can install yourself, if you are confident in all things electrics.
The interiors are designed to accommodate different budgets and lifestyles. The company delivers quickly – it only takes them four to five weeks to complete a custom build and two weeks for a pop-top install.
If you're in a rush to hit the road, it's worth contacting them.
You can find out more about their builds on the Colorado Camper Van website.
Want to see more off the grid options? Check out this man's off the grid lifestyle in his Jeep Camper.
Need help with your van's wiring and plumbing?
The team over at Far Out Ride has you covered! Check out all their van wiring diagrams and tutorials here.
The builder's package gives you diagrams and tutorials on wiring, water, propane and floor plans. You can also buy each diagram separately depending on what you need.
9) Recon Campers van conversion company
Location: Los Angeles, California
Cost: From $7,500 for a simple pop-top install and from $18,000 for a full conversion
Rigs: Nissan NV200
Recon Campers offer affordable Nissan NV200 conversions. You can opt for a simple pop-top installation or a full conversion.
Their Envy package ($29,950) turn your van into a home on wheels with two beds, lots of storage, a sink, a fridge, a table and an outdoor van life shower. Included in the price are the walls and door insulation, as well as the industrial floor.
There are also plenty of options to choose from, such as a solar system, bug screens and a roof rack.
All their vans are built to order, so to see a finished build you'll need to go to one of their open days.
Even though they offer packages, you can build your conversion "à la carte" by picking what features to have installed. You can finance the van via a dealer and up to 50% of the cost of the conversion.
Find out more about Recon Campers on their website.
10) Titan Vans
Location: Boulder, Colorado
Cost: $50,000-$75,000
Rigs: Mercedes Sprinter, Ram Promaster, Ford Transit and Nissan NV
Titan Vans is a camper van conversion company that produces standardized and custom builds.
Their two custom build options include their basic package (the Classic) and a completely custom design.
With the Classic van conversion is the most affordable with a pre-engineered design. You'll still get your fair share of customization with the upholstery, laminate and accent colors. There are also plug-in-play upgrade packages to get everything you want in your conversion.
The complete custom build will cost more, but you'll get to design every aspect of your van. Titan engineers will create a full 3D rendering of your build, then once you pay, work on the van begins.
This van conversion company offers a three-year, or 36,000-mile warranty. And if you're not ready to purchase a full conversion, you can browse their shop and buy the gear you need for a basic DIY build.
You can read up about their offering on the Titan Vans website.
11) El Kapitan van conversion company
Location: Huntington Beach, California
Cost: From $35,000
Rigs: Mercedes Sprinter, GMC Savana, Chevy Express, Dodge Promaster and Ford Transit
Love a little luxury? Then you may want to check out El Kapitan's rigs. Their camper designs are super stylish and modern.
This van conversion company gives you several options: the pre-designed Story Maker and Dream Weaver vans, or a complete custom build.
The Story Maker is designed for the 144 wheelbase Sprinter, and comes with a comfortable sleeping area, walkway and reclining lounge seats. This stunning van build has mahogany luan walls, a marine plywood floor, hot water, heater and more.
The Dream Weaver is built on the 170 Sprinter chassis, and includes a full interior shower, galley, and open garage space for storing bikes and other gear.
These van conversions come with all sorts of gear – from inverters and microwaves to AC and a toilet. You can choose from 17 different floor plans, so you can be sure to find an interior to suit your adventure.
All their vans come with a three-year, or 36,000-mile warranty and the company can help you arrange financing for both the vehicle and conversion through a dealer.
Find out more on the El Kapitan website.
Thinking you want to convert a Sprinter? Try renting one to see if it is right for your build.
12) TouRig camper van conversion company
Location: Golden, Colorado
Cost: Available on request
Rigs: Mercedes Sprinter (two wheel drive and 4×4) and Ford Transit
The TouRig van conversion company is a Sprinter van conversion specialist offering nine different van build designs.
Each floor plan suits a specific lifestyle; however, they welcome customer input into their design process. Their staff can help you design a custom interior that best suits your needs.
TouRig started working on Ford Transit campervans in 2020 as the van is now offered in AWD. You can book a consultation online for a Ford Transit.
A typical TouRig van conversion features a kitchenette, a bed, a couch and plenty of storage. This van conversion company offers a variety of custom luxury seating options, storage solutions and kitchen designs to best suit your outdoor adventures.
The company offers a three-year warranty on their conversions.
You can check out their builds on the TouRig website.
13) Outside Van
Location: Portland, Oregon
Cost: From $32,000
Rigs: Mercedes Sprinter and Ford Transit, 2007 or newer
Outside Van convert Sprinters and Ford Transits into campers. Their interiors are modern and space-efficient. You can choose between one or two bed floor plans and a variety of styles – from minimalist to rustic.
You can choose between a custom van (Peak Series) or a pre-designed van (Ascent Series).
Custom vans from this van conversion company include an interior package with insulation, flooring, overhead lighting a safety package and exterior vinyl. After the basics, everything else is up to you. You'll work with an experienced team of designers to build the campervan of your dreams.
The Ascend vans are pre-built, one-off models available for sale on Outside Van's website. These aren't model vans, but unique builds. The benefit to this options is you can buy a van right now rather than waiting for a complete build.
Find out more on the Outside Van website.
14) Boulder Campervans van conversion company
Location: Boulder, Colorado
Cost: Available on request
Rigs: Mercedes Sprinter, Dodge Pro Master, Ford Transit
Boulder Campervans is a van conversion company that specializes in unique custom builds.
The Boulder Campervans team starts from scratch with every design, so you can be as creative as you like with your floor plan. The result will be a unique rig.
This van conversion company aims to give you an off-road van for outdoor adventures. These four season vans are built out with premium materials and include plenty of collaboration between engineers and you, the client.
The average build time for a custom campervan from Boulder campervans is between 2-3 months. However, if you don't want to wait that long, you can just buy a van already for sale.
If you don't have a vehicle yet and you'd like to buy new, you can purchase directly from them. The company offers a one-year, 12,000-miles warranty
You can read up more about their builds on the Boulder Campervans website.
Check out a few more awesome Dodge Promaster conversions.
15) Sync Vans
Location: St. Bellevue, Idaho
Cost: From $32,000
Rigs: Mercedes Sprinter, Pro Master and Transit but will consider any vehicle
Sync Vans make both standardized and custom build van conversions. Their designs have a very modern feel that maximizes storage, without compromising on comfort.
Sync Vans floor plans typically feature a platform or couch bed, a galley and plenty of storage. You can pick a design and personalize it with extra gear and your preferred color scheme.
Most of this van conversion company's builds are based on three base designs: the Atlas, Sunstone or Upland. You can also go completely custom.
Sync's vans don't include interior showers or wet baths, but you can choose an exterior shower out the rear of your van.
While they have lots of experience with Sprinters, they are happy to work on custom builds for other vehicles.
Check out their conversions on the Sync Vans website.
16) Rossmönster Vans
Location: Longmont, Colorado
Cost: Available on request
Rigs: Mercedes Sprinter
Are you a wood lover? Then you need to hire Rossmönster Vans for your build. Their team is made up of woodworkers, carpenters and engineers.
The Rossmönster van conversion company sources excellent wood for their builds and it really shows.
Rossmönster Vans produce highly personalized custom builds with rustic-modern interiors. Whatever your needs, they can come up with a design that will suit your lifestyle. They can even fit a toilet or shower in your van.
Mönster means "to design and create artistically, simply, and skilfully" in Swedish. If you're undecided on whether to invest in one of their builds, you can rent a van in their rental fleet.
We love that this van conversion company does fast work. Most builds are finished in just three weeks after the consultations and designs are created.
Find out more about Rossmönster Vans on their website.
More campervan conversion companies
There are dozens of great camper van conversion companies out there that build rad rigs. We couldn't include them all in our list of best van conversion companies, but these definitely deserve a mention:
Positives and negatives of using a van conversion company
There are benefits and drawbacks to using a professional van conversion company. Before you discount going for a DIY build or a DIY kit, make sure you're comfortable with these factors.
Positives
No hassle – you leave your van with the company and they'll deal with the manual labor and technical tasks
Build quality – you can rely on the conversion being solid and good quality
Experience – you can count on the company having ample build and design experience
Warranty – if something breaks, you can take the van back and get a free repair
No shopping around – once you've decided which company to hire, you won't have to shop around for every single bit of kit you want to install, as the company have a supply chain
Fixed price – once you've signed your contract, the price will stay the same and there will be no extra costs added
Resale value – a professional conversion will retain its value better than a DIY one
Easier to get insurance – more insurance companies will be happy to insure the vehicle, as the conversion was carried out by professionals
Negatives
Price point – a professional conversion typically costs a lot more than a DIY conversion
Waiting time – you often have to wait six months or more before the company can start on your build
Limited van model choice – it can be hard to find a company that will work on an older, less popular vehicle
Low customization – no matter how many options the company offers, your choice will be limited to the equipment and accessories sold by their suppliers
Harder to fix – you may not be able to fix the equipment yourself, as you're not familiar with it and how it was installed
Harder to make modifications – as you're not involved in the build, it can be difficult or intimidating to change the floor plan or equipment, if you have a change of heart
What to expect when working with campervan conversion companies
Still thinking of going ahead and hiring a camper van conversion company?
Here's what to expect.
Typically, you will need to get in touch with the company and have a chat about your dream conversion and needs.
There may be factors you haven't considered, so try to be open-minded if the expert you're talking with makes some design suggestions – they have a lot more experience than you.
Once you have confirmed your interest and chosen a design, you will need to choose your options and gear. Some van conversion companies allow you to use online software to create your own design.
At this point, the company will usually send you a price and a finalized floor plan to make sure you're happy with all the details. To formalize your go-ahead, you'll typically sign a contract and pay a deposit.
Make sure you that you have a van or that you can get a van by the time your allotted build slot comes up. Some companies will be able to help you find a van or will direct you to a good local dealer.
Once the company is ready to start the build, you'll need to take the vehicle to their headquarters and leave it with them for some weeks, until the build is completed. You can then choose between picking it up yourself or getting it delivered.
Need help building out your van?
This DIY guide has everything you need to know about building a van:
Sprinter Van Conversion Sourcebook
This amazing 378-page ebook has everything you need to know about converting any van into a camper. It doesn't just apply to Sprinters!
Learn about the six major interior design considerations that lead to 13 secondary features in your design
An RV plumbing chapter on pipes, fittings, tanks, pumps, water heaters, toilets, you name it
Advice on choosing solar panels
How to install blackwater, greywater and freshwater tanks in a Sprinter
Fifty pages of information on designing an electrical system and wiring your campervan conversion
Remember, this info can be applied to ANY van.
Questions to ask a van conversion company before you get started
Before you pay your deposit and give the go-ahead to your build, make sure you ask as many questions as you can to the company.
We've listed below the essential questions to ask before signing anything.
Warranty – is there a warranty? What does it cover? How long does it last?
Design – what does a floor plan look like? What details does it include?
Build process – what are the steps to the build process? How does it work?
Ideas – do you have any creative design ideas to satisfy my lifestyle needs?
Experience – how many conversions have you carried out on this type of vehicle so far?
Build examples – can I see one of your finished builds and test drive it?
Equipment choice – can I choose between a few options for my gear, such as a few brands for my fridge?
Price – is this the final price for my build, including tax?
Delivery date – when exactly will my conversion be ready?
Build guarantee – is the build guaranteed?
Conclusion on the best van conversion companies
Ready to start your professional camper van conversion build? Now that you have a list of the best van conversion companies, all that's left to do is fall in love with one of their designs and ask them lots of questions.
If you're not fully convinced, why not rent a professional conversion, or speak with someone who's hired a camper van conversion company before?
Is a professional conversion too expensive for you? You can work on your own DIY conversion from scratch or buy a DIY conversion kit.
Check out these other great van life posts:
I spent my childhood holidays exploring Europe on my parents' motorhome. Now, I live, work and travel on a sailboat with my husband Ryan. If you like, you can follow us on our YouTube channel, where we're documenting refitting and cruising on our Tayana 37.