Jayme and John of Gnomad Home used to live the standard American dream. They owned a suburban home, went to work, craved more time off for adventure.
"But as soon as we got off work we felt drained and unfulfilled," the couple wrote on their website.
Something had to change. Jayme and John wanted to travel North America, and by van.
2017 was the year that they made their dreams become their reality. After researching and prepping during the prior year, Jayme and John were ready to make the van life their new, full-time way of living.
They now spend their time writing about the vanlife and showing others how to take that leap of faith.
And while they'll be the first to admit that life on the road isn't always awesome, it has opened their eyes (and the eyes of the furbabies!) to the true beauty and relaxation of the world.
Their decision to live their life in a campervan has transformed their path and changed their lives for good.
Not only is their story inspiring, but it's also truly interesting as well.
Jayme and John graciously took their time to answer some questions about their mobile lifestyle.
Why did a traditional American Dream leave you unfulfilled?
We fell into the traditional path, or trap, that most people fall into without ever questioning it. We started in a small 480 square foot apartment. Then we got more stuff and got a bigger apartment. Then we got more stuff and bought a house. We quickly filled the house up with more things.
I (Jayme) would work multiple jobs from waitressing at 6 am or going into work at a local nonprofit by 9 am, and then babysitting or waitressing again in the evening.
John would work his 9-5 job in the finance industry. He would hustle to make his superiors proud of him and then he'd get promoted. Each promotion helped coerce us to move to the next larger dwelling and encouraged us to fill our home with more "things".
Each promotion helped coerce us to move to the next larger dwelling and encouraged us to fill our home with more "things".
John was burning out hard. He was heavily contemplating going to school for his MBA and also going for a CFA designation when we found out about "vanlife".
What piqued your interest in living in a van?
Instagram, really. We hadn't even thought about living in a vehicle. We had planned to buy a used SUV and just tent camp and Airbnb-it around the US. We didn't even know that van dwelling was a thing until one of our best friends told us to go on Instagram and look up "#vanlife".
We weren't even active on Instagram at the time but we chose to look it up anyway. Immediately we were captivated.
This dream-like existence so many people were living called to us on a very deep level.
We wanted to wake up in the middle of the woods. We wanted to drive to the beach at the drop of a hat. We wanted to explore the mountains and canyons.
The song of the road matched the song in our souls so perfectly, and it was hard to get that song out of our head once we had heard it.
Get your FREE Van Life Starter Kit!
So you want to live the van life but have no idea which van to choose? Here are specs for 10 popular vans, van buying tips, remote work ideas and van build resources. Get your FREE kit now!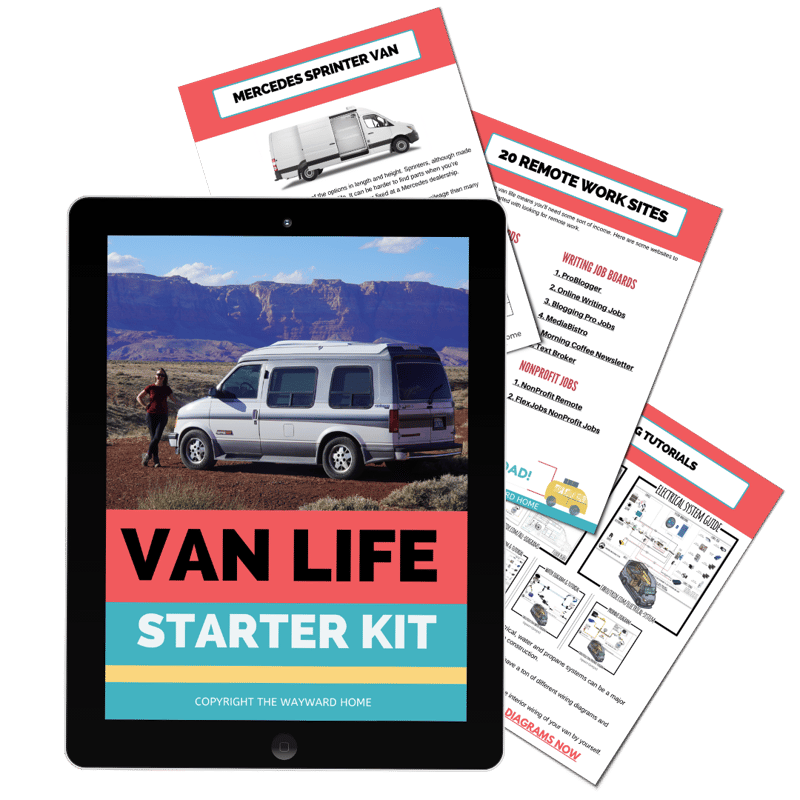 Was it scary quitting your jobs for van life?
Yes! We were swimming in anxieties. But at the same time, we had also been mildly planning for this whether we truly understood the reality of it or not. The minute John began an office job, he started researching ways out of it. He was researching how to start a business, how to work online, how to market yourself, and more.
There was a lot of trust that needed to flow between the two of us to make the transition. John had been doing ample research on how to make life on the road successful for us financially, but I, on the other hand, didn't have a clue how any of the internet hustle works, nor did I understand what this would mean for us moving forward.
Choosing to take control of your life is intimidating because that is not the path society wants us to take. Society prefers that we all play by the rules, so it creates these fears that we ingrain in ourselves to not step outside of the lines.
Society prefers that we all play by the rules, so it creates these fears that we ingrain in ourselves to not step outside of the lines.
Like most leaps though, the fear and belly drops come before you actually leap. If you are well-researched and hustle hard, the fall from the jump can be exciting and positively life-changing.
What did you do with your house and stuff?
Before we found out about "vanlife", the plan was to rent out our house for one year, fully furnished, buy a used SUV, and hit the road with our tent and backpacks, returning to our former jobs and former lives after a year.
Once we saw how others were building vans into tiny homes and living nomadically, we found ourselves struggling with a mental seesaw of emotions. We kept going back and forth between "Man, that's what I wanna do! I wish WE could do that!" then we'd sway back to "There's no way we can do that though, we own a house, we have all of this stuff, we can't make that work."
Finally one of us spontaneously popped the question, "…What if…we didn't have any stuff..?"
Within a week we had begun our multi-month long binge of yard sales, garage sales, Facebook Marketplace sales, and estate sales.
We had a massive list of items we would never sell. But, as items walked out our front door, and the burden of having all of this "stuff" dissipated off of our shoulders, that list of items to keep grew shorter and shorter and shorter.
It took us about 6-7 months to sell all of our belongings, and we had made a little over $10,000 from selling everything.
This was our "cushion" money when we first hit the road as we worked to build our businesses up.
We decided to rent out our house in case this nomadic lifestyle figuratively or literally crashed and burned. Luckily, the total opposite happened. We weren't even on the road for a week when we realized we would never be turning back to that house permanently.
We weren't even on the road for a week when we realized we would never be turning back to that house permanently.
We let the tenants serve out the rest of their year-long lease, but in April of 2018, we sold our house and have had the van as our primary dwelling ever since. (We get this question a lot, so for clarification – we did NOT make money from renting out the house. Rent barely covered our mortgage payment, and if anything we lost money overall. But it was nice to have that safety net at the very beginning.)
How did you settle on a conversion van for van life?
We had a pretty small budget to begin with. We could not afford $5,000+ for a van, especially since there would be an additional cost to build it out. We had to find something cheap but also something reliable. John was okay with just getting an old cargo van. When I was growing up, my family had conversion vans and I remember the additional space and storage that the high-top created. John is 6'2", and I insisted that we would be much happier if we had that additional headroom.
We finally found our van, Gnomie, tucked away on a farm in middle-of-nowhere Illinois, about three hours away from where we lived. We excitedly hopped into our car one day, drove all the way out to Illinois, and looked at him in person. He was owned by an older, disabled man who had recently passed away, and his daughter just wanted to get rid of him. He was in pretty decent shape, he seemed to be well taken care of.
When we got there, the van's battery was dead and it wouldn't start. So we drove all the way back home, sad and distraught, without our van.
We chose to spend $200 to send a traveling mechanic to check out the van in detail to give us a heads up on any potential mechanical issues. He spent multiple hours looking at all the ins and outs of the van, making notes, taking photos and videos, and giving us his feedback.
If you are traveling a long distance to purchase your soon-to-be adventure rig, we cannot recommend sending a traveling mechanic out first. It gave us so much peace of mind.
After agreeing to officially buy the van for $1500, we drove out to middle-of-nowhere Illinois once more. Before dinner, we arrived back at our house and parked our new home in the driveway.
What were your expenses building out your conversion van?
Building Materials: $2,500
Solar and Electrical: $2,000
Plumbing System: $300
Appliances and Fans: $1,400
Mattress and Bedding: $200
Misc Items: $200
TOTAL: $6,600
Why did you choose not to put a bathroom in your camper van?
We were working with very limited space to begin with. Not to mention we would have most of our additional storage taken up but our backpacking backpacks, batteries, half a library-worth of books, and our instruments (we travel with a guitar, mandolin, ukulele, banjo, and two drums). We had to be very strategic with what we chose to put in the van.
After endless research, we concluded that finding bathrooms would not be a problem on the road.
Public restrooms are everywhere, from gas stations, to Walmarts, to restaurants and more.
We camp off-grid a lot, and you'd actually be surprised at how frequently there will be pit toilets (permanent outhouses) in these areas. When we are in an area with absolutely no amenities, we have a shovel and travel bidet, and we practice Leave No Trace principles.
When it comes time to shower, we either rinse off in a nearby river or lake (while still practicing Leave No Trace principles), or we will pay for an established campground, typically in a state park or something, that has a shower house.
How has van life changed you two as people?
Shifting to living a nomadic lifestyle where we have full control over nearly every aspect of our lives has been a rebirthing experience, to say the least. We have been exposed to who we are on the deepest level, and this exposure has lead us down a path of building ourselves into the types of humans we wish to be.
Before van life, we were partying hard, and working because we had to, not because we wanted to. We were filling our lives with endless distractions and screens – binge-watching Netflix, playing video games and more. We were disconnected as a couple, even though we never realized it nor would we admit it if we did. We lacked the deep connection we now have with our dogs.
Before van life, we were partying hard, and working because we had to, not because we wanted to.
We don't spend much time in cities. Most of the time you'll find us in the middle of nowhere, on top of a mountain, or tucked away in the desert. When you are far away from the rest of the world with limited cell service, you are forced to work on just the things that you have right in front of you.
We spend our time reading and writing, meditating and practicing yoga, mountain biking and hiking with the dogs, cooking nutritional and delicious meals, and working on our businesses with a passionate fire and excitement for the current and upcoming projects we choose to create.
It's intimidating to have near-full control over your life, but if you establish the much-needed self-discipline to make it work, it is incredibly liberating. We go where we want and when we want. Since we hustle as hard as we do, we're sometimes able to take months off from work just to adventure. At the same time, we have the freedom to hunker down and work non-stop for six weeks, which we did recently.
Before van life, I was a severe alcoholic, overweight, undereducated on many important topics and issues, scared, lost, angry, frustrated, with no hope or understanding of the direction my life was going. Now, I'm approaching one year of sobriety, I'm in the best shape of my life, I'm frequently opening new books on topics I'd never discovered before, I'm happy, I'm excited, I'm motivated, I'm open to whatever is next, I'm hopeful for my future, and I understand the importance of the effort I put into my life.
What is it about van life that prompts internal change?
There are a lot of discomforts that come from living on the road. You lack the kind of temperature control you have in a traditional house. Sometimes you have to sleep in loud and busy areas. You have sudden mishaps uproot your entire life if your vehicle breaks down, or a devastating storm rolls your way, or a road closure appears up ahead.
I read a quote somewhere that said: "A comfort zone is a beautiful place, but nothing grows there."
"A comfort zone is a beautiful place, but nothing grows there."
And this is one of the truest things that has ever resonated with me. We must put ourselves through uncomfortable situations in order to grow. If you don't struggle through the fear of hopping on a bike then you'll never learn how to ride it.
Almost everything about living nomadically in a van is uncomfortable, but if you stick with it, and make an effort to accept the situations you find yourself in, and maintain an open and positive attitude, you'll notice how impossible it is to not experience a radical, internal change.
What would you say to people thinking about living in a van but not sure about it yet?
You hold the deepest power in your words and your thoughts. So many times we would say we "can't" do something, even before we found out about van life. "We can't quit our jobs." "We can't sell our stuff." "We can't build a van." "We can't travel full time." and so on. But once we changed our verbiage from "can't" to "can" – that's the exact moment the trajectory of our life shifted, and we very quickly saw ourselves accomplishing many things we once said we "can't" do. "We CAN quit our jobs." "We CAN sell our stuff." "We CAN build a van." "We CAN travel full time.
One of the most important things I've learned from almost two years on the road is that when you get that deep, tingling feeling in your gut – that is not the time to run.
We have been trained to believe that feelings of discomfort inside of us are something bigger than us trying to keep us safe from something bad, trying to protect us.
But in reality, it is the opposite.
That tingling deep in the core of your being is actually your intuition telling you, "This is what you should do. I know it sounds scary. I know it looks scary. But this is exactly what you need to do if you wish to grow."
Again, it's before the jump that is scariest. But once you are mid-flight, soaring through the air towards the exciting waters below, the fear immediately floats away, and a surge of "Holy shit, I can do it!" rushes to the surface. You too can do it. You just need to jump.
Other stories you'll love:
Get your FREE Van Life Starter Kit!
So you want to live the van life but have no idea which van to choose? Here are specs for 10 popular vans, van buying tips, remote work ideas and van build resources. Get your FREE kit now!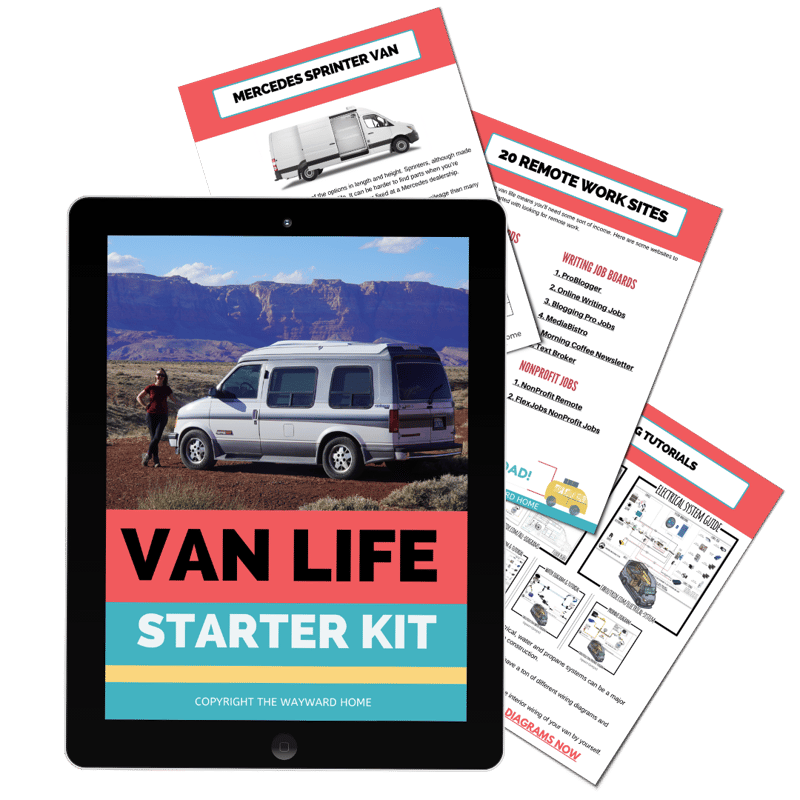 Kristin Hanes is a journalist who founded The Wayward Home as a place to learn about alternative living. She currently lives on a sailboat and in a Chevy Astro van, and has written articles about alternative living published in Good Housekeeping, Business Insider, Marie Claire and SF Gate. Read more about Kristin here.