The Volkswagen Westfalia's of yesteryear bring a certain nostalgia to van life. But those aging, quirky rigs are hard to find and maintain, with many people complaining of frequent breakdowns.
Volkswagen built those old VW campers as the perfect blend of everyday vehicle and camper for two. They remain an iconic image of 60s hippiedom, freedom and adventure.
Kurt and Craig Campbell of Edmonds, Washington still remember selling those glorious Volkswagen campervans from their Campbell-Nelson Volkswagen dealership. But VW stopped shipping new vehicles to the U.S. many years ago.
"We were so enamored with the Westfalia so we said to each other – what do we have at our disposal where we can make a cool little camper?" said Kurt Campbell.
That's when the brothers decided to come up with their own version of the Westfalia: The Nissan NV200 camper named "Free Bird."
They wanted an economical, simple and functional van filled with character, much like those vans of old.
"We wanted the Free Bird to be the perfect 2-person replacement for the Westfalia," they wrote on their website. "So, we rolled up our sleeves, hired engineers, and began experimenting with countless ideas under our new business adventure Caravan Outfitter LLC."
Meet the "Free Bird" Nissan NV200 camper van
The Campbell brothers sold their first Nissan NV 200 camper van 18 months ago, and then sold dozens more. It seems there's a good market for small camper vans, which are easy to maneuver and park. Plus, there's the added bonus of increased gas mileage.
The NV 200 camper gets an average of 25 miles per gallon.
The Free Bird camper has everything you need to go camping in comfort. A slide-and-glide floor plan means you can remove the camping components in a matter of minutes, turning the camper into a cargo van.
Each Nissan NV200 camper van comes with a large storage box behind the front two seats which houses a deep cycle auxiliary battery. That powers the dimmable LED lighting, 2 USB power ports and a 31-quarter portable fridge in the kitchen box. The kitchen box also has a portable butane camping stove and two additional storage boxes.
The campervan interior sports a cozy dinette for dinner, drinks and game nights which easily folds down into a convertible full-size bed.
On warm nights, you can open the screen-vented side windows and turn on the overhead fan. You'll also find a large awning on the side of the van which provides shade and safety from the elements.
This little Nissan NV200 campervan is the perfect "swiss army knife" of vans. The only thing you won't find in the van is a portable toilet, but who really wants a toilet in a van 🙂
Browse the Free Bird van and options here.
How to get your hands on the Free Bird
Caravan Outfitters keeps several Free Bird Nissan NV200 camper vans in stock in case you're chomping at the bit to go buy.
Or, you can order a van and then pick it up within 2-6 weeks in Edmonds, which is near Seattle. So far, the vans have been sold to people all over the United States.
"The camper van world is going crazy right now," said owner Kurt Campbell. "About 80% of our customers are retirees, and some of them even live in the NV 200 camper full-time."
The cool thing about buying a campervan from a car dealership is that your financing is taken care of all in one place. You don't have to first finance the van, then finance the conversion.
You'll be able to get a typical new car loan rate for this NV 200 camper, which rings in between $37,000-$38,000 for the entire custom build.
Not a bad price for a fully-built camper van, especially if you compare to a custom build Sprinter van which usually goes for $100,000 or more.
Get your FREE Van Life Starter Kit!
So you want to live the van life but have no idea which van to choose? Here are specs for 10 popular vans, van buying tips, remote work ideas and van build resources. Get your FREE kit now!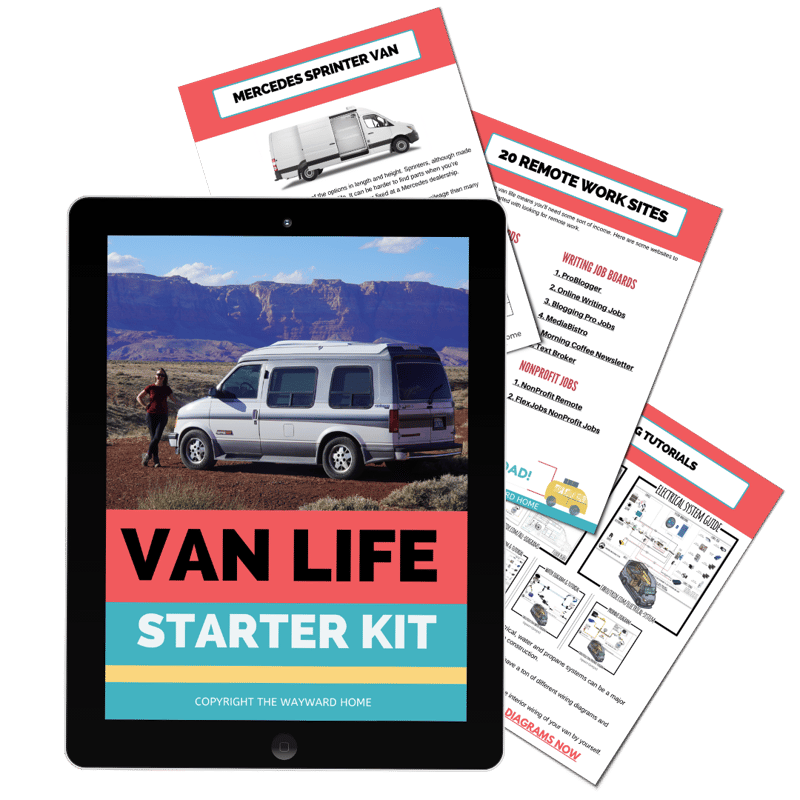 Is a Nissan NV200 campervan right for you?
The Nissan NV200 camper is quickly moving up the ranks as a nimble and cost-effective camper van. No, you won't find the space of a Mercedes Sprinter van or a Ford Transit camper van. You won't be able to stand up in this van.
But you will find great gas mileage and all the bells and whistles of a modern van. Plus, you'll get a 100,000-mile warranty from Nissan.
Here are the dimensions and capacity of the Nissan NV200, courtesy of Caravan Outfitter:
This small camper van is perfect for one or two people who are headed on weekend adventures or are considering living in a van.
It's not good for families as there is only seating for two.
However, Caravan Outfitter is planning on targeting families next with a Mercedes Metris camper van conversion.
These larger vans can easily fit four people, so stay tuned if you're looking for a larger van.
Rent a Nissan camper first with Outdoorsy (coupon included)
Want to rent a campervan before deciding which one to buy? Use the coupon code "wayward40" to get $40 off any campervan rental:
Conclusion on the Free Bird campervans
Our overall impression is that this Free Bird Nissan NV200 campervan makes great use of space. It has an efficient and affordable build.
It's not everywhere you can get a custom-built van for just $38,000.
If you're thinking of hitting the road as a retiree or a young couple looking for adventure, the Free Bird Nissan NV200 camper van may be just right for you.
Kristin Hanes is a journalist who founded The Wayward Home as a place to learn about alternative living. She currently lives on a sailboat and in a Chevy Astro van, and has written articles about alternative living published in Good Housekeeping, Business Insider, Marie Claire and SF Gate. Read more about Kristin here.