Campervans are currently exploding in popularity, with #VanLife garnering an almost religious following.
But with great demand comes great supply, and manufacturers are churning out Class B RVs and van conversions that would make even the most dubious buyer give a double-take.
The Mercedes Metris camper is Mercedes van build that's growing in popularity. They are relatively affordable, compact, and effortless to drive, all making them a popular option for van conversions.
These little vans are available in two lengths, standard or extended, and both options can easily be converted into a camper van.
Pros and Cons of a Mercedes Metris camper
Every van is going to have some downsides, even the Mercedes Metris camper.
But one man's trash is another man's treasure, so take all these points with a grain of salt.
What might be a negative aspect to some might be a positive to you, so before you really start to choose a van, consider your specific needs and wants.
Where will you be traveling? Will you be spending more time off the grid or connected?
Perhaps a good solar system and large holding tanks are more important than extra sleeping capacity.
Or maybe a large interior space outweighs having a bathroom. When it comes to camper vans, there is no right answer, just your answer. So figure out what works for you and run with it.
Get your FREE Van Life Starter Kit!
So you want to live the van life but have no idea which van to choose? Here are specs for 10 popular vans, van buying tips, remote work ideas and van build resources. Get your FREE kit now!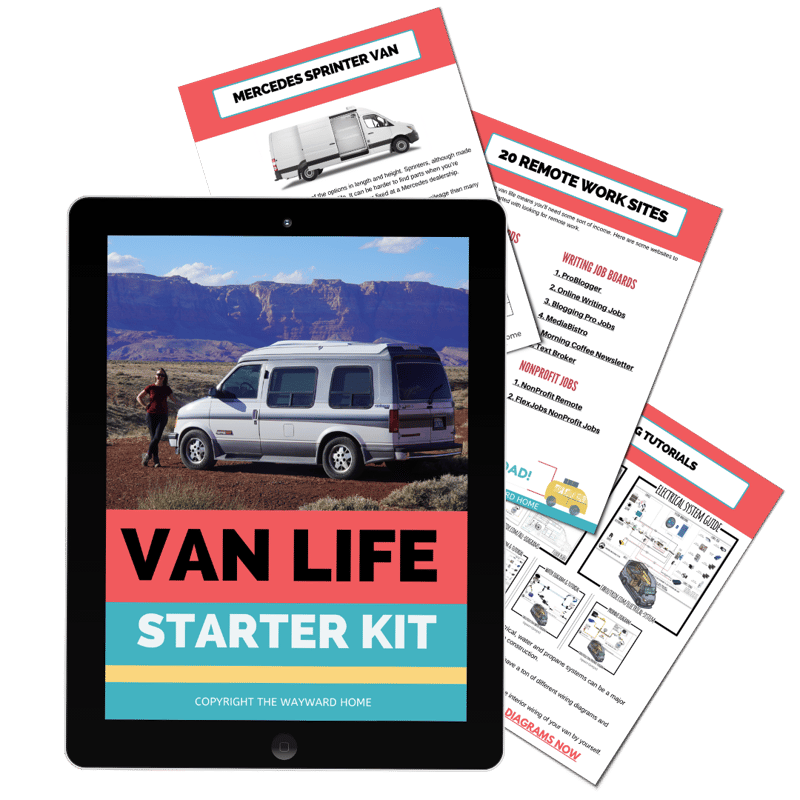 The good parts about a Mercedes Metris Camper
Here are the main things we love about the Metris camper.
Cargo capacity. The Mercedes Metris has a slightly larger cargo space than many of its competitors, giving you valuable extra interior space to work with during your conversion.
Driveability. Mercedes knows how to build a van. The engine of a Metris camper conversion is extremely reliable and drives like a breeze. You might find it's even easier to drive than some cars, as it truly operates like a luxury vehicle.
Parking & Storage. The Mercedes Metris camper comes in a standard length or with an extended wheelbase. While the extended may be a bit too long to fit in a standard garage, you'll be surprised just how compact it still feels. That means your Metris camper van can fit in most parking spaces and even standard campsites, opening up a ton of possibilities for where you can take and store these camper vans.
Power. The Mercedes Metris boasts an impressive 258 lb-ft of torque at 1,400 rpm and a 7-speed automatic transmission.
Stealth mode. As with most camper van conversions, a Metris camper looks just like a work van from the outside. That opens up a lot of possibilities in terms of where you can keep it and stay in it, a huge plus for van dwellers stealth camping in cities.
Payload. Compared to other camper van chassis bodies, a Metris camper conversion can carry a pretty impressive payload, topping out at over 2,500 pounds.
What we don't like about a Metris camper conversion
Price. If you're comparing the Metris price to a premade Class B RV, you'll be pleasantly surprised, but compared to the other popular van options, a Mercedes Metris camper conversion is a bit pricey.
Premium Fuel. Beyond the high sticker price, not being able to fill up with unleaded can add even more to the total cost of this vehicle than you might imagine.
Visibility. The Mercedes Metris lacks the large viewing windows of other van builds. This does add some extra privacy while traveling, but also means poor visibility when driving or just wanting to enjoy the scenic area you're parked.
No bath. Most Metris camper vans won't have room for a wet bath. This aspect is really dependent on you, some van dwellers insist that building a bathroom in your van is only wasting precious space, while others include it as an absolute top priority. Think about where you'll be taking your van and the amenities that will be available to you. If you have access to a standard bathroom or shower, you might find that more favorable than squeezing into a wet bath anyways. But if you're spending a lot of time off the grid, a wet bath can extend your trip length considerably.
All-in-one. Most people living in a camper van don't have a secondary vehicle, since the driveability of a van is one of its main draws in the first place. That means a smaller footprint and easier driving, sure, but it also means all your eggs are in one basket. Should mechanical issues arise, you might find yourself in a tough spot. It can be hard to drop the car off at the shop when the car is also your home. If you know your way around an engine, this might not be a huge factor for you, but particularly if you're looking at older van models, you should consider the inconvenience of repair work.
Get your FREE Van Life Starter Kit!
So you want to live the van life but have no idea which van to choose? Here are specs for 10 popular vans, van buying tips, remote work ideas and van build resources. Get your FREE kit now!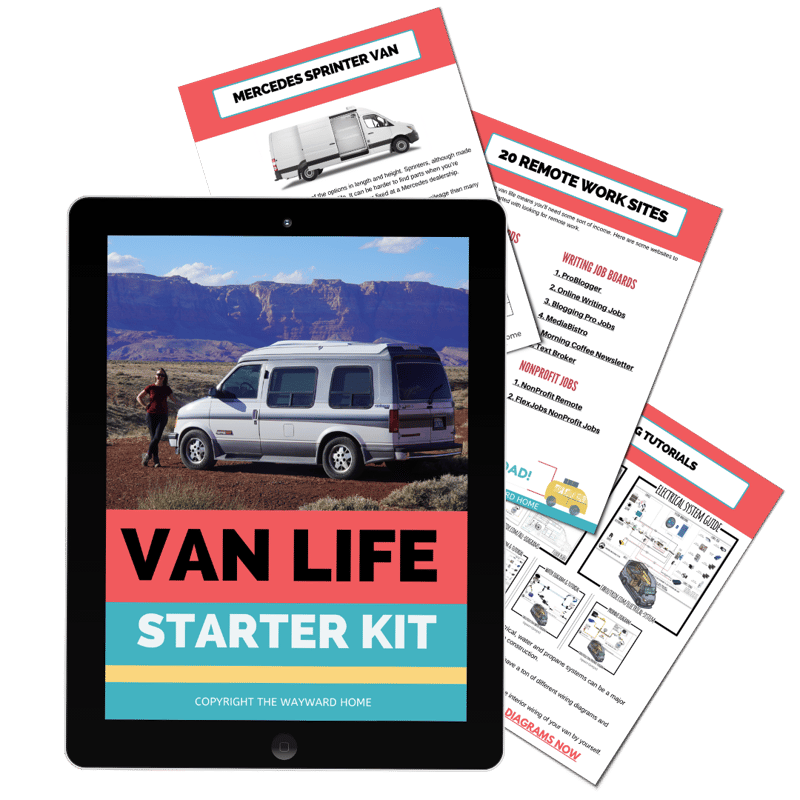 Where to get a custom Mercedes Metris camper conversion
Due to the growing popularity of the Mercedes Metris, more and more companies are dong custom van conversion. Check out our favorites here.
Terra Campers Metris Conversion
TerraCamper offers two very different kits for your Mercedes Metris conversion. The first is a simple upgrade to a dog friendly travel van, with modular dog crates and an easy access dog ramp.
The more popular option is the Tecamp conversion.
This completely overhauls the interior, pops up the roof, and includes all the amenities you can expect in a Class B RV including a small kitchen, living space, and sleeping areas.
Contravans Metris Conversion
Contravans offers some unique space-saving options in their Metris conversions, something much appreciated when making the most of a small area. One of the most-loved design features is the slide-out bench seats and drawer system, which creates usable space seemingly out of thin air.
These Mercedes Metris camper builds are a bit simpler than some of the more extravagant options, but are still packed with useful amenities in a modern, minimalist design.
Peace Vans Mercedes Metris Conversion
Peace Vans offers no-frills Metris camper conversions that are strikingly beautiful in their simplicity. Their three build options include a simple pop-top add on, a full interior conversion, and a compromise between the two with "The Weekender", a passenger van that easily converts to a camper that sleeps up to 4.
Between these three options, you're likely to find one perfect for your needs.
Peace Vans also boasts that their Metris conversions are "the best on the market with the highest quality build, best materials and most thought out features."
Keystone Coachworks Metris camper
Keystone Coachworks prides themselves on their luxury custom van builds, so you can expect a pretty beautiful and luxe product coming from their Mercedes Metris conversions.
Their seamless side kitchenettes seem to come out of nowhere, highlighting their advanced designs and impeccable use of space.
Keystone offers three build options for the Mercedes Metris campers: the "Basic" which is simply a pop-top roof addition, the "ACTIVE" with an elevating roof, bench seats, dining table, and converting bed, or the "dE LEON" which includes the whole shebang and then some.
Try renting a van before you buy ($40 off coupon)
One awesome way to test out a particular campervan before you buy is to rent one from the peer-to-peer rental site Outdoorsy. Use the coupon code "wayward 40" to get $40 off any rental!
Browse rentals below:
Check out these folks living in a Mercedes Metris conversion
If you're looking to go the DIY route on your Metris conversion, we have a couple cool Instagram accounts to show you for inspiration.
Two years ago, these beach bums bought their Mercedes Metris camper with the dream of living beachside full-time. After almost a year of building out the inside from scratch, that dream became a reality.
They now spend their days meandering across the many beaches along the west coast with their adorable golden retriever in a decked out van fit to take them just about anywhere they want to explore.
Metris Van Life
This duo wanted a van that could explore not just the public lands and parks they love so much, but also urban areas and city centers. That desire led them to purchase their Mercedes Metris, with a small, unencumbered profile and enough interior space to get their imaginations running.
After hiring a company to build out the interior and add a pop-top, they hit the road in this spacious and homey van.
Conclusion on Mercedes Metris camper conversions
It's easy to see why the Mercedes Metris camper has quickly become one of the most popular options for a van conversion, due to its large interior space, drivability, and comfort.
When you choose to build a custom van conversion, the possibilities are truly endless, giving you the ability to create a vehicle crafted specifically for your wants, needs, tastes, and preferences.
If you still haven't found the perfect option for you, check out some custom van conversions. You'll find you're able to make just about any #VanLife dream a reality.
Still feeling lost? Ask us your questions in the comments, we can't wait to help you find the perfect camper van.
Pin it here:
Get your FREE Van Life Starter Kit!
So you want to live the van life but have no idea which van to choose? Here are specs for 10 popular vans, van buying tips, remote work ideas and van build resources. Get your FREE kit now!