A van awning is an amazing way to expand your small space. If you live or travel in a campervan, you are likely slightly obsessed with space utilization.
When you have to fit your whole life into roughly 100 square feet, you learn to make a little bit of space go a long way.
Multifunctional furniture, transitional spaces, and multi-use tools are absolute essentials for campervan life.
Many camper van awnings mount to the exterior of your vehicle, meaning that the van canopy won't take up any precious storage or interior area, while managing to nearly double your living space.
Camper van awnings come in a lot of different styles.
Some are simply an overhead cover from light elements. Others resemble full sized tents that attach to the van's side. Any type of van canopy will help you utilize your outdoor space in comfort.
They're also relatively affordable, easy to install, and effortless to use. That makes them a pretty perfect way to optimize your life on the road.
If all this sounds too good to be true, it's time to start looking at models. There's a pretty big range of price, quality, and features from small campervan awnings to Sprinter van awnings to minivan camper awnings, DIY options and more.
We've rounded up some of our tops picks for van awnings below that'll fit just about any traveler's needs!
Rent a campervan before you buy ($40 off!)
Renting a campervan before you buy is a great way to try out a van. Use the coupon code wayward40 to get $40 off any van rental with Outdoorsy. (Click here to browse campervan rentals near you)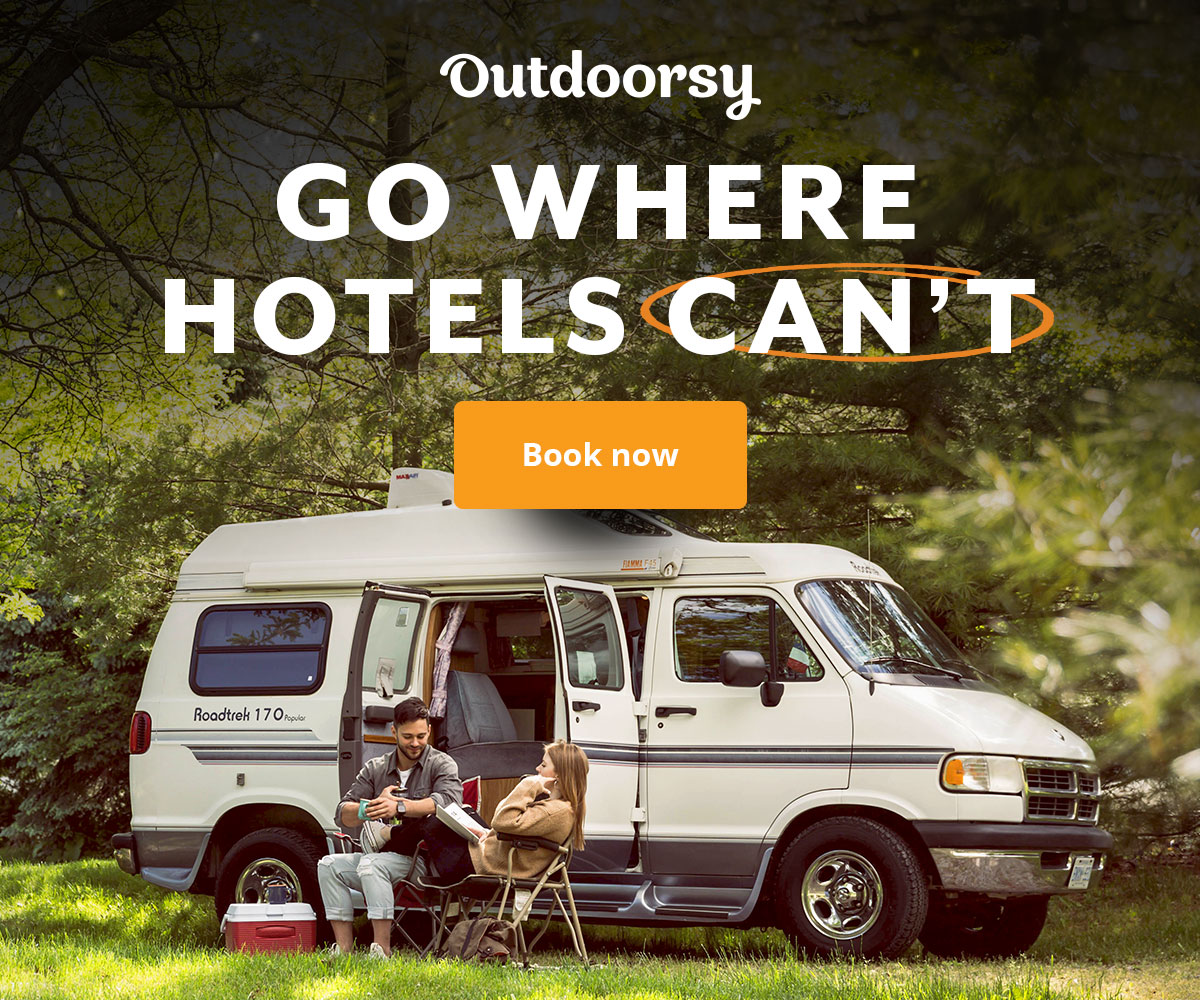 The best van awnings
Price: $850-$1000
Overhead awning
Completely self-contained within the mount
Effortless setup/takedown
The Thule HideAway Awning is top of the line. The sleek build was designed with aesthetics in mind and will only enhance the look of your van.
But looks aren't all this small camper awning is good for. The entire unit is self-contained within the mount, meaning you don't need to store any poles, straps, or anything else inside your van.
It's as easy as turning a hand crank, unfolding the tucked away legs, and extending the awning. It's an easy, one person job, which makes this ideal for solo travelers who might struggle with a two-person setup.
This small camper awning can be installed directly onto the side of your campervan, or it can be mounted onto a roof rack. You'll have to decide before you buy, though, as these are slightly different models.
Many camper and Sprinter van awnings can be paired with various side panels. Thule offers a range of side and front sunshades and rain blockers that easily attach to the HideAway.
See the Thule HideAway Awning on Amazon.
Price: $350-$500
Large, LED light strip
Self-standing
30-second setup
The ARB 814404 Awning and Light Kit is a no-nonsense van awning that was built smart. The waterproof, dimmable LED light strip is ultra-convenient and can be simply rolled up with the rest of the van awning when not in use.
This van canopy is a pretty easy install on most roof racks or roof bars, and thanks to the upgraded ARB Quick Release Bracket, it can now be easily installed on virtually any dual cab roof rack.
No matter the size of your car or van, they've got a van awning model fit for you.
There are also easily-attached side panels if you're looking for a bit more privacy or coverage from the harsher elements like wind, rain, or snow.
See the ARB814404 Awning And Light Kit on Amazon.
Have a minivan? Check out these 8 Incredible minivan campers for some inspiration!
Price: $150-$300
Comes completely assembled
Self-Locking Height-Adjustable Poles
The Dobinsons awning may not look like much, but extending out to a whopping 9.8 ft gives it a pretty impressive reach.
In order to achieve this, it'll need to be extremely securely mounted to your vehicle. Dobinsons recommends a sturdy roof rack, preferably cage-style, with strong vertical supports for the awning to attach to.
You might need to drill the unit into your roof racks, which some users strongly dislike. If you can stomach drilling into your roof rack, this awning is a pretty big bang for your buck.
The van awning itself comes completely assembled inside a convenient heavy-duty waterproof cover, so all you'll need to do is mount it to your roof and hit the road.
When stowed, it's extremely compact, so much so that many users found themselves worried upon delivery that they'd purchased the wrong item.
Being able to pack up that much useful coverage into a small bundle makes this awning a seriously cool accessory.
See the Dobinsons 4×4 Roll Out Awning on Amazon.
Price: $200-$300
Affordable alternative to Thule
Extended warranty
Available in 6.5' or 8.2' lengths
Once set up, The Smittybilt Awning is very similar to the Thule awning at the top of our list. For the price difference, that makes this a very good value.
The difference lies in the setup and takedown. With the Thule, this process is somewhat automated via the hand crank. With the Smittybilt awning for a campervan, you'll need to unroll and roll back up the awning by hand.
In the grand scheme of things, that will probably only increase set up time from maybe 5 minutes to 10, but the convenience might be worth the upgrade to some.
If you don't care too much about manually rolling it down and up, this camper van awning is a solid, affordable option.
Smittybilt is also a trustworthy, reputable company that's been making similar products for over 50 years. They offer an extended warranty for most items, giving you even more peace of mind when purchasing their gear.
The small legs might look flimsy for a minivan awning, but in mild weather they're perfectly sufficient. Smittybilt also includes guy ropes for added stability in inclimate weather.
See the Smittybilt Awning on Amazon.
Still looking for your dream van? Take a look at our Top 12 spots to find a Sprinter van for sale.
• Price: $200-$300
• Dimmable LED light strip
Tuff stuff is known for being…well, tough. Their products are built for quality and longevity, and they back their reputation up with a rather generous warranty.
Unfortunately, the Tuff Stuff Rooftop Awning doesn't appear to be the toughest of stuff. For its price, it's still a great buy, but it's important to know what you're paying for.
This van awning model is really more of a sun shade, or minivan awning, and it should not be used in heavy rains or inclement weather.
If you don't plan to be using it in such, then this isn't really a factor, but if you know you'll be needing something that can handle a storm or two, you should probably upgrade.
As it is, this is a great camper or sprinter van awning. It's easy to install and set up, and it can be mounted directly on a roof, onto a roof rack, or onto an existing rail system.
See the TuffStuff Rooftop Awning on Amazon.
Need help with your van's wiring and plumbing?
The team over at Far Out Ride has you covered! Check out all their van wiring diagrams and tutorials here.
The builder's package gives you diagrams and tutorials on wiring, water, propane and floor plans. You can also buy each diagram separately depending on what you need.
Price: $600-$800
270 degrees of coverage
Can fit left side or right side of van
The Rhino Rack Batwing Awning is something straight out of Bruce Wayne's basement. Covering one side and the back of your vehicle, this massive awning provides roughly 118 square feet of coverage.
The installation of this model is pretty easy since it mounts directly to your roof rack. Setup and takedown is also a breeze.
In an upgrade from their previous van awning, the Fox Wing, the Batwing poles are now integrated into the canopy itself, making this awning even simpler and more space efficient than before.
This is a more expensive option, so the price alone might deter some buyers. But if you're willing to pay a bit more to feel like Batman at your campsite, look no further.
See The Rhino Rack Batwing Awning on Amazon.
If you like the rugged look, check out this awesome 4×4 Mercedes Sprinter van camper.
How to attach a van awning
The installation of each type and model of van awning will have unique installation instructions. Make sure to read and follow the literature that comes with your unit.
In general, camper van awnings are either mounted to the side of your van, to the roof racks on top, or to the roof's rail system. If you don't have a roof rack or rail system, this decision is pretty straightforward.
Most people who have a roof rack or rail system prefer to install it on that instead of directly onto the side of the van. Installing into your van's side is a much more permanent decision, where roof rack or rail installations can usually be taken off without damage.
If you use your roof or roof rack for other purposes, you might actually prefer a side mount. This would keep your roof free for whatever else you might need.
The different types of van awnings you can buy
We included several different types of van awnings in the list above. Before you start shopping, the first thing to do is figure out what type you want.
Do you just want some shade from the sun? What about rain? Is it just a drizzle or will you be using it in storms? What about wind? Do you want or need privacy, or do you just want an overhead awning?
There are so many types of van awnings out there that no matter your answers, there's one that fits your needs.
The more protection and privacy you gain, the higher the price tag will likely be. So decide what value each function holds for you and choose accordingly.
For instance, if you know you'll be in intense sun but don't care much about privacy, sunshade walls might be the perfect solution.
Need help building out your van?
This DIY guide has everything you need to know about building a van:
Sprinter Van Conversion Sourcebook
This amazing 378-page ebook has everything you need to know about converting any van into a camper. It doesn't just apply to Sprinters!
Learn about the six major interior design considerations that lead to 13 secondary features in your design
An RV plumbing chapter on pipes, fittings, tanks, pumps, water heaters, toilets, you name it
Advice on choosing solar panels
How to install blackwater, greywater and freshwater tanks in a Sprinter
Fifty pages of information on designing an electrical system and wiring your campervan conversion
Remember, this info can be applied to ANY van.
Tips for choosing the best van awning
When you're considering what camper van awning is best for you, you should always start by considering your needs.
If you don't tend to stay at one site for very long, often packing up camp and relocating, you might benefit from an easy set up and take down mechanism like the Thule model features.
If you know you'll be using your setup in high winds or rain, you'll probably need more than just an overhead shade, and should look at something durable with side walls.
Boondocking in your van? Learn how to find free campsites here!
DIY Van Awnings
If you're looking to roll your sleeves up and save some money with some elbow grease, you could consider building a DIY van awning.
It's likely to not end up being flashy, or particularly easy to set up and take down, but if you're just looking for a simple overhead shade, you might be able to rig up a DIY van awning easier than you'd think.
There are a bunch of guides out there on how to do this, take a look at this one for some inspiration to get started.
Are you all about the DIY life? Check out the 9 Best Sprinter van conversion kits for a DIY van!
Conclusion on camper van awnings
Camper van awnings can extend your footprint to give you some much needed space on your travels. Whether you're just looking for a simple sunshade or a fully enclosed bonus room, a van awning can open up a ton of possibilities on the road.
Hopefully this article has helped you figure out what type of van awning is best for you. If you still have any questions, let us know in the comments! We can't wait to help you find exactly what you're looking for.
Check out more van life posts below: