There isn't a more iconic van than the VW camper van.
The beloved hippie-van, or Bulli, has conquered the hearts of many generations and has been the world's favorite camper van for over 70 years.
Charming first models represent the free spirit of the 1960s, but their design is ageless.
More recent versions of the VW camper vans, such as the gorgeous VW California Camper Van, make perfect off-road adventure vehicles, with 4-wheel drive, a kitchenette, a bathroom and a living room.
Check out the new VW California by CarWow here:
Love them or hate them, the Volkswagen camper vans are monumental.
In the US, there's a keen VW community that maintains its classic vans to get out camping and go to meet-ups. Some people even use them to go to work!
So we thought we'd dedicate a full article to these formidable little vans.
Which models are available in the USA? What do the new versions look like; why aren't they available here? And is it really worth owning a VW camper van?
A brief history of the VW camper van in the USA
The history of the VW camper starts in the late 1940s in Germany. Dutch Volkswagen importer Ben Pon noticed a weird vehicle at the Wolfsburg factory and enquired about it.
It was the very first microbus – a simple vehicle created by Volkswagen staff to carry heavy panels around the factory.
The rest, as they say, is history.
The first microbus wasn't introduced on the American market until the 1950s. Production started with the Splitty, a version that featured a split windshield on the front.
The VW camper van has always been a symbol of independence, success and fun.
The next generation featured a large curved windshield that was called "bay window".
Finally, it was the turn of the Vanagon and the Westfalia.
Over the next decades, the Volkswagen camper became the camper of choice for hippies, musicians and camping families alike.
The VW camper van was a symbol of independence, success, and having fun.
In the 1960s, it became very popular among young people because it was an easy and cheap-to-maintain people carrier that was simple, but spacious. They used it for traveling to festivals or going on surfing trips.
That old VW camper van was smaller and more colorful than its competitors, so buying it was a bit of a rebellious statement.
Over the years, the VW Vanagon and Westfalia didn't change drastically in terms of design, but their popularity slowly faded.
The last new VW camper van sold in the USA in 2003, due to differing safety regulations between Europe and the US and the growing demand for SUVs and RVs on this side of the pond.
But wait! There is a new VW camper van for sale.
Get your FREE Van Life Starter Kit!
So you want to live the van life but have no idea which van to choose? Here are specs for 10 popular vans, van buying tips, remote work ideas and van build resources. Get your FREE kit now!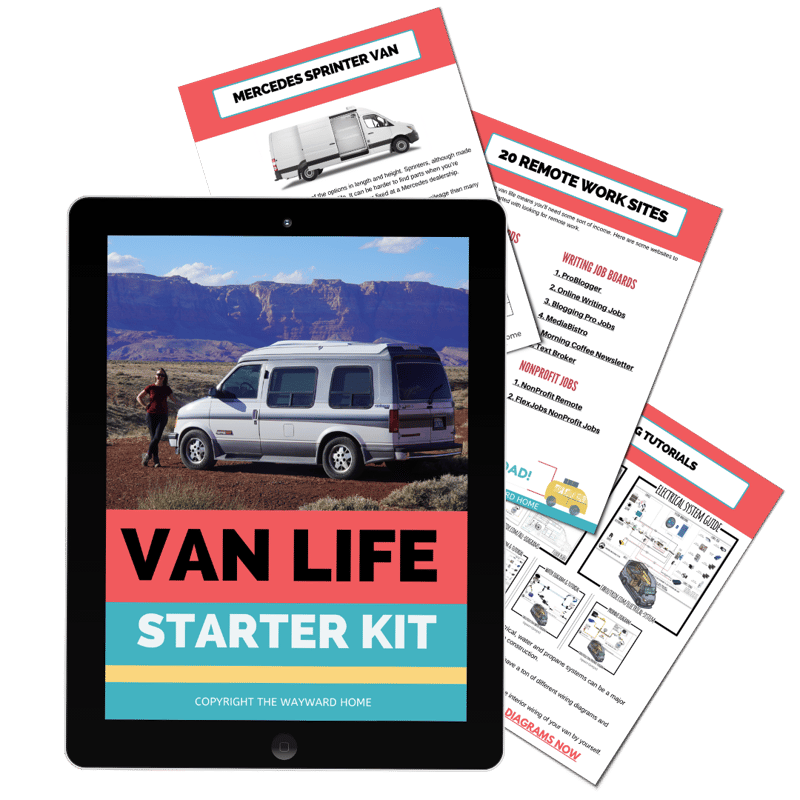 New VW camper vans for sale, but only in Europe 🙁
This year, Volkswagen celebrated the 30-year anniversary of the VW California. The most popular and successful model they ever made, having sold over 160,000 units since 1988.
It was the perfect time to release two new vans on the market – however, U.S. customers are sad these are only available in Europe.
The new VW California Camper Van is an updated version of their classic best-selling model.
The Grand VW California is an upgrade that reflects the modern, popular #VanLife style designs.
Let's have a look at them both in detail.
The Brand New VW California Camper Van For Sale- From €50,000 ($55,500)
Weight: 6,800lbs
Sleeps: Up to 4
Features: Motorized pop-top, kitchenette, 30L fresh and grey water tanks, 4×4 drive.
On the VW California Camper Van, you'll find all the basic amenities typical of the original VW bus design, updated to meet modern standards.
This VW camper van comes in two versions: the Beach (from €50,000, which is $55,500) and the Ocean (from €64,500, which is $71,500).
The Beach features a pop-top with a double bed and a seating area that turns into a second double bed, so four adults can sleep in it.
Meanwhile, the Ocean features a kitchenette, a mini wardrobe and a seating area that turns into a small bed suitable for two kids.
The pop-top is motorized, so you can set up the bed in no time and without effort.
The galley has a two-burner stove, a sink, a 42L cool box, a slide-out table, fresh and grey water tanks, and plenty of storage.
The driving chairs swivel, so you can serve dinner for four at the table.
Plentiful windows offer an almost 360° view, while the cassette blinds quickly transform the interior into a private space.
There are many smart touches, like the fact that the camping table and chairs nest perfectly in the van's doors, that make this camper super functional.
The best bit?
You can buy the VW Camper California van with a turbocharged 2.0-liter engine and 4 wheel drive – it can easily drive off-road, so you can reach the more remote camping spots we all dream of when buying a van.
Read more about the VW California.
The VW Grand California – From €75,500 ($84,000)
Weight: 6,700lbs
Sleeps: Up to two adults and two children
Features: Wet bathroom, outdoor shower, 110L fresh water tank, 70L fridge-freezer, outdoor speakers, solar system, heating and AC.
The VW Grand California comes in two models: the 600 (6m long) and the 680 (6.8m long). The 600 has a higher coach roof and sleeps up to four people, while the 680 can only sleep two people, as it features a larger rear bed and galley, but no children's bed.
The main upgrades on the VW Grand California Camper Van are the bathroom, which comes complete with a portable toilet, foldable sink and shower, and the 6ft headroom.
The higher, fixed top means you can stand up inside in multiple spots and its windows make the inside of the vehicle super bright.
The galley has indoor-outdoor access, as it's right in front of the sliding door, which makes it easier to pass dishes out. Even the fridge is accessible from outside, making it easy to grab that extra drink once you're all set up under the awning.
The front seats swivel to face the dining table and sofa. On the 600, there is a small alcove bed above the front seats, ideal for kids. There is an abundance of storage on both models with plentiful cabinets throughout.
The VW Grand California camper van features a 175bhp 2.0-liter turbo diesel engine and you can order with 4-wheel drive.
The steering is light and direct and the van is surprisingly aerodynamic, making it almost as sporty as the VW camper California.
The technology on the vehicle is impressive: the lighting in the bathroom is controlled by motion sensors, there are plenty of USB plugs to charge your gadgets, ambient lighting comes in four colors, and all the electronics are controlled by a touch screen control panel.
There is one pet peeve: if you're over 6ft tall, you may need to buy the 680, as the 600's bed isn't big enough for taller people.
The VW Grand California camper van isn't yet available for purchase, so if you're thinking of importing one, you'll have to wait a little longer.
Get your FREE Van Life Starter Kit!
So you want to live the van life but have no idea which van to choose? Here are specs for 10 popular vans, van buying tips, remote work ideas and van build resources. Get your FREE kit now!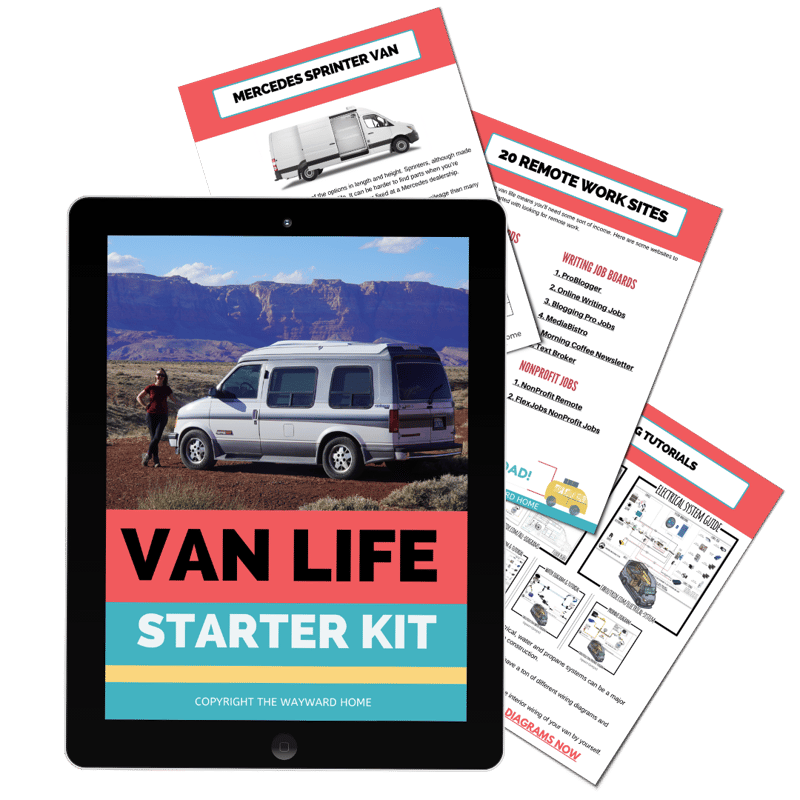 Why is the new VW California camper van not sold in the US?
Sadly, Volkswagen has decided not to distribute the new VW camper California models in the USA.
It's a little unfortunate, given that they are named after one of the 50 states.
But it's not all that weird: no California model has even been sold in the US. If you wonder why, it's all about business.
There simply isn't a big enough market for vans like these in the USA. They are made to suit the European market, where you often need to drive through narrow lanes and little alleys to go through a town or access a campground.
Moreover, prices for VW camper vans start from €50,000 ($55,500), which makes them rather expensive for the American market, where people would compare the price with that of an RV.
If you think about it, you can get a lot of RV for $55,500, so why go for a smaller van? Moreover, the pieces of the campers are so unique, that they can't be used for any other vehicle, so VW would need to sell at least 200,000 vans for it to be a profitable business.
Unfortunately, they don't think they'd sell that many VW camper vans in the USA.
However, with the increase in interest and popularity in the #VanLife and the recent release of similar camper vans by Winnebago and Airstream at much the same prices, we still have hope that Volkswagen may bring their vans back to America one day.
The VW camper vans you can get in the US
If you're sold on the cult icon of a Volkswagen camper and you want to buy one in the US, you'll have to go for an older, used model. You'll find VW vans in varying conditions on the market – from carefully maintained ones, which can cost a lot, to scruffy but cheaper ones.
There are only really two models to choose from: the Vanagon and the Westfalia, unless you stumble upon a more recent imported model.
But then why would a VW-obsessive sell their most prized possession? They're almost impossible to find.
VW Vanagon – From $9,900 for a 1984 version
Also called: Transporter, Caravelle, Microbus, Type 3
Production: 1979-1990
Weight: 3,075lbs
Sleeps: 2 adults
Features: Galley with burner and sink, double bed, windows, 93 cubic feet cargo space.
There were two main models of Vanagon camper vans released on the American market. The Campmobile featured all the amenities typical of a camper, while the Weekender came with an optional removable cabinet with a 12-volt cooler and self-contained sink.
The fold-down seats create a double bed next to the galley. The galley comes with a double burner and a tiny sink. At the back, you can mount a bike rack. Some of the models come with a pop-top and the cooler ones feature a mounted ladder on the side to access the roof.
VW Westfalia camper van – From $11,000 for a 1970 version
Also called: Kombi, Bus, Westy, Type 2
Production: 1950-1990
Weight: 3,000lbs
Sleeps: 2 adults
Features: Galley with burner and sink, windows, double bed.
The Westfalia was one of the most popular models of VW camper vans and has been produced for decades. They're probably the easiest to find on the market.
Each van is slightly different, as they came with a variety of options, such as the pop-top, a rear swing table, a small map table mounted on the dash and more.
Some models will have an indoor table, while others will have the standard galley and foldable seats.
VW Eurovan – From $5,500 for a 1993 MV version
Also called: Transporter T4, Type 4
Production: 1990-2003
Weight: 5,500lbs

Sleeps: Up to 4 adults
Features: Pop-top, galley, cabinets, windows, fresh and grey water tanks, 2 small tables.
The Eurovan is the VW camper that looks most modern among the ones available in the US.
The older ones are from 1990 – the first year when they were imported in the States. Sales were too low in the first few years, so Volkswagen discontinued production in the USA until 1999.
The camper came in 3 models:
The Eurovan CL, GL, and GLS – which is a simple seven-seater you can convert into a camper DIY.
The Eurovan MV – in which the second row of seats face the third and the third row turns into a double bed. It also comes with a folding table.
The Eurovan Weekender – which features a pop top bed, windows, and a cooler.
The Eurovan Camper – which has a pop top bed, windows, hatches, a double bed, seating for 4 people, fridge, cabinets, galley with double burner and sink, fresh and grey water tanks and two small tables. This model was converted by Winniebago Industries and is a "proper" camper.
Due to the number of models that were built, you will have to look carefully when searching for the right Eurovan for your needs.
The Eurovan is probably the cheapest, best condition VW campervan you can find in the USA. It doesn't have as much charm as the older models, but it certainly is newer, which means that the engine may run a little smoother and the replacement parts are a little easier to find.
All in all, the Westfalias, Vanagons and Eurovans have very similar features.
VW didn't have much to improve on these campers and that's why the new California model is set up very much in the same way. Why change what works great already?
Rent a campervan before you buy ($40 off!)
Sometimes, renting a campervan is the best way to see which van best suits your needs. We've partnered with the campervan rental company Outdoorsy to offer you $40 off any van rental. Just use the coupon code "wayward40" when you're checking out!
The pros and cons of owning a VW camper van
The charming look of the Volkswagen campers make them almost irresistible – if you start wanting one, it'll be hard to give up.
And that's without mentioning the statement you'd make by driving one around! These VW campers symbolize freedom and independence.
However, before you start window shopping, you should consider the positives and negatives of owning one.
Positives
Price – unless you choose an immaculate model, you can pick up an older VW camper van fairly cheap.

A dedicated VW community – there's a keen VW owners community in the US, so you will be able to connect with fellow owners and ask questions about any parts you may need to fix or any tips on upgrading parts, like the pop-top.

An attention-grabbing vehicle – everyone will turn around when they see your hippie-van.

Vintage camping – the feel of these vans will turn your camping adventures into a mini journey through time.
Negatives
Breakdowns – people say their Volkswagen campers break down quite often because they're older and therefore more prone to developing issues.

Challenging to fix – replacement parts are typically harder to get, as these models are not on the market anymore and shipping them from Europe can be costly.

Performance – an old VW camper van won't accelerate or slow down very quickly and it may struggle to go uphill, so you should drive carefully.

Risk of ruining the look – if you make many upgrades to a VW camper to make it more comfortable, you risk spoiling the original look of these beauties.
What's next in the VW van world for the US? The I.D. Buzz!
If you can hold out a little, Volkswagen has promised to launch a brand new model on the American market in the next few years.
It may be worth waiting for, as it promises to look out of this world.
The I.D. Buzz is the modern, electric version of the VW bus. It will be introduced to the market in 2022.
It's still under development, but it promises a 369-hp electric engine, seating for 8 people, a self-driving, stowaway steering wheel, swiveling seats, a table, 300 miles of estimated range and all-wheel drive.
We expect to see more options and possibly amenities once the van comes out officially.
The look recalls the original Microbus from the 1950s, with a V in the front bodywork and hexagonal headlights that look like eyes. The pictures look incredible, but we'll have to see how the final prototype turns out.
One thing is certain – we're very excited about seeing the results!
Find out more about the I.D. Buzz here.
Questions and Answers about VW camper vans
What's the most recent VW camper van I can buy in the US?
The last VW vans were sold in 2003, so finding an early 2000s model would be the jackpot. More realistically, you should be able to find a 1990s model.
Do VW vans have toilets?
Not as standard. Some of the newer, bigger models available in Europe feature a wet bathroom. Older models available in the USA were kitted out with a chemical toilet. The best option to have a bathroom on board would be to buy a portable toilet to add to your vintage VW camper.
Do VW camper vans have showers?
No, showers never came as an option.
Are all VW interior the same?
More or less. Other than the pop-top, there weren't any big differences between the designs over the years. Volkswagen got it right the first time, so even the brand new models coming out now like the VW California are set up very much in the same way as the original ones.
How many VW campervans have been sold worldwide?
Over 12 million. You read that right. The VW bus was a worldwide phenomenon with manufacturers building them not only in Europe and the USA but also in countries like South Africa, Mexico and Australia.
I really want a VW California. How do I get one?
The best way to buy a VW California is to order one in Europe and book a spot on a ship to get it delivered to the USA. You could fly over to pick it up, go on a mini holiday on it and then deliver it to the ship.
Finally, you'll have to import it once it arrives. It'll be an expensive camper van, no doubt.
Can I live full-time on a VW camper?
Yes, some people do.
If you buy a pop-top version and kit up with a portable shower (a half a gallon garden sprayer is excellent as you can fill it up anywhere and store it easily) and a toilet (opt for portable or composting), then you will have all the amenities you need to live on the van full-time in warm climates.
You can also expand your living space with awnings or tents.
If you're planning on traveling in colder areas, you may need to use campsites for hot showers every now and then.
Need help choosing a van? Check this out:
Conclusion on new VW camper vans for sale
Can't resist the VW classic look?
If you like tinkering with engines and you have a lot of time on your hands to dedicate to maintaining and fixing your van, then buying a used a VW camper van should be right up your street.
Enjoy the unique, vintage hippie feel while camping in a beautiful pine tree forest.
However, if you want a van that is reliable, with modern comforts and that you can just pick up and go, you may want to consider buying a new model from a different manufacturer that's available in the USA, like Winnebago.
And if you've got heaps of patience, why not wait and see what the I.D. Buzz will be all about?
Other van life stories you'll love:
Get your FREE Van Life Starter Kit!
So you want to live the van life but have no idea which van to choose? Here are specs for 10 popular vans, van buying tips, remote work ideas and van build resources. Get your FREE kit now!