Small camper vans are a great way to live the van life without paying an arm and a leg for your rig. Plus, these campervans are a lot stealthier than a high-top van like a Mercedes Sprinter or a Ford Transit.

You can park on any city street stealth camping style, and nobody will ever know you're inside a mini camper van.
Plus, mini camper vans get better gas mileage and are easier to maneuver and park. Plus, they can fit into most standard garages if you're more a weekend warrior van lifer.
Do you love campervans and van life? Join our free Facebook community.
Small camper vans: passenger or cargo?
Most of these small camper vans come in two different styles – a cargo van or a passenger van. Which one you choose depends on what type of campervan build you want.
Most people go with the cargo van as it's easier to build out. You don't have to rip out seats and carpeting before starting your DIY campervan build.
The nice thing about a passenger van is it has tons of windows.
This option is great if you're not sleeping in cities and trying to be stealthy. I personally love having a Chevy Astro passenger van with windows all around. All of my windows have curtains, so the van is private when I need it to be.
You'll have to think hard about what type of build you want before you decide on a cargo or passenger van.
Need help figuring out how to wire and plumb your van?
The team over at Far Out Ride has you covered! Check out all their van wiring diagrams and tutorials here.
The builder's package gives you diagrams and tutorials on wiring, water, propane and floor plans. You can also buy each diagram separately depending on what you need.
Pros and cons of buying a mini camper van
It's good to weigh the pros and cons of a small camper van before you buy. Ask yourself if you're okay with not standing up. With these mini camper vans, you'll most likely need to cook outside the van.
Pros:
Great gas mileage
Cheaper than larger vans
Easier to maneuver
Easier to park
Can fit in a standard garage and parking spot
Cons:
You can't stand up (although you could put in a pop-top)
Very small
A lot less room for what you might want in a campervan
Can't load it down with too much stuff
Engine not as powerful as larger vans
Rent a campervan before you buy ($40 off!)
Renting a campervan before you buy is a great way to try out a van. Use the coupon code wayward40 to get $40 off any van rental with Outdoorsy. (Click here to browse campervan rentals near you)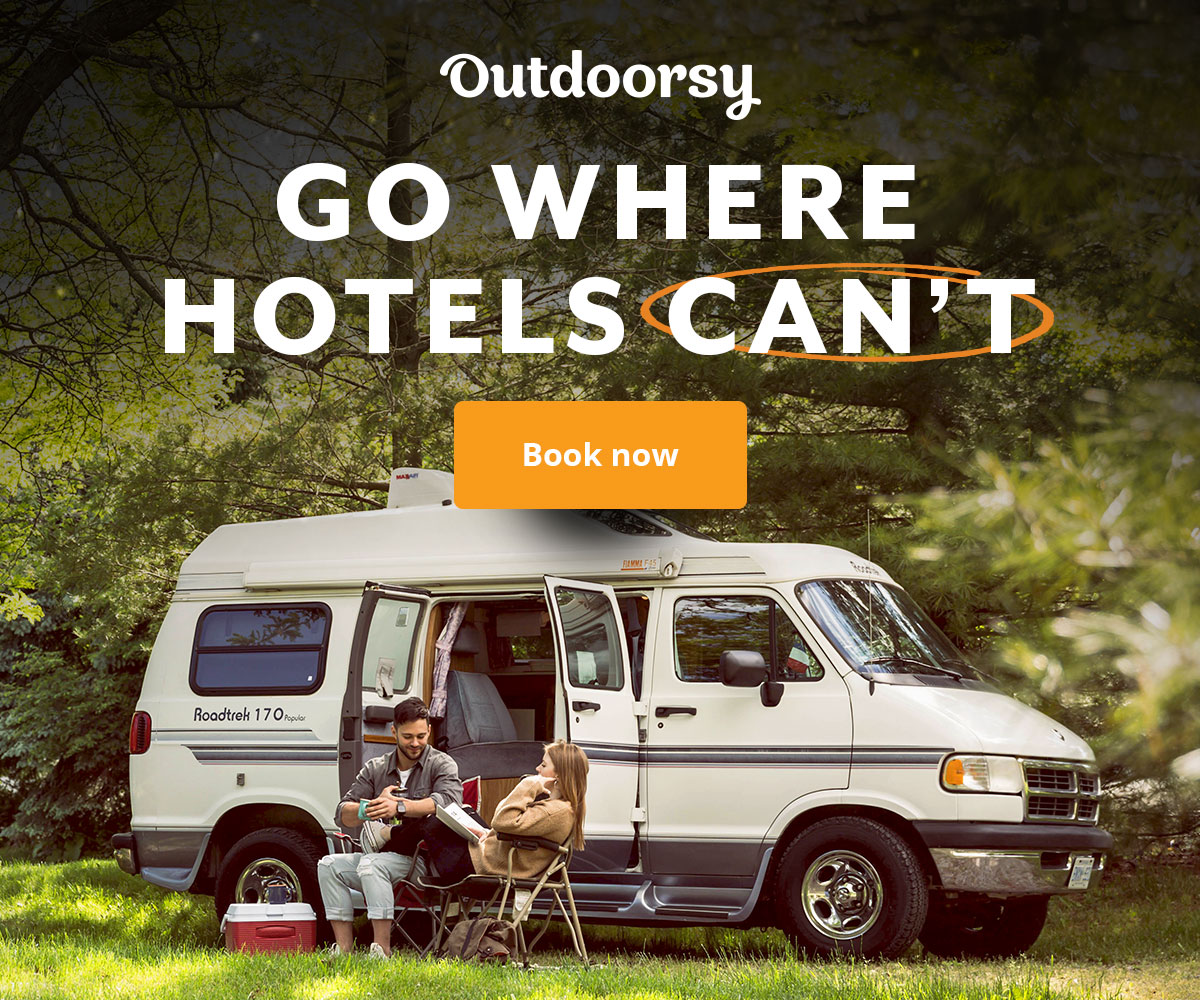 The best small camper vans for sale
Are you convinced you want a mini camper van? Some people wonder why I stick with the Chevy Astro, which is basically a glorified minivan.
But I love how its easy to park and is super stealthy. Plus, I don't have to buy as much stuff to build it out.
There's a couple options if you want a small camper van. You can either buy a custom build or do a DIY van.
You can get a new or used small cargo van directly from a dealership, or buy one that's already built out on Facebook Marketplace, Craigslist, Ebay or camper van for sale groups on Facebook.
Here are our top picks for the best small camper vans for sale.
Want to start living the van life right now?
Grab your FREE Van Life Starter Kit, with 19-pages of van life specs/measurements, van buying tips, places to camp for free and remote work ideas.
1) The Mercedes Metris small camper van
Price: $26,000-$34,000
Gas Mileage: 21-22 mpg
The Mercedes Metris is a new van to the North American market, being introduced in 2015. With the cargo version of this van, you can pick from a standard or long wheelbase.
This van has a turbocharged 2.0-liter, 4-cylinder engine with a 7-speed transmission. The Mercedes Metris can carry more than the other vans with a maximum payload of 2,502 pounds. Compare that to the Nissan NV200, which has a payload of 1,480 pounds.
Mercedes Metris vans have a larger cargo area than the competition, which means more room for your campervan build.
The main problem with this van is that it's the most expensive of the smaller vans, needs premium fuel, and is harder to park due to it's longer wheelbase.
Read more about the Mercedes Metris.
Check out what Sportsmobile did with a Mercedes Metris van. This might inspire you to build a small DIY camper van.
2) Ford Transit Connect mini camper van
Price: $24,000-$31,000
Gas Mileage: 24-29 mpg
The Ford Transit Connect is an affordable mini camper van that gets great gas mileage. It's been around since 2012, which means you can find a lot of used vans for cheap, or even camper vans that are already built out.
You can get two types of engines with this small camper van, a 2.5-liter 4-cylinder van, or a turbocharged 1.6-liter Ecoboost 4-cylinder. Maximum payload on this van is 1,620 pounds.
This is a very small van (the second smallest in this class) that doesn't offer the same cargo space as some of its competitors.
Also, some people say this small camping van doesn't have a lot of power but is comfortable to drive.
Click here to learn more about the Ford Transit Connect.
This custom Ford Transit Connect small camper van build shows what can be done with a really small van:
3) Dodge Promaster City small camper van
Price: $24,000-$27,000
Gas Mileage: 21 city/28 mpg highway
The Promaster City small van was introduced in 2015, and prides itself on being efficient with a highway fuel economy of 28 miles per gallon.
This little van packs a cargo capacity of 131.7 cubic feet, and a nice-sized cargo area width of 48.4 inches between the wheel wells. This van comes in second for cargo space behind the Mercedes Metris.
The Promaster City drives with a 2.4-liter, 4-cylinder engine, and can be loaded down to 1,886 pounds. It also has a nine-speed automatic transmission.
One level up from the basic cargo van model, or the SLT, gets you a van that needs oil changes every 10,000 miles, a leather-wrapped steering wheel, cruise control and heated seats.
Click here to learn more about the Promaster City.
Check out this Promaster City camper van conversion by Wayfarer vans:
4) Nissan NV 200 compact cargo van
Price: $22,000-$23,000
Gas Mileage: 25 mpg combined fuel economy
The Nissan NV 200 is an affordable small van with great gas mileage, built for easy maneuvering in a city. The van does fall short in cargo space compared to the Metris, Ford Transit Connect and Promaster City.
This little van also has less power than its competitors with a 2.0-liter, four-cylinder engine.
The Nissan NV 200 small camper van only has a maximum payload of 1,480 pounds, so keep that in mind when planning out your DIY campervan build. Make this van too heavy and it won't perform as well.
The benefit of this van is that it's the cheapest of this group of vans.
Click here to learn more about the Nissan NV 200.
Check out this video by Recon Campers, which does wonders transforming the agile Nissan NV 200 into a small camper van for sale.
5) Toyota Sienna AWD small camper van for sale
The Toyota Sienna is a popular mini camper van as its one of the only brand new vans available with All-Wheel-Drive. This is one of the best camper vans to take boondocking as you won't have to worry so much about sand, snow and mud.
To boot, the Toyota Sienna is bigger than some of the top cargo vans we mentioned above. Check this out:
The Toyota Sienna is 16′, 8″ long and 6.5′ wide.
The Ford Transit Connect is 14′, 5″ long and 7′ wide.
The Ram Promaster City is 15′,5″ long and 6′ wide.
If you're interested in a Toyota Sienna custom build, check out Oasis campervans.
6) Chevy Astro small campervan
I'd be remiss if I didn't mention my beloved Chevy Astro van in this list of small camper vans for sale.
I purchased this Astro conversion van for just $6,000 on Craiglist and made a few modifications to make it completely off-grid. Two of us sleep in this extremely affordable camper van by reclining the back seats into a campervan bed, and I purchased two footstools from TJ Maxx to extend the bed.
We wanted a conversion van due to the higher fiberglass roof. Typical Astros have a low roof, and are much cheaper, like $2,000 or less.
Here's what I added to my van to make it off-road and off-grid ready:
Are you ready to get started building out your small camper van?
Need help building out your DIY campervan?
Then you'll want to check out the Sprinter RV Conversion Sourcebook, a step-by-step guide to building out a campervan.
Don't let the name fool you – this book works on any DIY van build.
Sprinter Van Conversion Sourcebook
Take a peek inside:
This amazing 378-page ebook has everything you need to know about converting any van into a camper. It doesn't just apply to Sprinters!
Learn about the six major interior design considerations that lead to 13 secondary features in your design
An RV plumbing chapter on pipes, fittings, tanks, pumps, water heaters, toilets, you name it
Advice on choosing solar panels
How to install blackwater, greywater and freshwater tanks in a campervan
Fifty pages of information on designing an electrical system and wiring your campervan conversion
Conclusion on small cargo vans for a camper conversion
If you're looking for a small van to convert into a DIY camper, there are plenty of choices on the market. Whether you choose a cargo van or a passenger van is up to you and depends on the type of campervan build you want.
Also, keep in mind that you could buy a car camping conversion kit to turn your small cargo van into a camper. Then you don't have to do everything yourself!
The Mercedes Metris van has the most amount of interior space, but is also the most expensive at $26,000-$ 34,000. On the other side of the spectrum, the Nissan NV200 is cheapest at $22,000-$23,000 with the least amount of cargo space for a van build.
All of these small camper vans have their positives and negatives, so you'll have to read through the specs to determine what's best for you.
GET YOUR FREE VAN LIFE STARTER KIT!
Thinking of living the van life? Grab my FREE 19-page Van Life Starter Kit to get you going on your journey to living in a campervan. You'll find specs/measurements for top van life vans, van build resources, van buying tips and remote work ideas!
Check out other van life stories:
Kristin Hanes is a journalist who founded The Wayward Home as a place to learn about alternative living. She currently lives on a sailboat and in a Chevy Astro van, and has written articles about alternative living published in Good Housekeeping, Business Insider, Marie Claire and SF Gate. Read more about Kristin here.