79-year-old Joan Turcotte motto is this: "If you rest, you rust." That's why she's kicking up her heels instead of kicking the bucket, ready to leave senior housing in New Hampshire for her new Ford Transit camper.

"A couple years ago I moved into a senior citizens complex and I realized I need to be active," she said. "There aren't many activities here and the people aren't active, so I thought: I need to get outside and do things. I need a new car. Then I decided to get a van and glamp it up."
How she built her Ford Transit camper van
Joan bought her Ford Transit at the end of last January and then started fixing it up last spring.
"I did the Ford Transit camper build inexpensively," she said. "It cost me under $300 to do it. My grandson built the beds. He's a carpenter and he also put the floor in, it's peel-and-stick tile. All the other pieces I found at a second-hand shop. It's very minimal. I also have a battery lantern and LED lights, but no electricity. In the spring I'll be getting solar and then I can go boon-docking. I'm excited to try."
[You might also like: The best 12 volt refrigerator for van life]
She has a portable toilet that folds up and goes under the bed in her Ford Transit RV, so she doesn't have to get out of the van at night. "I'm confident I'm not going to lack anything. I've joined Sam's Club…I'll be fine. I'll be wonderful!"
In the parking lot at the senior center there's a bunch of small cars, and then Joan's Ford conversion van, which she said "sticks out like a sore thumb." She lovingly named it "Maisy."
Get your FREE Van Life Starter Kit!
So you want to live the van life but have no idea which van to choose? Here are specs for 10 popular vans, van buying tips, remote work ideas and van build resources. Get your FREE kit now!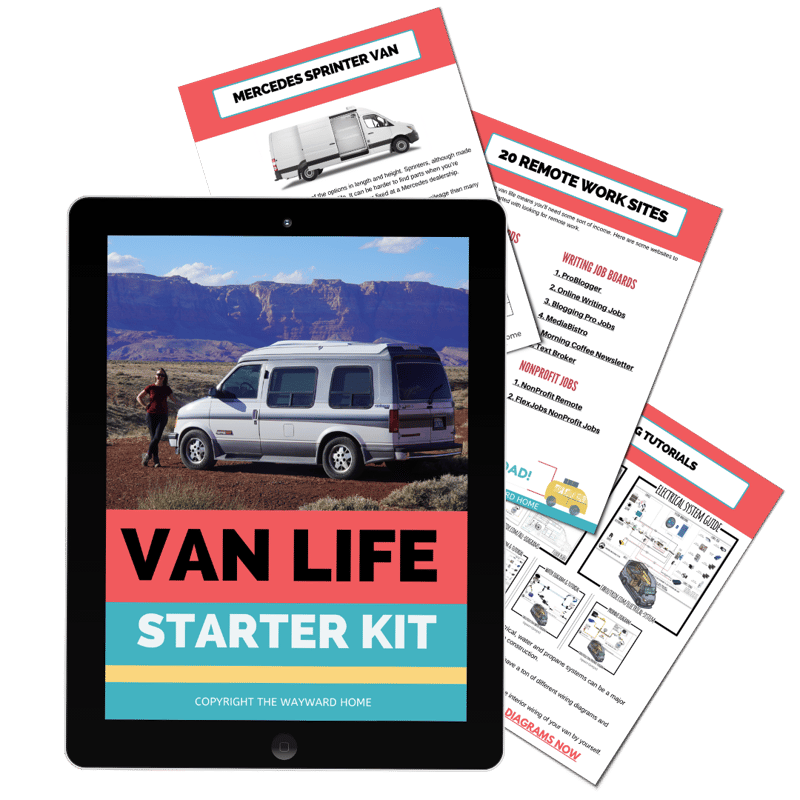 How people react to Joan's plan to travel in a Ford conversion van
At first, Joan's family wasn't too thrilled about her plan to travel in her Ford transit camper conversion. She has four children, and one of her son's said: "Mom, you're too old."
But she told him this: "How old would I be if I didn't do this? My age is old but I don't feel old. I feel perfectly capable of driving myself around the country. It's going to be a great adventure! Eventually, I got them on my side."
[You might also like: 13 essentials for living in a van full time]
She said people at the senior center often look at her blankly, wondering what she's getting into with her Ford Transit camper.
"All my senior friends seem to think this is the time to sit and wait, and that is not a good thing," she said. "My feeling is that I'm in the last third of my life. I've lived two-thirds, and when you're in the last third that's when you take everything you've learned and you do something with it."
She believes its the attitude that counts.
"I wish more people wouldn't limit themselves by age because age is just a number," she said. "There are so many exciting things to do, when you're my age and you're alone and you have the means, like a little extra money, you should do it! You have to inspire yourself."
Where she plans on going in her Ford Transit camper
Joan's plan is to start off small. She'll drive down the East coast, stopping at campgrounds, visiting friends. She'll test out her Ford Transit conversion van and see how she likes it.
[You might also like: 30+ ways to make money while living in a van]
"I'm going to stay in state parks, national parks. I'm excited to try Walmart parking lots with my Ford Transit camper van, that sounds like fun," she said.
Then, once solar goes in next spring, the sky's the limit.
"I have all sorts of plans," she said. "I'll be heading west and exploring the national parks out there for longer periods of time. I think I could easily live in the van and give up my apartment. I'm sure I could stay with my kids from time to time or even park in their driveway!"
Related:
Joan's enthusiasm is inspiring, and she said she's going to have fun and adventure in her Ford Transit camper van as long as possible. It's not her style to sit and wait, to become part of the scenery.
"I'll be the judge as to when it's time to hang up the canopy."
5 inspiring van life books I love
These five books will inspire you to give up all your stuff, move into a van, and travel full-time immediately.