The Best 5 Small Bluewater Sailboats for Ocean Cruising
4780 shares Small bluewater sailboats, with their modestly sized rig and shorter waterline, can be a delight to sail for couples and single-handers alike. With…
*This post may contain affiliate links. Please read our disclosure policy for more info.
Small bluewater sailboats, with their modestly sized rig and shorter waterline, can be a delight to sail for couples and single-handers alike. With more and more young people getting into cruising and the liveaboard lifestyle, it's no surprise that small cruising sailboats are experiencing a comeback.
I've been cruising with my husband Ryan for the past two years; first aboard a 26-foot Heavenly Twins catamaran and now on a Tayana 37 small bluewater sailboat designed by the legendary Bob Perry.
When it comes to choosing boats, I vouch for going small.
What Are Small Bluewater Sailboats?
When I say small bluewater sailboats, I mean boats under 37-feet long. This is the definition given by Lin and Larry Pardey in their book "Self-Sufficient Sailor."
The Pardeys are icons of small sailboat cruising. Having sailed over 200,000 nautical miles and circumnavigated both east and westbound on their homebuilt, engine-free, sub-30-feet cutters, they are among the most recognized sailors in the world. They're also known as "America's first couple of cruising."
But what are bluewater sailboats?
Small cruising sailboats need to have a solid construction that will withstand the test of storms, tall waves and strong winds. This usually means thick, well-maintained fiberglass or steel hull and a rock-solid structure.
The underwater profile needs to be seaworthy. It's best to look for a small bluewater sailboat that has an encapsulated keel, which is less likely to fall off in case of a collision with a log or container. A deeper draft also helps keep the boat stable in rough seas.
The small cruising sailboat ought to be able to heave-to easily in a storm when the crew is tired and it's not as safe to be on deck. The rudder should be protected from debris, so it's a good idea to choose a skeg rudder or a full-keel small sailboat.
The cabin needs to be well-designed with ample handholds, so you won't be thrown around in big seas. The cockpit shouldn't be too wide to wedge yourself in securely with your feet. Plus, a smaller cockpit drains faster when a wave washes in.
We chose a Tayana 37 for our small cruising sailboat, which features a fairly deep full keel, a super thick fiberglass hull, a moderately heavy displacement, two good sea berths and a small, sea-going cockpit.
5 essential sailing books I love
From diesel mechanics, to predicting the weather, to heaving-to a boat in a storm, sign up to see which five essential books will never leave our sailboat's shelf. Enter your info to download the PDF!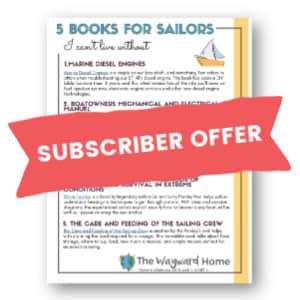 The best 5 small bluewater sailboats for sailing around the world
There are a lot of great little cruising sailboats for sale that are capable of offshore cruising. Here are five of the best ones out there.
Albin Vega 27
This 27-foot small bluewater sailboat has an excellent reputation as one of the best bluewater boats. Sailor Matt Rutherford was the first to circumnavigate the Americas solo on one of these little beauties. I've also met Denis Gorman, a Jester Challenger who took his Vega Lizzie-G the wrong way across the North Atlantic twice.
Designed in Sweden by Per Brohäll in the 60s, her lines were inspired by the long keel and skinny beam of the Folkboat.
Although the keel is long on this small cruising sailboat, it's not full length, which means she performs fairly well in light winds. The modest cockpit is small enough to drain fast but big enough for two people to sit comfortably on long passages.
The compact interior in this small cruising sailboat helps the crew stay put in rough seas, but offers decent headroom.
The best perk? You can find Albin Vegas for as little as $5,000.
Baba 30
Thanks to her substantial displacement, the Baba 30 is a sea-kindly boat and is fairly stiff. She's easy to heave-to and will take care of her crew in a storm. Like many Perry cutters, her best point of sail is on a reach.
She grants more space down below than most 30 foot small bluewater sailboats offer. The charm and sturdiness of this little cruiser have to be her strong points.
Van De Stadt Legend 34
If you're planning on cruising in high latitudes, you may want to consider a steel boat. Not many small steel bluewater sailboats boats were built, but the Van De Stadt is definitely one of the most seaworthy ones. The first Legend 34s were built in 1969 in the UK, featuring a fin keel with a skeg rudder.
This small bluewater sailboat goes very well into the wind, with a gentle motion even in steep seas. The steering is operated through a tiller, which, together with her classic lines, gives her an extra salty look. She's a stiff boat that can keep you safe in a storm.
The narrow cockpit is excellent for keeping the shorter sailors (like me!) safely put on board.
Hallberg-Rassy 35 Rasmus
This proven Swedish circumnavigator has become one of the most successful production boats since she was designed by Olle Enderlein in the late 60s. The full keel, center cockpit and solid windscreen make her one of the best small bluewater sailboats. The Rasmus 35 comes with both a sloop and ketch rig options.
Although her hull is narrow and makes her a little rolly, she has a solid construction and is generally sea-kindly, if a little slow. Hallberg-Rassy's tend to have bigger engines than required, so the Rasmus has a 75hp diesel engine.
This is one of the few older small cruising sailboats that features separate cabins – an aft cabin with a double berth and a main cabin with a galley, saloon, heads and v-berth.
Tayana 37
I couldn't not include the Tayana 37 – after all, we chose her out of hundreds of small bluewater sailboats we researched.
The Tayana 37 was designed by Bob Perry in the late 70s and has since become one of the most successful semi-custom cruising boats. You'll see them sail in all corners of the world. The traditional canoe stern, bowsprit, and teak galore both on deck and down below make her a beautiful small cruising sailboat.
She is one of the most sea-kindly monohulls out there with a full keel, a 3.55m beam and a well-balanced sail plan. Most Tayanas are cutters, but a few ketches were built too.
The perk: there is a passionate owner's association, so finding information about the boat and getting in touch with current owners to ask for advice is easy.
Why Go For a Small Bluewater Sailboat?
The biggest reason to go for small bluewater sailboats is obvious: budget. We didn't have the cash required to buy, moor and maintain a big bluewater sailboat, so we naturally went for the boat we could afford.
Not everyone can compromise though – many people decide they want to buy big and make a twenty-year plan to save towards their dream boat. I personally find this a risky tactic, because you don't know what will change in the next five, ten, or twenty years of your life. You may lose sight of your dream, or fall ill.
I had a few wakeup calls – losing a friend and getting two cancer scares – before I realized we needed to go cruising as soon as possible.
This is reflected in the Pardeys' famous motto: "Go small, go simple, go now." A small sailboat will allow you to set off and start living your dream quicker.
Need help with sailboat gear? Check out these posts:
The Pros and Cons of a Small Cruising Sailboat
Let's look at the advantages and disadvantages of choosing a small cruising sailboat for sailing around the world.
Positives:
great for novice sailors
the smaller rig makes it easier to handle underway
ease of maneuvering in harbors
easier to set up for single-handing
less expensive and time-consuming to maintain
cheaper to moor or haul out of the water
simpler systems means less can go wrong
inexpensive upgrades, including sails
easier to find a spot in a marina
Negatives:
slower passages
less stable in rough seas
less space and privacy, especially when taking extra crew on
less storage for food and water
less tankage
We do value speed and comfort, so when we chose our second sailboat we went for a heavier displacement hull and a longer waterline, which makes for a more sea-kindly, fast and stable vessel than our bouncy little catamaran.
She can also carry over a month's worth of provisions with no impact on her sailing ability.
What to look for in small cruising sailboats
When looking for a small bluewater sailboat to cruise on, it's important to make sure it comes with:
space for solar panels or a wind generator
at least one sea berth where you can install a lee cloth
space to store provisions and water (or a watermaker)
space for batteries
You will need to be self-sufficient when offshore or in remote locations, which means having enough energy to run your electronics, a good amount of provisions and water, and being able to sleep.
It's a plus if it comes with:
a well-sized modern generation anchor
a wind-vane
more than one steering method (for example, an emergency tiller)
AIS
a good sail inventory
a reliable windlass
But you can add these extras to the gear yourself once you buy. We were lucky – our new boat came with most of these.
Learn about the pros and cons of a sailboat with two masts in this detailed post.
Conclusion on Small Bluewater Sailboats
As you can see, there are a lot of budget boats out there for sailing around the world. There's been a comeback in the market for these bluewater boats as more young people get into cruising.
The pros of a small sailboat are the price, maneuverability and simpler systems.
The cons are slower passages, less stable in rough speeds, and not as much space for additional crew.
Best of luck with your search for the perfect small bluewater sailboat! I hope you can untie the lines soon.
Other sailing stories you'll love:
5 essential sailing books I love
From diesel mechanics, to predicting the weather, to heaving-to a boat in a storm, sign up to see which five essential books will never leave our sailboat's shelf. Enter your info to download the PDF!